Southlake Carroll vs DeSoto
Southlake Carroll-DeSoto Is A Battle Of Perennial Contenders
Southlake Carroll-DeSoto Is A Battle Of Perennial Contenders
Southlake Carroll vs. DeSoto UIL Area Playoff Preview
Nov 23, 2017
by Kolby Paxton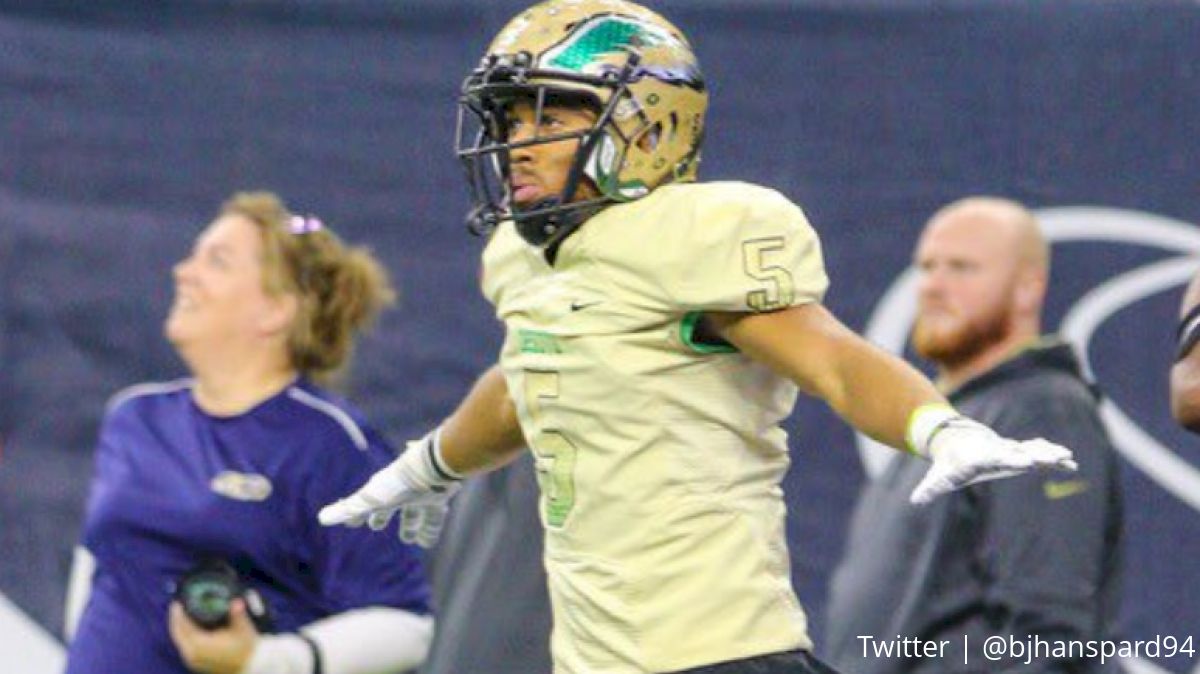 Southlake Carroll has the championships — eight of them, in fact, including three straight under Todd Dodge from 2004-06 and another under Hal Wasson in 2011. DeSoto won its first state title last year.
The Eagles have the reputation for churning out not just college talent but also future pros — a list of players headlined by five-time NFL All-Pro Von Miller and Philadelphia Eagles rising star defensive back Jalen Mills. Former Dragon Chase Daniel currently serves as the Saints' insurance policy to Drew Brees.
The success of these programs, while measured differently, is undeniable. A Class 6A, Division II area-round playoff matchup between the two at the Ford Center in Frisco on Saturday is tough to beat.
Watch Southlake Carroll vs. DeSoto LIVE on FloFootball
Carroll (8-3) enters on the heels of a 42-0 demolition of McKinney, highlighted by a monumental rushing effort by TJ McDaniel. The junior piled up 274 yards and four touchdowns on just 13 carries in the first half, before finishing with 311 yards and five touchdowns.
Here's my highlights from our first playoff game against McKinney HS. 311 yds. rushing & 5 TD's. Fun to run behind an incredible bunch of guys like our linemen who block like champs on every play- team effort. https://t.co/vs747sFHwZ

— TJ McDaniel (@TJMcDaniel4) November 19, 2017
McDaniel has now rushed for over 100 yards in eight of the nine games he's played this season, running his season total to 1,648 yards — along with 21 touchdowns.
DeSoto's offensive has been impossibly balanced for the Eagles (10-1) this season.
Five players have rushed for at least 300 yards in a game this season, led by seniors Dylan Lawrence and Kelan Walker, who've combined for 1,108 yards and a dozen scores.
Six players have at least 100 receiving yards, with juniors La'vontae Shenault and Arkansas commit BJ Hanspard — who also has 100 rushing yards — pacing the Eagles with 649 and 489 yards, respectively.
Quarterback Courtney Douglas has completed 62 percent of his throws for 1,653 yards and 12 touchdowns against just two picks, while also totaling 420 yards and seven touchdowns on the ground.
Douglas had his way last week, casually completing 12 of 16 throws for 119 yards and running for another 52 yards on eight carries. Five players averaged at least six yards per carry. Walker, Lawrence and Daryon Triche combined for 277 of the team's 381 rushing yards.
The widespread weaponry has made defending the DeSoto offense extremely difficult for opposing defenses this season — but it's a riddle that Southlake Carroll will need to solve, at least in part, if it hopes to upset the Eagles and advance beyond the area round.
Key Matchup: Carroll LBs Matty Werner & Ryan Thompson vs. DeSoto's Running Game
There's no sense trying to pick a player or two worth stopping for DeSoto. The blows come from too many different directions. Werner and Thompson, who've combined for 240 tackles this season, will need to disrupt the scheme, not necessarily individual players.
That being said, from Walker to Douglas to Hanspard, the home run is going to be one play away all night long. This will be the toughest test of the season for the Dragons' linebackers and their teammates.
---
After an incredible bi-district round of the Texas UIL Playoffs, we're bringing you another round of great games during this holiday weekend.
From a battle of perennial giants to a bunch of hungry Hippos, here's what we have on the desert menu for the days following your Thanksgiving feast.
Austin Vandegrift vs.Cibolo Steele
Friday, Nov. 24, at 2:00 PM (CST) | New Braunfels, Texas
Class 6A, Division II: After dropping four straight following a season-opening win, Steele (7-4) has emerged as one of the hottest teams in the state. But, in order to stay hot — and stay alive — the Knights will have to get past a dangerous Vandegrift (7-4) team that has already proven it can play with anybody.
---
A&M Consolidated vs.Hutto
Friday, Nov. 24, at 7:30 PM (CST) | Waller, Texas
Class 5A, Division II: Hutto has long been considered one of the top teams in 5A. It's time to prove it. The 10-1 Hippos head into Waller to face a Kolby Peel-led A&M Consolidated (9-2) team that surprised many across the state last week by throttling Whitehouse.
---
Southlake Carroll vs. DeSoto
Saturday, Nov. 25, at 7 PM (CST) | Frisco, Texas
Class 6A, Division II: It doesn't get much bigger than Southlake Carroll (8-3) and DeSoto (10-1). Two of the most recognizable names in Texas high school football will square off at the Ford Center in what's sure to be one of the best games of the week. Keep your eyes on DeSoto running back Kelan Walker and Southlake Carroll offensive tackle Jackson Kimble.