Southlake Carroll vs DeSoto
5 DeSoto Eagles Who Flew To The NFL
5 DeSoto Eagles Who Flew To The NFL
DeSoto Eagles who went on to play in the NFL.
Nov 22, 2017
by Kolby Paxton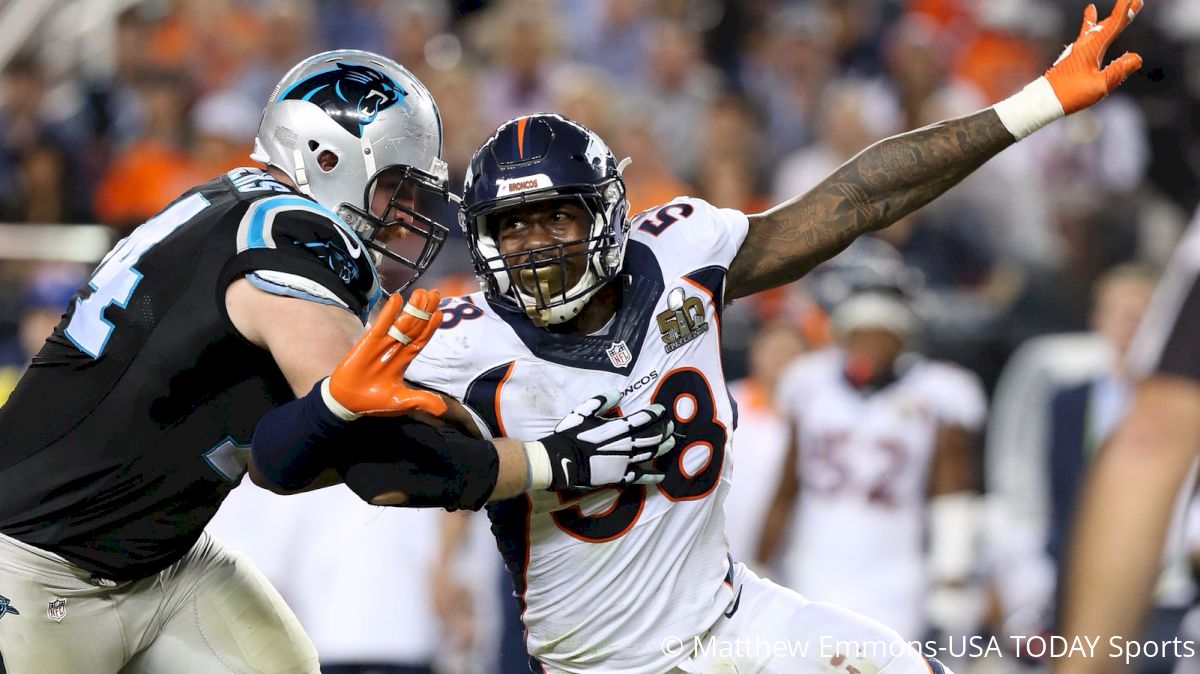 DeSoto's propensity for churning out elite players is equaled by very few high schools in the country — let alone within the state of Texas.
The Eagles are perennial contenders who almost always have a handful of future FBS players worth the price of admission. Even more noteworthy, however, is the handful of former players who've since blazed a trail to the NFL.
Check it:
Von Miller, LB, Denver Broncos
What's left to say about Von Miller? The former Eagle was a consensus All-American and the Butkus Award winner at Texas A&M. Miller was chosen second overall by the Denver Broncos in the 2011 NFL Draft and has since become arguably the top defensive player in the NFL. He's a five-time Pro Bowler, three-time first team All-Pro, and a Super Bowl champion. As of Week 9, Miller has totaled 369 tackles, 81 1/2 sacks, and 20 forced fumbles in his six-year pro career.
---
Ellis Hobbs, CB, New England Patriots & Philadelphia Eagles
Hobbs was a star cornerback and running back for DeSoto, rushing for 1,701 yards and 29 touchdowns on 233 carries during his career. From there, he headed to Iowa State, where he was a three-year starter at cornerback who amassed 209 tackles and earned first team All-Big 12 honors his senior year. Hobbs was a third round pick of the Patriots and played a significant role on New England's 2007 Super Bowl team. He totaled 225 tackles, 10 interceptions, 3,739 return yards, and four touchdowns during a six-year NFL career.
---
Jalen Mills, CB, Philadelphia Eagles
Mills started every game for LSU as a true freshman — and he's never stopped impressing. The 6-foot, 191-pounder was drafted by the Eagles in the seventh round of the 2016 NFL Draft and has since emerged as a key member of the Philadelphia secondary. Mills has recorded as many as 12 tackles in a game this season and returned an interception for a touchdown a few weeks ago in a win against San Francisco — after which he was named the NFC Defensive Player of the Week.
---
Cyrus Gray, RB, Kansas City Chiefs, Denver Broncos, & Atlanta Falcons
Gray was an honorable mention 5A all-state quarterback during his senior season at DeSoto before becoming a standout running back at Texas A&M. As a junior, Gray rushed for 1,133 yards and 12 touchdowns for the Aggies. In the 2012 NFL Draft, the Chiefs took Gray with their sixth-round pick, and the former Eagle remained with the organization until 2015. He spent parts of 2016 with the Falcons and Broncos.
---
Zach Orr, LB, Baltimore Ravens
Orr traveled north up I-35 to North Texas, where he was a standout linebacker for the Mean Green from 2010-13. He was signed by the Ravens as an undrafted rookie in 2014 and stuck with the team on the 53-man roster. Two years later, he started 15 games and totaled 132 tackles, three interceptions, and a forced fumble on the way to becoming a second-team All-Pro selection.
---
After an incredible bi-district round of the Texas UIL Playoffs, we're bringing you another round of great games during this holiday weekend.
From a battle of perennial giants to a bunch of hungry Hippos, here's what we have on the desert menu for the days following your Thanksgiving feast.
Austin Vandegrift vs.Cibolo Steele
Friday, Nov. 24, at 7:30 PM (CST) | New Braunfels, Texas
Class 6A, Division II: After dropping four straight following a season-opening win, Steele (7-4) has emerged as one of the hottest teams in the state. But, in order to stay hot — and stay alive — the Knights will have to get past a dangerous Vandegrift (7-4) team that has already proven it can play with anybody.
---
A&M Consolidated vs.Hutto
Friday, Nov. 24, at 7:30 PM (CST) | Waller, Texas
Class 5A, Division II: Hutto has long been considered one of the top teams in 5A. It's time to prove it. The 10-1 Hippos head into Waller to face a Kolby Peel-led A&M Consolidated (9-2) team that surprised many across the state last week by throttling Whitehouse.
---
Southlake Carroll vs. DeSoto
Saturday, Nov. 25, at 7 PM (CST) | Frisco, Texas
Class 6A, Division II: It doesn't get much bigger than Southlake Carroll (8-3) and DeSoto (10-1). Two of the most recognizable names in Texas high school football will square off at the Ford Center in what's sure to be one of the best games of the week. Keep your eyes on DeSoto running back Kelan Walker and Southlake Carroll offensive tackle Jackson Kimble.