Louisiana Tech vs Rice
Rice's Emmanuel Ellerbee Is Fueled By Doubt
Rice's Emmanuel Ellerbee Is Fueled By Doubt
Rice's Emmanuel Ellerbee is fueled by being passed over by Power Five schools.
Oct 27, 2017
by Kolby Paxton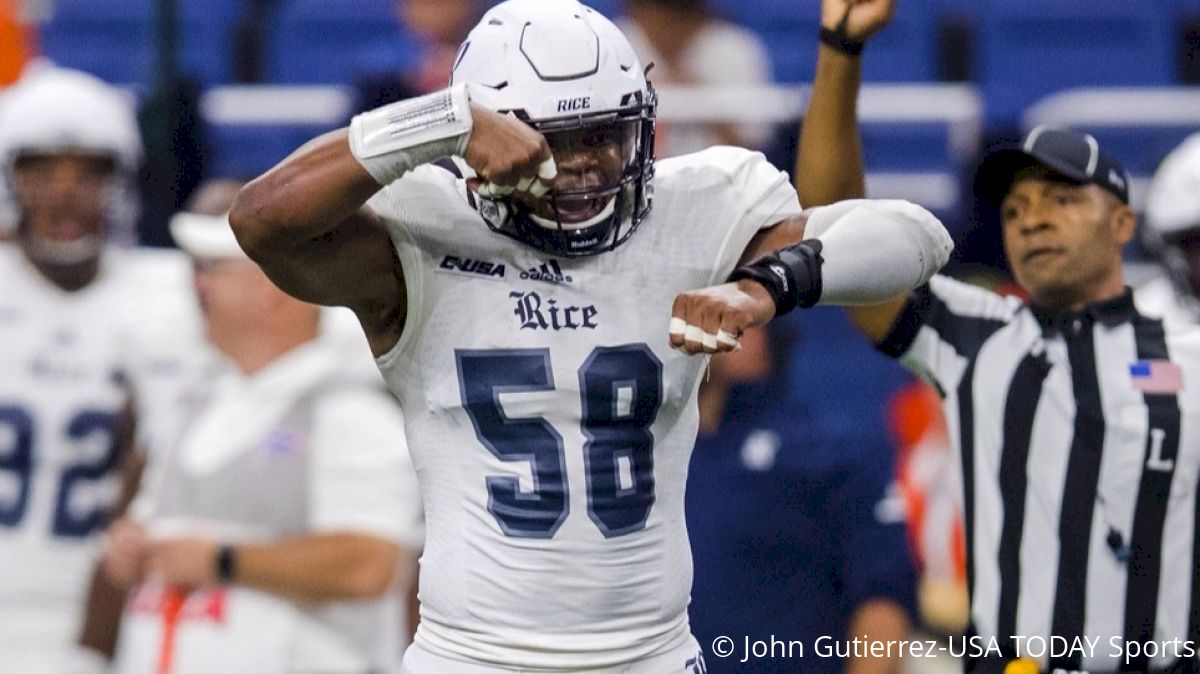 Rice's Emmanuel Ellerbee is going to be a pain in your ass.
Well, not
​yours
necessarily -- unless, of course, you're an opposing coach who didn't recruit the Owls senior linebacker. And he wouldn't use such harsh language even if you were. He's too polite for that.
I'm just keeping it real on his behalf.

Ellerbee was a standout at Houston's Strake Jesuit High School, but getting recruiters to notice him was something of a problem. Harvard showed interest. Texas State and Rice offered scholarships. Beyond that? Not much.
Stanford and Northwestern had him on their radars, but nothing materialized. Oklahoma -- the program Ellerbee was really interested in joining -- offered him a preferred walk-on spot but nothing more.
"It definitely fueled me," he says. "I'm a very competitive person. I've always felt that, from a young age, people thought I was smart but couldn't play football. I didn't get the respect that guys at other high schools were getting. No one ever talked about me."
Ellerbee had dreams of playing at a Power Five program. That doesn't make him unique among his peers. His ability to turn a perceived slight into motivation to be used against, well, basically
​everybody
he plays against, though? That's world class.
"I knew I worked just as hard and played better than the guys I was going up against," he says. "I was upset. I can't lie. You didn't offer me? I want to make sure you understand that you made a grave mistake."
In his final season at Rice, Ellerbee has done just that. He has registered double-digit tackles three times in the Owls' first seven games and will have his next opportunity Saturday, when Rice (1-6, 1-2 Conference USA) hosts Louisiana Tech (3-4, 1-2) in Houston.
Watch Louisiana Tech at Rice LIVE on FloFootball!
His 9.0 tackles per game average is the second highest in C-USA -- a figure made even more impressive when you consider that Ellerbee, an inside linebacker, had to adjust from playing in a 4-2-5 to a 3-4 during the offseason.
Ellerbee didn't just play in the 4-2-5 from the moment he arrived at Rice. Strake Jesuit also lined up that way. But, there he was, in the months preceding the most important season of his life, learning a new, unfamiliar system.
A good number of lesser players -- or lesser people -- would have struggled to the point of resentment in the same situation. Ellerbee is different.
For starters, the Houston native is extraordinarily adept at turning lemons into lemonade. He's done so by becoming a legitimate NFL prospect just four years removed from being an afterthought as a high schooler. He did so in the aftermath of Hurricane Harvey by choosing to view the Owls' week spent at TCU as an opportunity to experience the lifestyle of a Power Five student-athlete. And he did so when the nature of his position within the confines of the Rice defense changed drastically earlier this year.
"Everything happens for a reason," he says. "God was probably like, 'Hey man, I know you wanted to stick in the 4-2-5 and make plays and be successful, but I'm trying to show you that this is your time to learn (the 3-4) now.' This way, if I do have the opportunity to play at the next level, I wont be pressured to learn a system on top of everything else. I can actually rely on what I did during my senior year of college and it won't be brand new."
Ellerbee is also extremely intelligent. At the end of the 2016 school year, the civil engineering major was the proud owner of a 3.23 GPA. Post-football, Ellerbee intends to parlay his passions for sports and saving the environment into a career spent designing environmentally friendly stadiums. So, yeah. Learning how to play in the 3-4 was not a problem.
While Ellerbee has flourished both on and off the field in his Owls career, things have not gone according to plan for Rice so far in 2017, beginning with a 62-7 season-opening decimation at the hands of Stanford in Australia. The team's concerns only intensified upon the Owls' return to the United States, at which point Ellerbee and his teammates encountered a home city full of friends and family whose homes and lives were wrecked by Harvey.
Ellerbee says that, while the rest of the country has moved on from the hurricane, his friends and neighbors are still coping with the aftermath of the storm.
"The news is gonna give you that quick explanation of what's going on in the community but people are still out of their homes," he says. "Homes are still being rebuilt. People are having financial trouble. That's the stuff that stays beyond the initial impact. Some people's lives will never be the same. I wish I could take away some of their pain."
The home of Ellerbee's parents was mostly unscathed, allowing him to focus on football as much as can be expected. But the field hasn't exactly been a sanctuary this season for the Owls, who have never fully recovered from that initial blowout loss to the Cardinal -- limping to a 1-6 mark to this point.
For a team that felt it had a legitimate shot at returning to a bowl game for the first time since Ellerbee's freshman season, struggling to this extent isn't something Rice saw coming. Still, if Ellerbee is representative of his teammates, the Owls aren't ready to quit.
In some ways, this season has become indicative of Ellerbee's uphill climb to becoming a first-team all-league performer with an eye on the NFL.
"We just have to keep fighting it out. That's how life is," he says. "You might have aspirations to do something, but it's not going to always turn out like that.
"Everyone is sick and tired of losing. We just want to give our all and create that opportunity to go (to a bowl game) around Christmas time. No one wants to watch other people play in bowl games. Nobody is quitting. We're just trying to grind it out and get a win. We all recognize the situation. We've got to win five straight."
The first of five comes Saturday with a formidable Louisiana Tech team in town. But, win or lose, the circumstances won't define Ellerbee. For him, rejection will always breed resiliency and failure will only strengthen his resolve.
---
We're bringing you a doubleheader this Halloween weekend with S.C. State playing host to Caylin Newton and the Howard Bisons followed by the Rice Owls taking on the Louisiana Tech Bulldogs. Here's how you can catch all the action.
Louisiana Tech vs Rice

Kickoff October 28 at 2:30 PM CT
Skip Holtz, J'mar Smith, and Louisiana Tech will look to take another step toward bowl eligibility on Saturday when the Bulldogs head to Houston, Texas, to take on Samuel Stewart and the upset-minded Owls.


How to Watch Louisiana Tech vs Rice
On TV:
Available on Roku and Apple TV 4 -- download the FloSports app now.
Streaming:
Only on FloFootball with a PRO subscription. A yearly PRO subscription provides access to ALL FloSports sites.
JOIN NOW




1. Watch on Roku or AppleTV 4.

My personal preference for game-watching is my Roku -- and AppleTV 4 works just the same. Simply download the FloSports app, login -- or register if you're a first-timer -- and voila. Every game is at your fingertips.
2. Watch with Chromecast.

This nifty little Google device is about the size of a flash drive and plugs into the USB port on the back of your television. Once installed, you can project virtually anything from the Google Chrome browser on your computer to your television -- including the FloFootball game you can't live without.
3. Watch on your computer.

This option is perfect for watching the big game when you're away from home. Whether you're traveling, working -- or just stuck at your great aunt Irma's without an adequate TV situation -- we've got you covered at FloFootball.com. You can also try plugging your computer into your TV via HDMI cord to watch on the big screen.
4. Watch on your tablet or iPhone.

Again, when you're away from home or unable to get to a television, we make life easy. All FloFootball events are live streamed via mobile web or on tablets.
FloFootball's hottest content, delivered to your inbox
Don't miss breaking news, feature stories, event updates, and more. Sign up for the FloFootball mailing list today.