North Carolina A&T State vs S.C. State
Can SC State Slow Down Raynard & The Aggies?
Can SC State Slow Down Raynard & The Aggies?
North Carolina A&T vs. South Carolina State game preview
Sep 26, 2017
by Kolby Paxton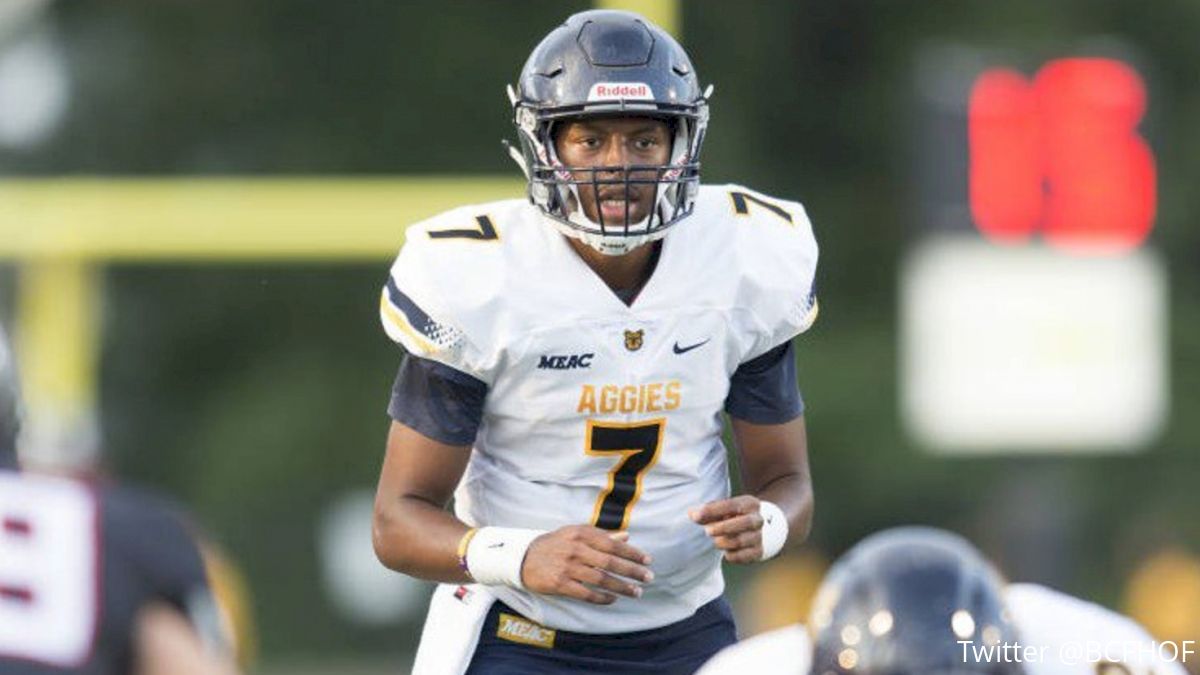 Two of the best teams in the MEAC will face off on Saturday in a game that has massive conference implications.
North Carolina A&T (4-0), as most expected, has rolled through the first four weeks of its season. South Carolina State may seem to be limping in at 1-2, but a closer examination would reveal that the Bulldogs could just as easily be undefeated.
Will SC State finally catch a break at home? Or will the Eagles continue their run of domination? Here's everything you need to know before Saturday's big game.
No. 13 North Carolina A&T vs. South Carolina State

When: Saturday, Sept. 30, at 6 PM (ET)
Where: Oliver C. Dawson Stadium, Orangeburg, SC
Broadcast:
FloFootball
What you need to know about North Carolina A&T:

The Aggies have been as dominant as advertised for the first month of the 2017 regular season. The preseason pick to win the MEAC has rolled through three of its four opponents so far -- the lone competitive affair coming against FBS foe Charlotte. Preseason All-MEAC first-team quarterback Lamar Raynard has completed 71 percent of his throws for 1,000 yards, 12 touchdowns, and no interceptions.
What you need to know about South Carolina State:

SC State is a 1-2 team that looks very much like a group that should be 3-0. Despite outscoring opponents 82-47 and outgaining them by an average of 352.0 to 180.5, the Bulldogs have twice turned up on the losing side by a combined total of 11 points. Atlanta native Dewann Ford has been a bright spot for SC State early on this season. The sophomore completed 17 of 25 passes for 223 yards and two touchdowns in last week's loss to NC Central.
Offense
North Carolina A&T is as strong a team as the Bulldogs will face offensively, with Raynard leading the MEAC's most dangerous offense from behind center. Raynard is already on the verge of eclipsing his passing totals from an injury-shortened 2016 and has been spectacularly efficient -- completing 67 of 94 passes without an interception. Marquell Cartwright leads a potent rushing attack that averages over 211 yards per game and serves as an outstanding complement to Raynard and the passing game.
The Bulldogs offense goes as redshirt sophomore Dewann Ford Jr. goes. Ford has completed 58 percent of his throws for 582 yards and two touchdowns to one pick through the team's first three games -- but also leads SC State in rushing yards (118) and rushing touchdowns (two). Thus far, the Bulldog attack has been effective only in fits and spurts, showing signs of what could be a special group but failing to put it together for four quarters against either FCS opponent its faced.
Advantage:
​North Carolina A&T
Defense
The Aggies' redshirt freshman Mac McCain III, alone, is worth the price of admission. McCain has returned three interceptions for touchdowns through his team's first four games, earning STATS FCS National Freshman of the Week honors along with MEAC Defensive Player of the Week and Rookie of the Week recognition after a three-interception game vs. Morgan State last week. Meanwhile, the NC A&T defense has been suffocating its opponents to the tune of just 12.8 points against per game, eight interceptions, and 64 points off turnovers.
South Carolina State has the luxury of arguably the MEAC's most talented defender, linebacker Darius Leonard. The redshirt senior leads a defense that ranks third in the FCS in yards allowed per game (199.3) and 15th in scoring defense (15.7). Leonard, the MEAC's preseason defender of the year, is joined by fellow preseason first-team selection Dayshawn Taylor at linebacker -- along with graduate senior Jason Baxter manning the secondary from the free safety position. The Bulldogs overwhelming strength is on the defensive side of the ball.
Advantage:
​Push
Intangibles
North Carolina A&T is a force with very real national title aspirations and a balanced attack that doesn't show signs of slowing down any time soon. That being said, SC State is due and the Bulldogs are playing at home with a defense that can stand up to Raynard and the Aggies. The combination of playing at home and playing with their backs to the wall can only help.
​​Advantage:
​​South Carolina State
Tune in Saturday and watch all the action LIVE on FloFootball. Kickoff is slated for 5 PM CT.
---



How to Watch NC A&T State vs S.C. State
On TV:
Available on Roku and Apple TV 4 -- download the FloSports app now.
Streaming:
Only on FloFootball with a PRO subscription. A yearly PRO subscription provides access to ALL FloSports sites.
JOIN NOW
Join The Conversation On Social
•  Follow us on Twitter
@FloFootball_
•  Follow us on Instagram
@FloFootball
•  Follow us on
Facebook
FloFootball's hottest content, delivered to your inbox
Don't miss breaking news, feature stories, event updates, and more. Sign up for the FloFootball mailing list today.