South Pointe vs. Buford
Buford's Backfield: A Three-Headed Monster
Buford's Backfield: A Three-Headed Monster
Christian Turner, Anthony Grant, and Derrian Brown form a three-headed monster in the Buford (GA) backfield.
Sep 15, 2017
by Kolby Paxton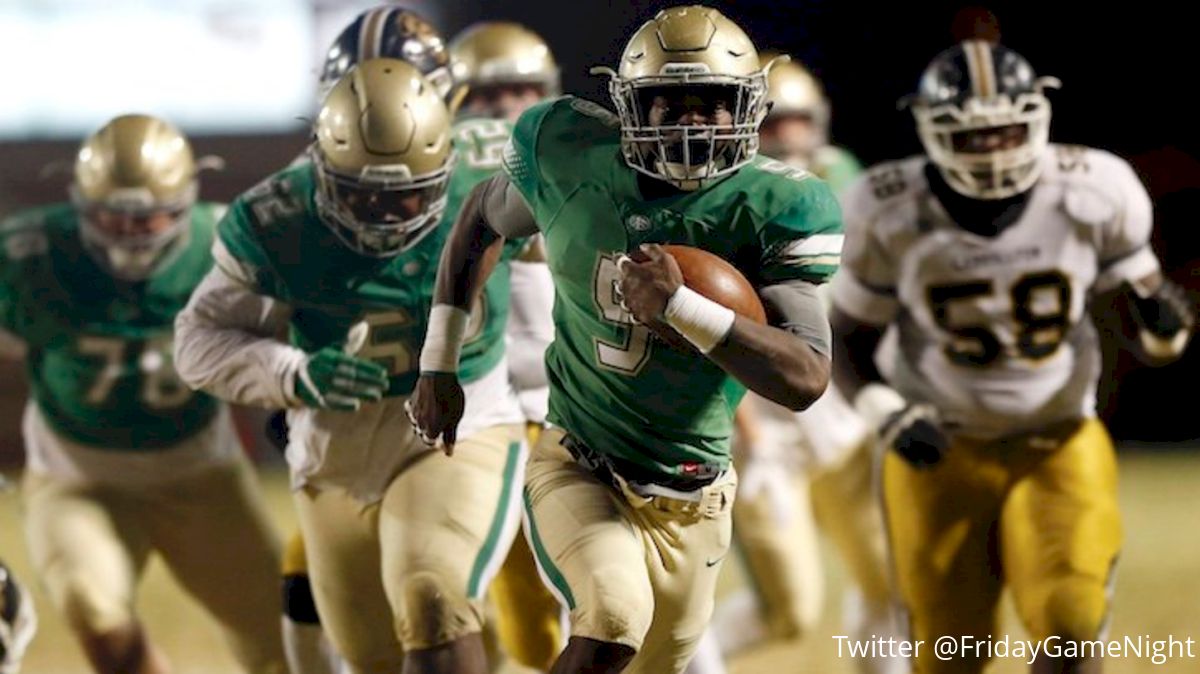 Does Anthony Grant + Christian Turner + Derrian Brown = Darius Walker? Maybe.
Walker -- who would go on to become one of the best runners in Notre Dame's illustrious history -- put Buford (GA) on the map some 14 years ago, capping a record-setting high school career by breaking Herschel Walker's single-season state record for touchdowns (46) on the way to winning Georgia player of the year honors.
All told, Walker racked up 5,676 rushing yards and 91 touchdowns, and the Wolves won 45 straight games and three state championships with No. 7 in the backfield.
Years later, Buford hasn't had a runner obtain the level of success enjoyed by Walker, who would run all the way to the NFL. But the Wolves may collectively have their most talented backfield in school history in 2017.
To illustrate this notion, we need look no further than the fact that junior
Derrian Brown
is the team's
​third
string running back heading into Buford's next game against visiting South Pointe (SC) on Friday night. Brown is also a four-star prospect from the class of 2019 who would start for almost any other program in the state -- let alone the country. At Buford, Brown -- with an offer list that includes Florida, Oregon, and Tennessee -- is
​third
in line for carries.
Watch South Pointe (SC) at Buford (GA) LIVE on FloFootball!

That's because the Wolves have one of the best senior running back tandems in the nation in Michigan commit
Christian Turner
and Tennessee pledge
Anthony Grant
.
In a week one victory over Hillgrove (GA), the trio combined for 293 yards on 31 carries. Turner ran 11 times for 128 yards and two touchdowns. Grant carried 10 times for 90 yards and one touchdown, and Brown ran 10 times for 73 yards -- and returned a kickoff 68 yards for good measure.
In a week two win against Melbourne Central Catholic (FL), the group combined to score all five Buford touchdowns. Turner again led the Wolves in rushing with 126 yards and a pair of scores, but Grant and Brown made their impacts felt both on the ground and in other facets of the game. Brown scored on a 12-yard touchdown run, while Grant scored twice -- once on a 1-yard plunge and again on a 33-yard interception return.
If you're scoring at home, that's 522 rushing yards on 66 carries between the three, with Turner pacing the group with 253 yards and three scores. The committee approach shines light on the fact that there
​is
just one ball to distribute between the three. But if opponents are waiting for dissension to result from the required selflessness, it seems they'll be waiting a while.
"We're doing it for our team, and Ant and I are committed," Turner recently told the
Gwinnett Daily Post
. "All of that's aside and we aren't worried about college. Anything to help the team, that's what it's for. We'll play both sides. I'll even play center if I need to. We're just trying to win state."
It seems unlikely that Turner will see time at center, but he has proven adept at handling the football. The only thing to stop the Buford rushing attack thus far is Hurricane Irma -- which led to the cancelation of the team's Sept. 8 game at International School of Broward (FL).
Assuming the group can shake the rust of back-to-back bye weeks, South Pointe -- ranked No. 8 by USA Today -- will likely be in for its toughest test of the season in the first-ever meeting between the two schools.
One thing is certain, the Wolves won't be running low on firepower out of the backfield anytime soon.

How to Watch South Pointe vs. Buford
On TV:
Available on Roku and Apple TV 4 -- download the FloSports app now.
Streaming:
Only on FloFootball with a PRO subscription. A yearly PRO subscription provides access to ALL FloSports sites.
JOIN NOW
Let Us Hear You On Social
•  Follow us on Twitter
@FloFootball_
•  Follow us on Instagram
@FloFootball
•  Follow us on
Facebook
FloFootball's hottest content, delivered to your inbox
Don't miss breaking news, feature stories, event updates, and more. Sign up for the FloFootball mailing list today.