2017 Battle on the Border
Moss Point, CE Byrd Look To Get Back To Winning Ways
Moss Point, CE Byrd Look To Get Back To Winning Ways
A preview of the Moss Point vs. CE Byrd game at the Battle on the Border on Saturday in Shreveport, LA. Neither program is short on tradition -- but both will be hoping to use a big win as a launching pad to renewed success.
Sep 7, 2017
by Kolby Paxton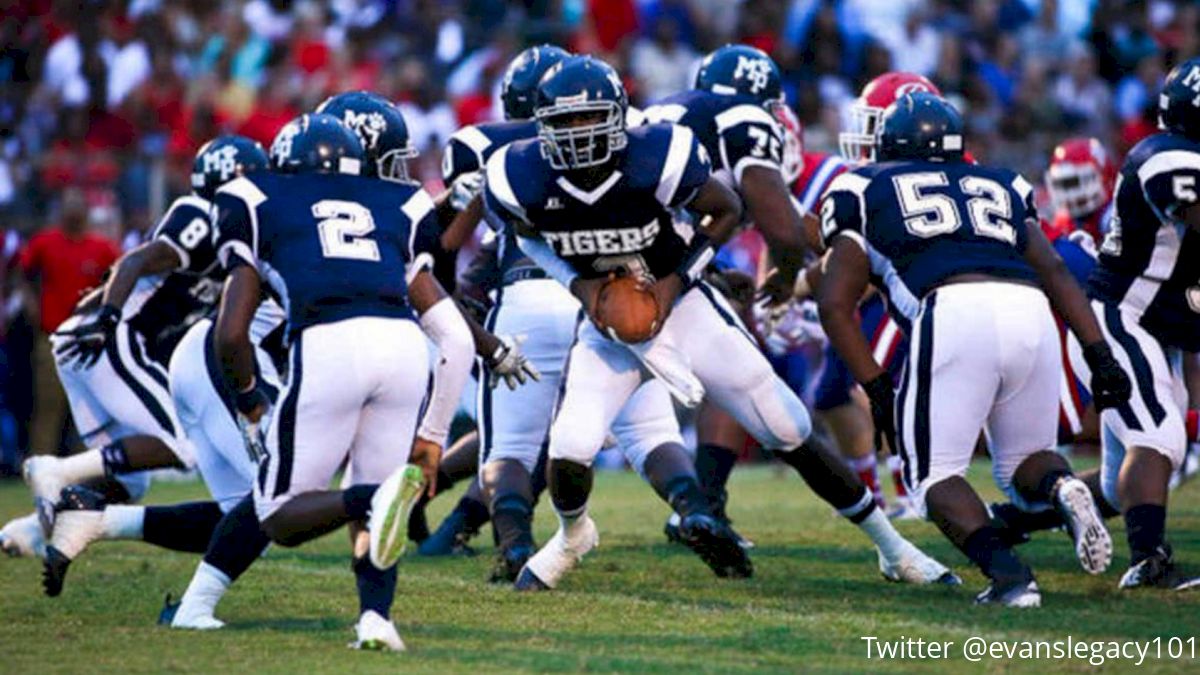 Shreveport CE Byrd (LA) and Moss Point (MS) will serve as the grand finale of the Battle on the Border on Saturday in Shreveport, LA. Neither program is short on tradition -- but both will be hoping to use a big win as a launching pad to renewed success.
Here's everything you need to know.
Battle on the Border VII -- Shreveport CE Byrd (LA) vs. Moss Point (MS)
When: Saturday, Sept. 9 at 7 PM (CT)
Where: Independence Stadium, Shreveport, LA
Broadcast:
FloFootball.com
What you should know about CE Bryd:

The Yellow Jackets rattled off district championships in 2011, 2012, 2014, and 2015. Then things unraveled in 2016. Injuries derailed the team from the outset with seven offensive and three defensive starters going down with injuries a year ago, resulting in a 4-7 overall record. Mike Suggs does return as the Yellow Jackets head coach for the 20th straight season, so that's a plus for CE Byrd, considering Suggs' 141-73 record during his time at the Shreveport school.
What you should know about Moss Point:

Five Mississippi state championship trophies sit inside Moss Point's trophy case, but it's been a while since the Tigers have achieved that level of success. Moss Point last won a state title in 2000 in Class 5A. And after a 5-6 record last season, the Tigers are off to a 1-2 start. It should be noted that Moss Point has had one winning season -- going 7-6 in 2015 -- since 2011.
Offense

CE Byrd will run the ball -- that's no secret. The Yellow Jackets will run, and then they'll run when everyone thinks they're running. With a laundry list of injured players last season, CE Byrd had four different players with 60-plus carries. Javien Wilson rushed for 601 yards and six touchdowns on 95 carries last season, and he's back this season. After rushing for 252 yards and a touchdown last season, Lawson Jackson should take on a more enhanced role in the rushing game. Quarterback Carson Dunn also returns after rushing for 126 yards and three scores last year. When he did pass during his sophomore season in 2016, he completed 15 of 42 passes for 27 yards and two touchdowns. He also threw two interceptions.
Moss Point quarterback Romello Leggins is gone after passing for 801 yards and seven touchdowns last season. Also gone is Omni Wells, who ran for 1,267 yards and 14 touchdowns in 2016. That leaves 5-foot-7, 149-pound Tytus Miles to pick up the slack after rushing for 601 yards and two touchdowns on 111 rushes last season. Miles also caught 11 passes last year and returns as perhaps the Tigers' most viable receiving option.
Advantage:
​CE Byrd
Defense

After allowing 28.4 points per game last season, the most experience returning for the Yellow Jackets on defense this year is in the defensive secondary. D'Tariea Grant had 28 tackles in 2016, and Aaunte Steward and T.J. Singh both recorded 27 tackles. Grant was the only one to intercept a pass. CE Byrd will rotate plenty of players among the front seven, so perhaps staying fresh will be the key.
Lashan Coleman had a team-high 117 tackles last season. He's gone. Marquis Peairs led the Tigers with three sacks. He's gone, too. There is plenty to replace for Moss Point on defense. What the Tigers do have is Jonavan Jackson, a 6-foot-2, 160-pound sophomore who had 45 tackles and three interceptions last season as a freshman.
Advantage:
​CE Byrd
Special teams

Scotty Roblow takes over as CE Byrd's kicker and punter for his junior season. Ben Smith, who made 5 of 7 field goals last year, and Hardy Trafford, who averaged 39.6 yards per punt last season, combined to handle the special team duties last season. Now it's all on Roblow.
Moss Point has a familiar face in the kicking game with Austin Herrera back. He made 13 of 17 extra points but didn't attempt a field goal last year.
Advantage:
​Moss Point
Intangibles

CE Byrd was blanked 31-0 by St. Thomas More in the Battle on the Border last season. The Yellow Jackets were decimated by injuries. It really couldn't have gotten any worse. Now they're back but with a lot of new faces.
Moss Point has fallen on hard times over the past several seasons. How will the Tigers respond on a big stage like Battle on the Border?
Advantage:
​CE Byrd
Key matchup:

CE Byrd running game vs. Moss Point front seven
The Yellow Jackets are being forced to revamp most of their rushing attack. The same goes for Moss Point on defense. Which group of newcomers can prevail on the big stage? Track record and pedigree would side with CE Byrd.
---
Friday & Saturday, September 8-9 | 6 PM (CDT)

Shreveport Independence Stadium, Shreveport, LA



How to Watch
On TV:
Available on Roku and Apple TV 4 -- download the FloSports app now.
Streaming:
Only on FloFootball with a PRO subscription. A yearly PRO subscription provides access to ALL FloSports sites.
JOIN NOW
Join The Conversation On Social
Follow us on Twitter
@FloFootball_
Follow us on Instagram
@FloFootball
Follow us on
Facebook
Follow us on
YouTube
FloFootball's hottest content, delivered to your inbox
Don't miss breaking news, feature stories, event updates, and more. Sign up for the FloFootball mailing list today.