Can Saguaro Survive The Loss Of Eight Division I Recruits?
Can Saguaro Survive The Loss Of Eight Division I Recruits?
Scottsdale Saguaro is traditionally among the most talented teams in the country, but can they survive the loss of 8 Division 1 recruits?
Aug 11, 2017
by Kolby Paxton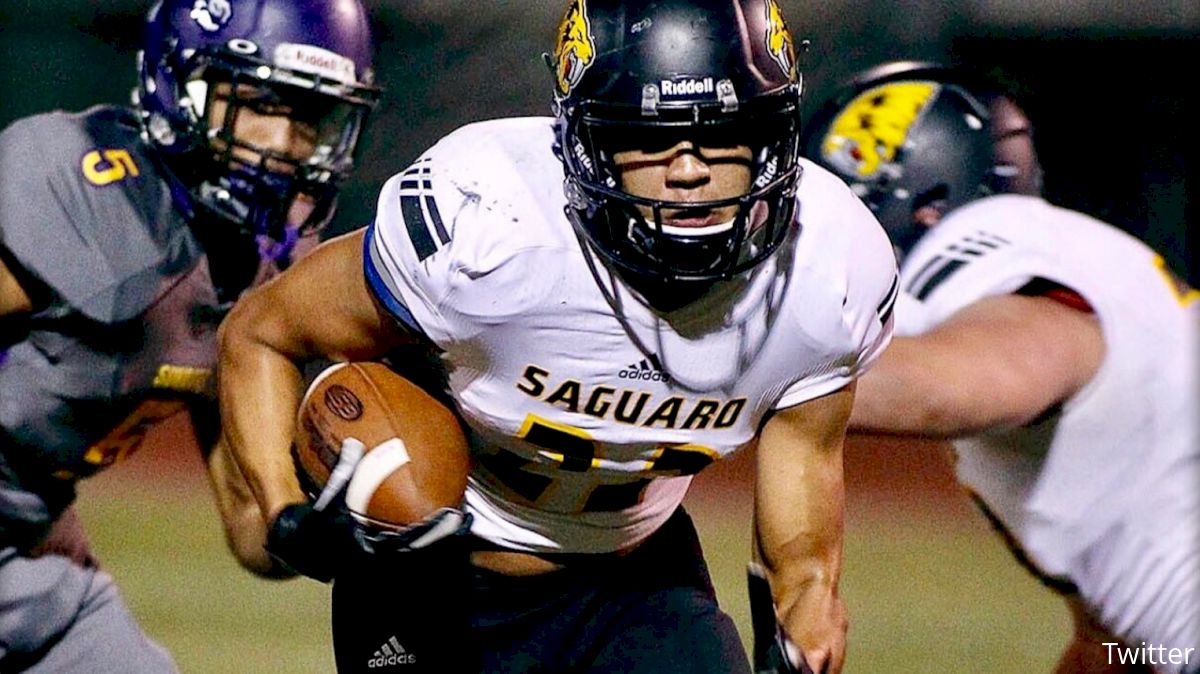 Twenty-five consecutive wins.
Four straight Arizona 4A state championships -- nine such titles in the past 11 years.
An average margin of victory better than 36 points per game in 2016.
Few high school programs in the country can lay claim to the degree of domination that Scottsdale Saguaro has enjoyed of late. And, yet, one of the most impressive numbers associated with last year's iteration of Sabercats serves as a daunting hurdle for this year's team. That number is eight.
As in, eight members of Saguaro's Class of 2016 are now on Division I rosters -- including four of the team's five starting offensive linemen. Six of the eight are now in the Pac-12. For all of the program's success, this extraordinary feat begs the question:
Can Saguaro reload?
"It's going to be hard to replace those guys," SHS head coach Jason Mohns said. "I don't think you can do that. But we do have a talented crop of players who've paid their dues and waited for their time. And I don't think we ask those kids to be anything they're not. We have to let them create their own identity."
'Right Into The Fire'
Saguaro's issue isn't talent. Make no mistake, Mohns' bunch is nothing if not talented. The issue -- an obvious result of losing eight defensive starters, a 2,000-yard rusher, and 80 percent of the offensive line -- is experience.
Senior quarterback Max Massingale and senior safety Josiah Bradley bring both experience and next-level talent. Bradley, for his part, is expected to carry a relatively significant portion of the load at running back, as well -- softening the loss of Stone Matthews and his aforementioned 2,088 rushing yards. Both Massingale and Bradley, however, will shoulder the additional burden of leading a relatively young group.
And there's no easing into this schedule.
Saguaro opens it season on August 18 with the last team it played in 2016 -- state runner-up Tucson Catalina Foothills -- followed by a trip to
Nevada powerhouse Liberty on August 26
and a home test against back-to-back Utah state champion East on September 1. The Sabercats' schedule is among the toughest in the nation, particularly in August and September.
Watch Saguaro (AZ) at Liberty (NV) LIVE on FloFootball!

"Right out of the gate, we're playing tough competition," Mohns said. "Our first four games, there's really no break in sight. There are no warm-up games; no tune-up. It's full-throttle all the way. And that's what we do."
If Mohns seems overly willing to embrace one of the nation's toughest opening stretches, his general eagerness is neither illusion nor delusion.
"We always want to test our guys early," he said. "The last thing we want to do is get four or five games into the season without getting tested, only to find out at the midway point that we've got some holes in our game -- and now we only have one month to fix them before the playoffs start.
"We want to find out where we are early and maximize the time we have to build, grow, and develop from there. So that's what we do. We throw ourselves right into the fire."
'The Expectations Are No Different'
Massingale -- an Air Force commit who accounted for over 2,000 yards passing and more than 1,000 rushing yards last year, despite being kept "in bubble wrap," as described by Mohns -- is the type of player who can quickly extinguish the flames, a fact not lost on his head coach.
"When you replace the kind of talent we had on the offensive line and at tight end, you don't want to have a young quarterback behind those guys," Mohns said. "Max is savvy and poised in the pocket, and the fact that he's as athletic as he is, is going to help those guys. He's able to cut a guy a break if they miss a block or miss an assignment. If you're going to have a new offensive line, ideally you want to pair that with a guy like Max."
As for who will replace what was one of the most powerful offensive fronts in the country, Massingale's group is a combination of elite potential and diligent workmanship. Senior center Ruben Pimbert is back, which is big. Around him, the Sabercats will feature junior Jelani Newman and senior Patrick McInerney at the guard spots, rising prospect Tye Kasson at left tackle, and Carter Koziol or Jayden Swink at right tackle.
No fewer than three of Saguaro's newest cast of blockers appear headed for Power Five rosters.
"We're not letting out offensive line off the hook," Mohns said. "We're trying to get those guys to the level that we expect to be at. We're pushing them. They know the expectations are no different for them this year than they are any other year."
As hard as graduation hit Saguaro's offensive line, it hit the defense even harder. The Sabercats are replacing eight of 11 starters, including inside linebackers Brandt Casey and Carson Nugent. Casey -- described by Mohns as the "heart and soul" of last year's team -- leaves an intangible void, as well.
Saguaro will look to fill both spots with an altogether different type of player. Where Casey and Nugent were more traditional, inside-the-box type of players, Clay Randall and Connor Soelle are both fluid, flexible and fast.
"Both guys are really instinctual players, but what they bring that we haven't ever had in the past is speed," Mohns said. "Both of them could play on the outside. Connor could play safety. With as many spread teams as we have on our schedule, it's nice to have that."
'Going To Be Young... But Good'
Randall and Soelle are a microcosm of a key difference between this defense and the 2016 version -- a difference that Mohns and his staff hope will allow this younger, less experienced group to be equally dominant: They're demonstrably more athletic.
Spend just a few minutes listening to Mohns describe the individuals on his defense and the theme is abundantly clear.
Seth Robinson? A wide receiver-turned-outside linebacker. Dynamic athlete.
Kelee Ringo? Track speed. Can range from outside linebacker to corner.
Giovanni Miranda? Division I offers at outside linebacker and tight end.
Brandon Shivers? Speed to burn. Pac-12-bound.
Nate Polk? Long, prototypical body. Runs well. NFL genes.
And, of course, there's Bradley, who's one of the top players in Arizona, ranges sideline-to-sideline, and has the ability to play virtually any skill position on the field.
"We like the group of kids we have," Mohns said. "We don't have a lot of experience, but we do have talent, speed, and athleticism. We're going to be young, but we're going to be good."
How good remains to be seen, but counting out the likes of Mohns, Massingale, and Bradley seems ill-advised.
After opening its season in-state, Saguaro will travel to Henderson, Nevada, for a marquee showdown with Liberty. Watch it live on FloFootball.