It's easy to get caught up in the first wave of college football preseason polls, but not every playoff contender will necessarily begin its fall campaign firmly within the top 25.

A year ago, Washington was ranked No. 18 in the first Coaches Poll but still ended up across from Alabama on New Year's Eve. In 2015, a North Carolina team that was unranked in the preseason (the Tar Heels received just two votes) was within eight points of winning the ACC and making its own case for college football's final four.

Can another team come out of nowhere this year? These six unranked squads just might have what it takes.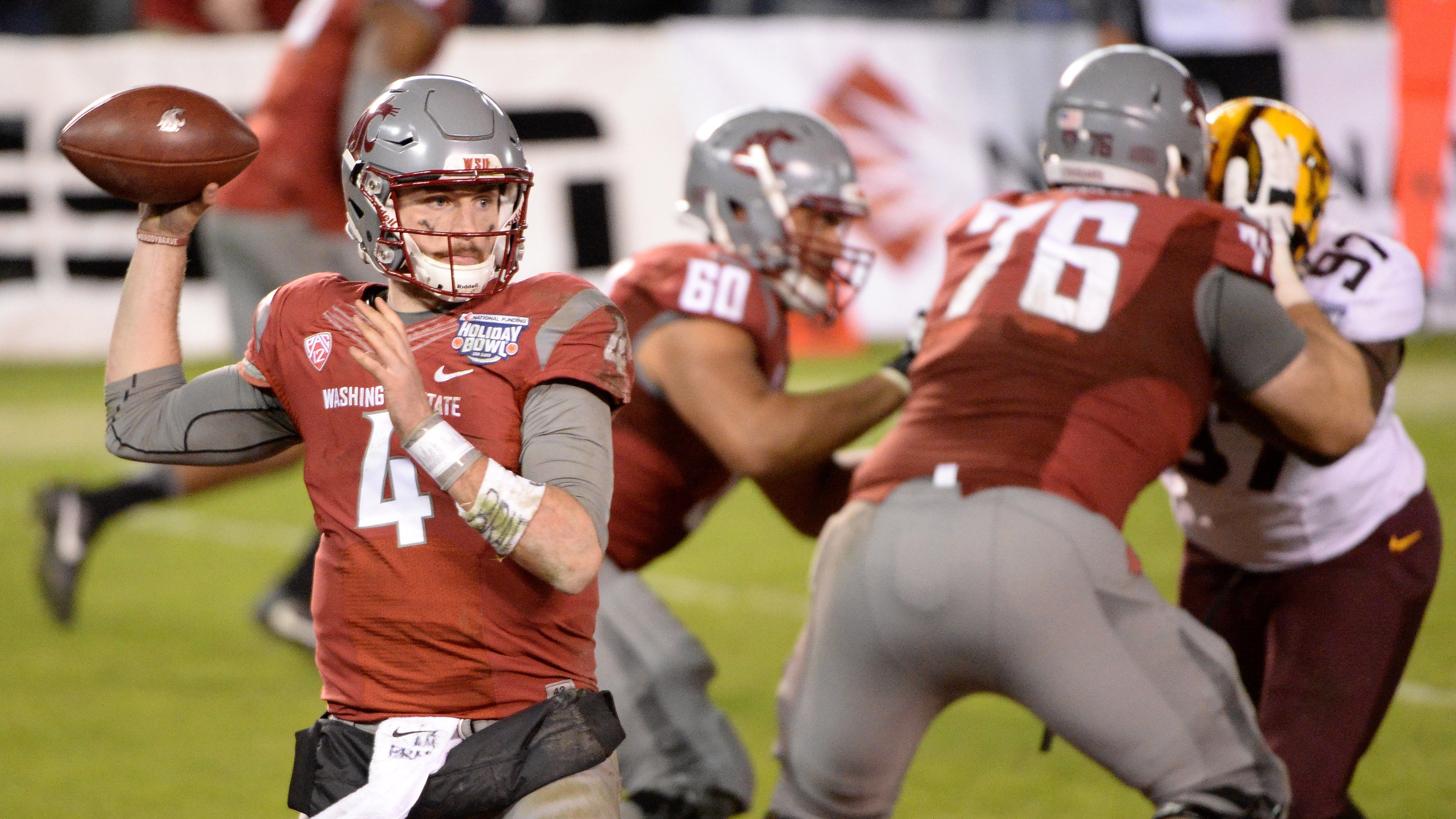 Washington State quarterback Luke Falk (4) throws a pass during the second half of the Cougars' 17-12 loss to Minnesota in the Holiday Bowl at Qualcomm Stadium in San Diego on December 27. (Orlando Ramirez-USA TODAY Sports)


1. Washington State
National Championship Odds: 60-1
This isn't necessarily a bold suggestion. Wazzu finished just outside of the top 25 in last week's poll release, and there's a lot to like in Pullman -- particularly on offense.

Quarterback Luke Falk is back for his final season with the Cougars, and that alone gives Mike Leach's bunch a puncher's chance in the Pac-12. Falk might be overlooked in a league with the top two NFL quarterback prospects in the country, but opposing defenses won't have that luxury.

Falk is joined by his team's top five rushers from 2016, and that's the true differentiator for Washington State. Leach is synonymous with the air raid, but the Cougs have demonstrated the ability run over folks on the ground and establish some balance, which takes this offense to another level.

Why Washington State won't make the College Football Playoff:
The defense is aggressive but inconsistent. Wazzu's special teams is among the worst in the nation.

Why Washington State will make the College Football Playoff:
Falk is good enough to carry the Cougars there, provided they strike some offensive balance with that stable of running backs.

Key games: Oct. 7 at Oregon, Nov. 25 at Washington


2. Oregon
National Championship Odds: 60-1
Believe it or not, last season wasn't as bad as it seemed for Oregon. Actually, let's rephrase: Last season was bad, but it put the Ducks in excellent position for this season -- new coach Willie Taggert's first with the program.

Amid the struggles, true freshman quarterback Justin Herbert and four freshman offensive linemen got big time experience on offense. Star running back Royce Freeman stayed in Eugene for his senior season, as well -- a huge win for Taggert -- and it's reasonable to believe that those pieces will actually work even better in Taggert's Gulf Coast Offense.

Across the ball, Jim Leavitt is in as the defensive coordinator on the heels of a transformative tenure at Colorado -- and, with him, former Clemson defensive tackle Scott Pagano is aboard as a graduate transfer. Back in a three-man front, the Ducks will immediately be vastly improved from a season ago.

Why Oregon won't make the College Football Playoff:
Taggert has pushed a lot of the right buttons, but it's still year one. The Ducks are young at some key spots, nevermind the suddenly stiff competition in the Pac-12 North.

Why Oregon will make the College Football Playoff:
It's tough to hire two better coaches for an overnight turnaround than Taggert and Leavitt. The Ducks will be great on offense and good enough on defense.

Key games: Sept. 9 vs. Nebraska, Nov. 4 at Washington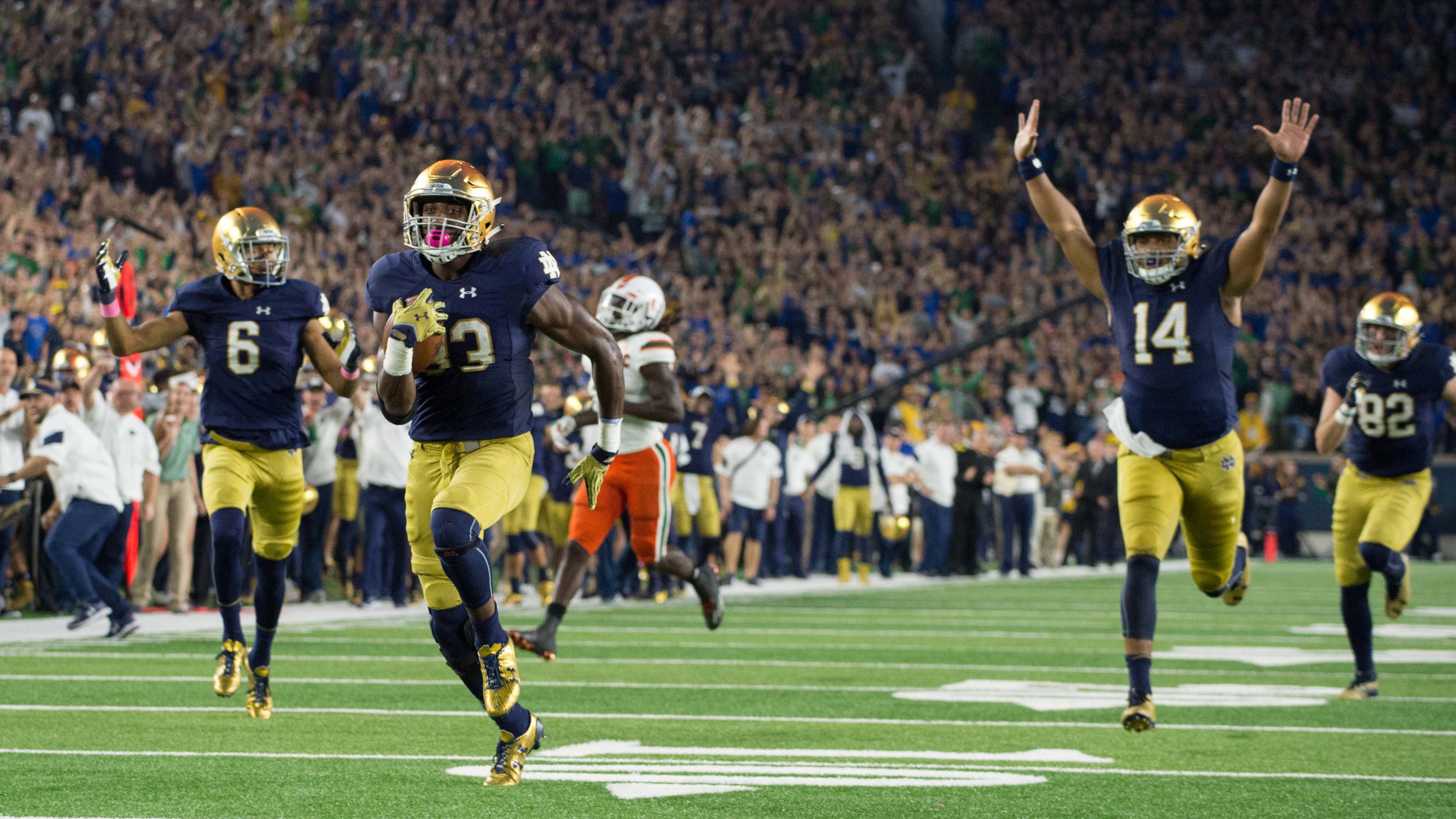 Notre Dame running back Josh Adams (33) rushes for a touchdown in the fourth quarter against Miami in South Bend, IN, on October 29. Notre Dame won 30-27. (Matt Cashore-USA TODAY Sports)


3. Notre Dame
National Championship Odds: 60-1
Let's start with the obvious: Notre Dame wasn't very good last year -- and what used to be a quarterback logjam is now long gone.

Still with us? Good. Because here's the thing: The Irish were actually quite close to being considerably better in 2016, losing eight games by eight points or fewer. And with respect to former quarterback DeShone Kizer, Brandon Wimbush doesn't figure to be much (if any) of a downgrade at the position. What's more, Wimbush has a lot of help. The Irish are equipped with explosive offensive weapons (see: Adams, Josh) and some ol' heads along the offensive line.

A defensive unit that allowed 34 or more points on five separate occasion will need to stop opposing offenses more consistently, but that's where former Wake Forest defensive coordinator Mike Elko and senior linebacker Nyles Morgan come in to play.

Why Notre Dame won't make the College Football Playoff:
That schedule. Georgia visits the Irish in September, and there's next to nowhere to come up for air after the calendar turns to October.

Why Notre Dame will make the College Football Playoff:
With a massive home victory over Georgia, the Irish stand an excellent chance of entering October unbeaten and exploding with confidence. From there, all bets are off.

Key games: Oct. 21 vs. USC, Nov. 11 at Miami


4. TCU
National Championship Odds: 60-1
The lazy take: Trevone Boykin, Kenny Hill is not. Hill was a turnover machine in 2016 and proved, on more than one occasion, to be ill-equipped to keep the Horned Frogs' offensive machine moving forward.

Dig deeper, though, and notice that TCU wide receivers led the entire nation in drops -- a number (38) that likely would've been even higher had the same receiving core not also had a well-documented habit of running incorrect routes. Thirteen interceptions is still 13 interceptions, but Hill is also still a playmaker with upside.

The defense, particularly by Big 12 standards, is strong. TCU is talented and experienced all over the field -- especially at cornerback (Ranthony Texada and Julius Lewis), linebacker (Travin Howard), and safety (Niko Small and Nick Orr). With a little more balance and ball control on offense, there's plenty of pieces in place for run.

Why TCU won't make the College Football Playoff:
Whether it's Hill or his targets, TCU's lack of discipline and communication in the passing game is an Achilles' heel that often rests at the feet of the quarterback. Another turnover-prone season will doom the Frogs once again.

Why TCU will make the College Football Playoff:
Throughout his career, Hill has shown flashes of Heisman-esque brilliance on the field. Should he string those flashes together into one season-long highlight reel, TCU can become the class of the Big 12.

Key games: Nov. 4 vs. Texas, Nov. 11 at Oklahoma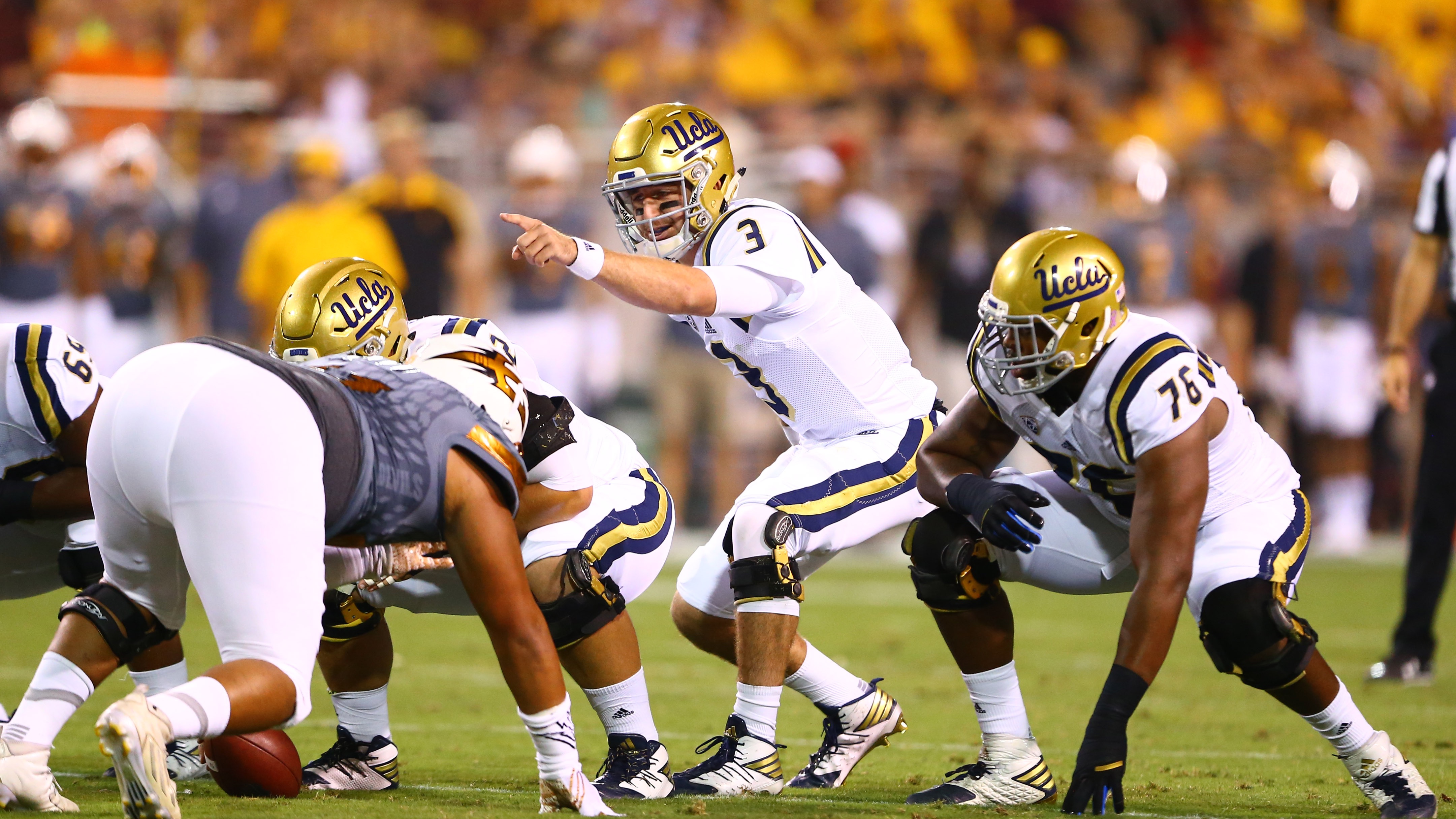 UCLA quarterback Josh Rosen (3) signals to the Bruins' offense against Arizona State at Sun Devil Stadium in Tempe, AZ, on October 8. (Mark J. Rebilas-USA TODAY Sports)


5. UCLA
National Championship Odds: 60-1
The case for UCLA is pretty simple: How much do you believe in Josh Rosen?

Almost certainly set to become one of the top two quarterbacks selected in the 2018 NFL Draft, Rosen's first two years in Westwood, CA, have been rocky. Rosen and the Bruins showed great promise during an 8-5 season in 2015, but a midseason injury extinguished that momentum a year ago. If Rosen can remain healthy and reach his full potential, he's the type of player who can carry a team for a full season -- and he'll be surveying his options behind an offensive line with a combined 85 starts.

The Bruins defense will be steady if not great -- thanks, in part, to the return of senior linebacker Kenny Young and the arrival of No. 1-ranked prospect Jaelen Phillips. UCLA won't win or lose because of its defense.

Why UCLA won't make the College Football Playoff:
The defense lost six starters to the NFL and one of the nation's worst rushing attacks is still without answers. Well, that, and USC.

Why UCLA will make the College Football Playoff:
Josh Rosen.

Key games: Oct. 28 at Washington, Nov. 18 at USC


6. Arkansas
National Championship Odds: 200-1
The darkest of horses, Arkansas actually regressed on paper during Bret Bielema's fourth season thanks to a developed propensity for second-half collapses.

The Hogs were tied or in the lead in 10 of 13 games, yet finished 7-6. Arkansas needed overtime to beat TCU despite a 13-0 halftime advantage. They were outscored by Texas A&M 28-7 in the second half after going into the locker room tied at 17. And in the Razorbacks' final two games of the season, they led Missouri and Virginia Tech by a combined score of 48-7 at the break -- but were outscored 56-0 in the second half.

Still, the Hogs were tied or in the lead in 10 of 13 games -- 87 points better than their opponent in the first half -- and, after all, this exercise isn't for the faint of heart.

Quarterback Austin Allen is among the Southeastern Conference's very best. He's tough and talented and has several weapons at his disposal, including wide receiver Jared Cornelius and running back Devwah Whaley. The defense returns six defensive backs with starting experience and is now led by former Iowa State coach Paul Rhodes -- both of which are circumstances that figure to bode well for the Razorbacks.

Why Arkansas won't make the College Football Playoff:
Losing running back Rawleigh Williams and receiver Drew Morgan hurts on offense. The defense is largely inexperienced, and the Razorbacks share a division with Alabama, Auburn, and LSU. Oh, and games are typically four quarters long -- not two.

Why Arkansas will make the College Football Playoff:
Whether it's by hypnosis, refusing to re-enter the locker room, or saving the pulled pork for post-game, Arkansas will find a way to finish games.

Key games: Oct. 14 at Alabama, Nov. 11 at LSU



Join The Conversation On Social
• Follow us on Twitter
@FloFootball_
• Follow us on Instagram
@FloFootball
• Follow us on
Facebook
FloFootball's hottest content, delivered to your inbox
Don't miss breaking news, feature stories, event updates, and more. Sign up for the FloFootball mailing list today.