The Spring League Showcase
David Ash Thankful For Spring League Opportunity
David Ash Thankful For Spring League Opportunity
David Ash is thankful for the opportunity with The Spring League to show he can still compete.
Jun 30, 2017
by Ryan Holmes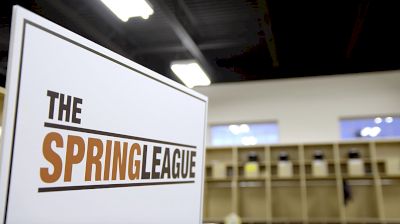 Things haven't been easy for former University of Texas quarterback David Ash. Ash came in hot for the Longhorns, leading them to the 2011 Holiday Bowl before a number of concussions left him sidelined.
But now he is getting another chance to play the game he loves in the Spring League, "an instructional league and developmental platform for professional football talent."
"There's just a couple of major questions that teams have for me and the first would be 'am I healthy enough to play'," said Ash. "Number two, am I still used to playing the game of football, because you don't just stop and get right back in. There's a lot going on in the game and being able to show that I can go through the facets of the game like reading a defense or feeling the speed of the game and all that kind of stuff is important. And this is great exposure and just good fun. Those are the three things that the Spring League is able to provide."

With being away from the sport for so long, Ash is just happy that he has the chance to get back on the field and play the game he loves.
"I'm looking forward to going out, having fun playing the game of football and demonstrating the skills that God's given me," he said. "I think I'm worth giving a shot on a team somewhere. I'd like continue to develop and pick up where I left off when I had to stop playing."
Ash along with a host of talented athletes will look to prove they are worth day in and day out as they grind through the Spring League.
"This is certainly a great opportunity," Ash said. "Getting to play with some guys at a high level for a chance to get on a team somewhere and hopefully learn a playbook and settle in to develop my skills over a period of time with some familiar faces everyday. But I'm thankful for this opportunity, and thankful that I'm healthy, and I'm looking forward to the chance to get to play from football, where ever it might be. The game is a lot of fun and I hope for the opportunity to play some more."
How To Watch
ON TV:
Now available on Roku 3 and Apple TV 4
STREAMING:
Available only on FloFootball. A yearly FloPRO subscription provides access to ALL FloSports sites.
SIGN UP HERE
Join The Conversation On Social
• Follow us on Twitter
@FloFootball_
• Follow us on Instagram
@FloFootball
• Follow us on
Facebook
FloFootball's hottest content, delivered to your inbox
Don't miss breaking news, feature stories, event updates, and more. Sign up for the FloFootball mailing list today.