2023 CAA Football
CAA Notebook: 2023 FCS Playoffs Field Set, Villanova & UAlbany Earn Seeds
CAA Notebook: 2023 FCS Playoffs Field Set, Villanova & UAlbany Earn Seeds
Four CAA teams were revealed as participants in the 2023 FCS Playoffs, including UAlbany and Villanova, which landed top-eight seeds.
Nov 20, 2023
by Kyle Kensing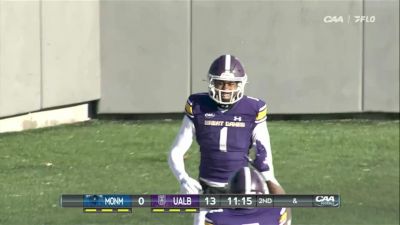 Each of the four Coastal Athletic Association teams with the strongest cases for the 2023 FCS Playoffs field — co-champions UAlbany, Richmond and Villanova, along with Delaware — landed bids to the postseason.
All four closed out the regular season with at least eight wins, typically the number to guarantee a CAA team inclusion in the bracket. For as safe as each may have deserved to feel, however, Delaware was the last name revealed on the Selection Special.
They are in!!!

Pumped to see @Delaware_FB will host Lafayette in the @NCAA_FCS first round#CAAFB | #FCSPlayoffs pic.twitter.com/ulinMNZzef

— CAA Football (@CAAFootball) November 19, 2023
"Both those things are true. I was pretty confident going in, and I think it's human nature when you're literally the last name up there to get a little bit worried," Delaware coach Ryan Carty said. "What we did during the season did, I think, solidify us as a certain contender there. And I don't think we were close to the bottom [of at-large selections], to be honest.
Indeed, the Last Four In as revealed by the selection committee did not include the Blue Hens. That seems like it goes without saying, given Delaware entered its Battle of the Blue matchup with Villanova very much in the hunt for one of the top-eight national seeds.
"Still," Carty added with a laugh, "It was a little disheartening to not have it up there. With all the commercial breaks they go to, the more stressful it gets."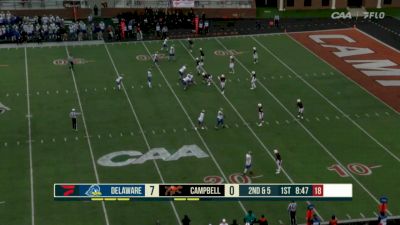 Despite the wait, Delaware is playing at home in the 1st Round — as are all four of the CAA's playoff bound teams.
The Coastal receiving four bids, two byes and four home games reflects the respect the conference garnered this season. Four selections matches the Big Sky for second-most behind only the Missouri Valley Football Conference, which features reigning national champion and No. 1 overall seed South Dakota State.
"As always, I'm going to be a proponent of this league," Carty said. "It's weird on the outside, because it's a little more spread out and there's 15 teams in it. From the outside looking in, there are times that people think it might not be as strong because of that, and I disagree. There might be one or two teams who have bad years, but when we're playing those games year-in and year-out, let me tell you this: When I was in the Southland Conference [on the staff at Sam Houston] and...the [Western Athletic Conference], [the CAA]'s much stronger than that. It's not even close, to be honest."
Carty praised the top of the MVFC and Big Sky as "really special," and added, "I think ours are, too."
The Playoffs offer the opportunity to prove that. In the 2000s, beginning with Delaware's 2003 national championship, CAA teams were fixtures in the National Championship Game.
With North Dakota State's dynasty in the 2010s and the seamless transition South Dakota State's made as the front-runner of the subdivision, the MVFC has nearly monopolized title-game berths. The four CAA teams in this year's field are looking to become the first Coastal program other than James Madison in 2016, 2017 and 2019 to make the Championship Game since Towson in 2013.
The road begins on Nov. 25 when the Blue Hens welcome Patriot League champion Lafayette to The Tub, while Richmond hosts North Carolina Central.
UAlbany and Villanova, meanwhile, get home-field advantage for their 2nd Round games. The Great Danes could see CAA counterpart Richmond, while the Wildcats draw the winner of Northeast Conference champion Duquesne at MVFC at-large selection Youngstown State.
Their national seeds reflected the strong finishes both UAlbany and Villanova had to the regular season, which saw the Great Danes win their fifth straight in a 41-0 rout of Monmouth and Villanova claiming its sixth in a row with a 35-7 blowout of rival Delaware.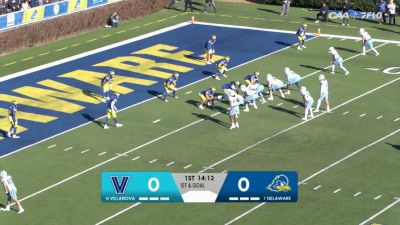 The Wildcats' Battle of the Blue performance was their most impressive yet this season, particularly on defense. Shane Hartzell's pick-six put an exclamation point on a dominant effort that also showcased Villanova's balanced offense.
"It's a question that people were asking me since [the win at Delaware], where do you think you're going to land. I always have the same answer: I'm not on the committee," Villanova coach Mark Ferrante said on the Selection Special of the Wildcats' seeding. "We'll take where they put us, and we'll be excited to play."
Villanova is the No. 8 overall seed and UAlbany is No. 5. The five-spot is UAlbany's best positioning in three all-time FCS Playoffs appearances.
NO. 5️⃣❗#UAUKNOW #WinTheDay 🟪🟨 pic.twitter.com/SGktysiquy

— UAlbany Football (@UAlbanyFootball) November 19, 2023
Along with that bit of history for the team, linebacker Dylan Kelly's outstanding season added another historic milestone. His 147 tackles this season (and counting) are most-ever in a single season at UAlbany.
When you break a 49-year-old record en route to a shutout victory for a championship title, you just might win @CAAFootball DPOTW honors 🤷‍♂️

There's a lot to celebrate about if your name is @Dylankelly_12 🎉

📰: https://t.co/2XGt4ephs9#UAUKNOW #WinTheDay 🟪🟨 pic.twitter.com/bStsob4ukF

— UAlbany Football (@UAlbanyFootball) November 20, 2023
CAA Stars Standing Atop the Nation
Dylan Kelly is one among a number of CAA standouts who closed the regular season ranked in the nation's top three of an individual statistical category, his tackles equaling third-most among all FCS players.
Others include:
UAlbany DE Anton Juncaj: 13 sacks (No. 2)
UAlbany WR Julian Hicks: 11 touchdown receptions (No. 3)
Monmouth RB Jaden Shirden: 1,478 rushing yards (No. 1)
Monmouth WR Dymere Miller: 1,293 receiving yards (No. 1)
New Hampshire RB Dylan Laube: 18 total touchdowns (No. 2), 467 kickoff return yards (No. 3), 2,095 all-purpose yards (No. 1)
New Hampshire DB Randall Harris: 5 blocked kicks (No. 1)
North Carolina A&T WR Taymon Cooke: 3 kickoff return touchdowns (No. 1)
Towson P Josh Cupitt: 44.9 yards per punt (No. 3)
Play-Ins for the Playoffs
The FCS Playoffs officially kickoff on Nov. 25, but the preceding Saturday offered distinct postseason feel from a variety of games that functioned as play-ins.
Austin Peay clinched a share of the first-ever United Athletic Conference championship in Week 11, but the Governors' eight-game winning streak didn't ensure them a postseason bid. Clinching the automatic bid against Central Arkansas, which could stake claim to that berth with a win, would leave Austin Peay no doubt.
The de facto inaugural UAC championship game came down to defense, with Austin Peay first denying Central Arkansas a would-be, game-tying two-point conversion before shutting down the Bears' final touchdown possessions in UCA territory.
Not done yet. 🎩🏈#ChaseTheLion | #LetsGoPeay pic.twitter.com/VI7gQ3vM6y

— Austin Peay Football (@GovsFB) November 19, 2023
With the outright conference championship, Austin Peay secured just its second bid in program history. Richmond came into the Capital Cup showdown with William & Mary seeking its second playoff bid in as many seasons, and 13th all-time.
Locking up a spot in the Playoffs became the Spiders' reward for winning an instant classic.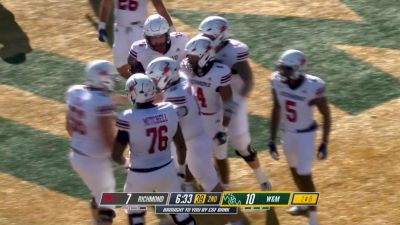 "It was gut-wrenching while it was taking place," Richmond coach Russ Huesman said of the final play in which the Spiders defense denied a would-be game-winning conversion attempt. "As soon as I saw the incomplete pass, I think it was feeling of relief as it came over me."
"Players probably handle it a little bit better than coaches do," Huesman continued. "Players kind of got a good feel for, 'Hey, we're going to win this game.' But I'm always nervous. It was nerve-racking at the end."
The Richmond coach said he'd told the team not to run over to grab the Capital Cup but to instead wait for it to be presented. Naturally, the joy of the moment overtook the Spiders and they ran to the Cup.
Huesman noted that they ran to the Capital Cup first, not the conference championship trophy. That may be the most perfect reflection of just how important rivalry is in college football.
Big Surprise from the Big Sky?
Another Week 12 matchup that had the feeling of a play-in but didn't pan out that way saw UC Davis beat rival Sacramento State, 31-21, in the Causeway Classic. The Aggies built a 17-0 halftime lead on the way to their third straight win and a 7-4 record — the same mark as Sacramento State — in what appeared was a strong closing statement for playoff inclusion.
However, UC Davis was listed among the Last Four Out on the Selection Special. Sacramento State returns to the Playoffs for the fourth consecutive fall season.
The Hornets benefited from their non-conference schedule, which included a win over Southland Conference champion Nicholls. And while upsets involving Pac-12 Conference teams have repeatedly kept contenders out of the national championship tournament at the FBS level, beating former head coach Troy Taylor's Stanford team bolstered Sacramento State's strength of schedule.
SoCon's Strange Saturday
No conference more dramatically altered its FCS Playoffs outlook on the final regular-season Saturday than the Southern.
Western Carolina dropped a 27-24 decision to a sub-.500 VMI team, presumably popping the Catamounts' bubble. It's fair to suggest Western Carolina would have landed an at-large bid with a win, given SoCon counterpart Chattanooga earned a berth to face Austin Peay in the 1st Round.
The Catamounts beat Chattanooga on Oct. 7, 52-50, and a win over VMI would have given Western Carolina a superior, 8-3 record. Given the Mocs were identified among he Last Four In, WCU's bubble bursting had to have helped their case.
SoCon champion Furman, meanwhile, went into Week 12 ranked No. 2 in the STATS Perform Top 25. The Paladins went into the finale looking like shoo-ins for no worse than the No. 3 seed, and perhaps in contention to host all the way up to Frisco.
But the Wofford Terriers didn't get the message.
Wofford was just 1-9 ahead of the Week 12 matchup with Furman, but the Terriers shut down the SoCon champs and nation's No. 2-ranked team in the most shocking result of the season.
Now on 4&1 for Furman, a fumble and Pulley returns it for a TD! pic.twitter.com/9mz4Vv1fp5

— Wofford Football (@Wofford_FB) November 18, 2023
Mercer arguably had the best Week 12 of any SoCon playoff contender by virtue of having a bye.
The Bears closed the regular season at 8-3 and were awarded the program's first-ever FCS Playoffs appearance with a 1st Round matchup against Big South-OVC champion Gardner-Webb.
"𝐖𝐞 𝐞𝐚𝐫𝐧𝐞𝐝 𝐭𝐡𝐞 𝐫𝐢𝐠𝐡𝐭 𝐭𝐨 𝐛𝐞 𝐡𝐞𝐫𝐞."
🎙️@Drew_Cronic #RaiseTheBar | #RoarTogether pic.twitter.com/hcjwWgKKej

— Mercer Football (@MercerFootball) November 19, 2023
Welcome, Newcomers
Mercer is one of two participants in this year's FCS Playoffs field making their first appearance. Joining the Bears, the Drake Bulldogs concluded an undefeated Pioneer Football League slate with a comeback win in Week 12 at Butler.
Drake held Jyran Mitchell, one of the nation's top rushers, to just 55 yards, and kept Butler out of the end zone for the day. That gave the Bulldogs the opening they needed for Dorian Boyland's fourth-quarter touchdown to give Drake the lead and its first playoff berth.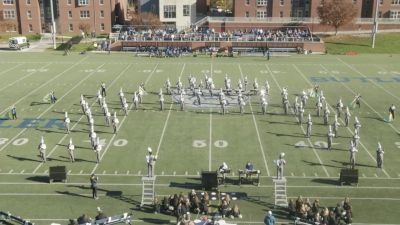 Unlock this video, live events, and more with a subscription!
Get Started
Already a subscriber? Log In