2023 Villanova vs Delaware
Villanova vs. Delaware Prediction & More CAA Football Week 12 Picks
Villanova vs. Delaware Prediction & More CAA Football Week 12 Picks
CAA football enters the final weekend of the 2023 regular season with a crowded championship picture and plenty of FCS Playoffs on the line.
Nov 16, 2023
by Kyle Kensing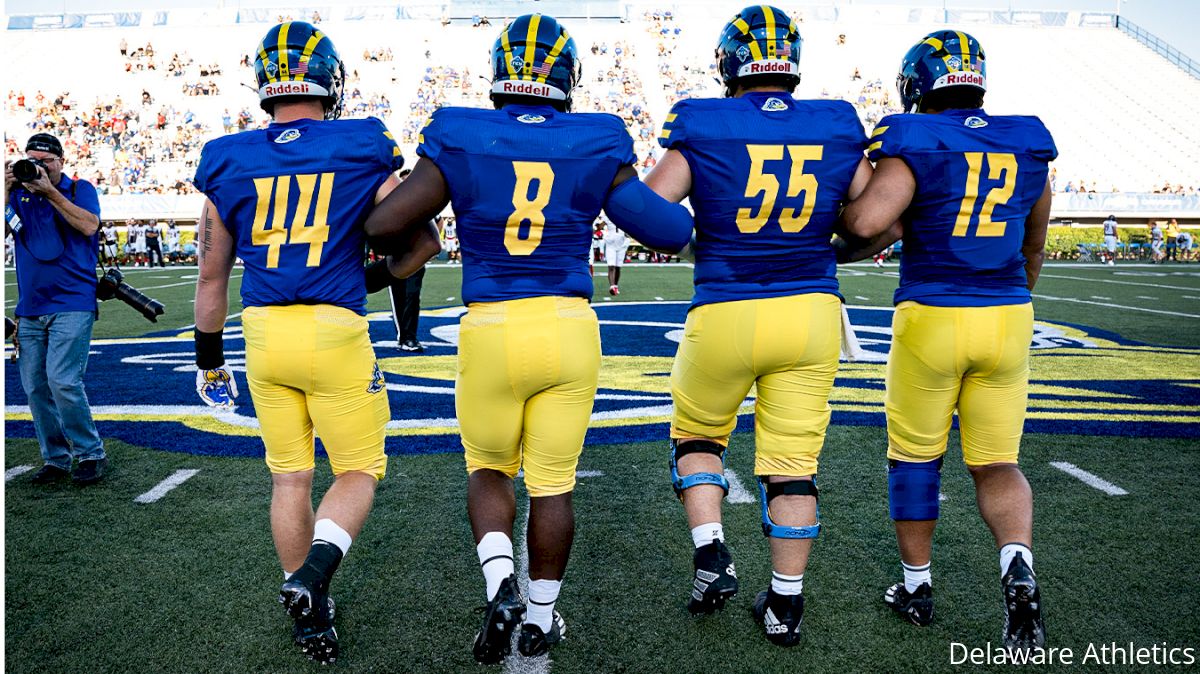 Rivalry bragging rights and trophies, claims to the conference championship and berths in the FCS Playoffs all ride on the results of Week 12 in the Coastal Athletic Association.
Rivalry Week 2023 will go down as one of the most fascinating Saturdays ever for the CAA, with four teams alive in the conference title race, and a crowded bubble for the postseason.
As it stands ahead of the last regular-season weekend, UAlbany, Delaware, Richmond and Villanova all sit at 6-1 in CAA play. Three of the four could finish 7-1, but only the winner of the Battle of the Blue, pitting Delaware against Villanova, is guaranteed to produce a champion.
The Wildcats make the short trek to Newark for the 57th installment in a series that dates back to 1895.
Delaware won a 27-20 decision in the spring 2021 season, but it's the only Blue Hens victory over the last 11 entries. Last year's 29-26 Wildcats win provided Villanova with a positive springboard back into the playoff picture a year later, and left Delaware sweating out its selection to the 2022 Playoffs.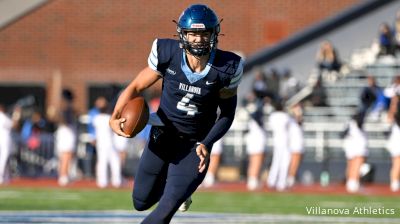 The 2022 Battle of the Blue was also a reintroduction to the series for Ryan Carty in his first year as Blue Hens head coach. Carty was a member of the 2004 Delaware team, the last to beat Villanova in The Tub.
"The rivalry that I do remember [as a player] was a little bit more 50-50, if not one-sided toward us," Carty said. Delaware won three in a row from 2003 through 2005, which was the last time the Blue Hens strung consecutive victories together in the series. "The stats that I keep learning since I've been back have been surprising and discouraging, so hopefully we can turn that around at some point."
If that point is this year, Delaware will almost assuredly be locked into a coveted top-eight seed when the FCS Playoffs field is announced on Sunday. Depending on how some other matchups around the country go, the Blue Hens could realistically climb into the top four and have home-field advantage until the semifinals.
Villanova has perhaps a more difficult path into the top four, if the Wildcats' No. 10 national ranking is an accurate reflection of the selection's view. However, at 9-2 with just one loss against FCS competition — that coming against another playoff-caliber team in UAlbany —would seemingly clinch a top-eight seed for Villanova.
Indeed, the stakes for this year's Battle of the Blue are heightened, and the product on the field should reflect it.
The Blue Hens and Wildcats are similarly constructed, each boasting the kind of hard-hitting, physical defenses both programs with which both programs are often synonymous.
After an uncharacteristic performance in its lone FCS loss Nov. 4 vs. Elon, Delaware regrouped with perhaps its best defensive showing of the year in a 45-7 blowout of Campbell.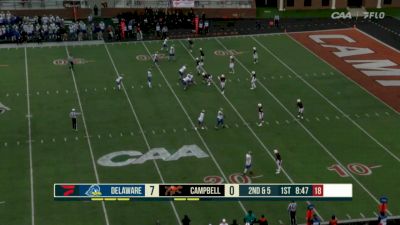 Khalil Dawsey's two interceptions included a 100-yard pick-six that punctuated an all-around dominant performance. The defense's shut-down effort, and Ryan O'Connor's four touchdown passes for the multifaceted Blue Hens offense gave Delaware the look of a team capable of advancing to Frisco.
Villanova's had similar showings combining stout defense with explosive offense. In their five-game winning streak, the Wildcats held four opponents to 14 points or fewer, including the 10 allowed in last week's romp vs. Towson.
The lone safety surrendered came in the fourth quarter with the outcome no longer in doubt, and Villanova holding a 30-point lead.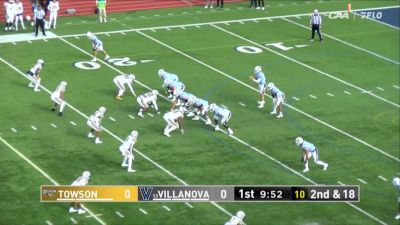 The Wildcats' 33 points against Towson also made 4-of-5 games since Oct. 7 in which Villanova scored 33-plus points.
Quarterback Connor Watkins has been sensational both as a passer and ball-carrier, distributing the ball effectively to an excellent receiving corps with Rayjuon Pringle, Jaylan Sanchez and Jaaron Hayek through the air. He then complements the multifaceted ground attack with Jalen Jackson, TD Ayo-Durojaiye and DeeWil Barlee.
"We have good balance, and we try to maintain balance between run and pass," Villanova coach Mark Ferrante said. That also describes how the Wildcats have succeeded on both sides of the ball.
For the season, Villanova is up to 32.23 points per game, good for 18th nationally, while holding opponents to 18.7 points per to rank No. 13.
Delaware, meanwhile, ranks ninth in scoring offense and 19th in points allowed.
The mirroring styles promises to make for a rivalry showdown worthy of determining a portion of the CAA championship.
PREDICTION: Delaware 28, Villanova 27
Richmond at William & Mary
The South's Oldest Rivalry is also college football's most competitive rivalry. In 133 meetings, Richmond and William & Mary are knotted at 64 wins each and five ties. This season's installment isn't just to break the all-time tie, but it's the second season in a row that at least one side is playing for the CAA championship.
"I think I've been involved in this game 25 years now on one side or the other, and every one of these games is close," Richmond coach Russ Huesman said. "They're hard-fought, and this one's going to be no different."
William & Mary's 37-26 win a season ago sealed the Tribe's share of the 2022 conference title. In a point indicative of how tight the series is, the 11-point margin of victory was the widest in six years.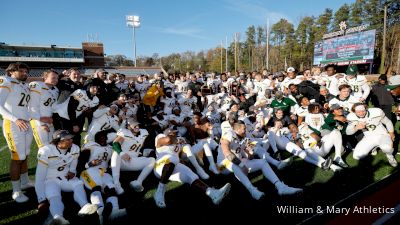 With an average margin of 5.4 points separating the Tribe and Spiders in matchups from 2017 through 2021, the modern-day Capital Cup may be in its most exciting stretch since beginning in 1898.
This year's installment features two of the strong defenses in the CAA, with William & Mary boasting a league-leading 17.7-point per game yield. Richmond's 21.3-point per game allowance only ranks fifth, but the Spiders have been excellent in their last four games at 16 points allowed per.
Had they not allowed a late touchdown against Elon, it would have been the Spiders' fourth straight game holding an opponent to 17 points or fewer.
A key contributing factor to Richmond's improved defensive play is its uptick in sacks. The Spiders trail only UAlbany's 35 for most in the CAA with 29, 16 of which have came in the last four outings.
Zander Barnett is setting the pace with 6.5, while Marlem Louis and Jeremiah Grant each have four. Louis and Grant have also combined for nine quarterback hurries, and Louis has forced four fumbles.
Turnover creation has been big for Richmond amid its five-game winning streak. UR leads the conference in interceptions with 14, and four have gone for touchdowns.
Richmond's defense is creating scoring opportunities, and the Spiders offense has been able to cash in for the last month-and-a-half. Quarterback Kyle Wickersham played arguably his best game last week, delivering game-changing plays with his arm and feet against a good Elon defense.
🎥By air and by ground, @kylewick5 was outstanding in Richmond's 38-24 win 🕷️@Spiders_FB | @CAAFootball pic.twitter.com/OHHI1sjrQF

— FloFootball (@FloFootball) November 11, 2023
Replicating last Saturday's effort with 20-of-27 passing for a pair of touchdowns and 130 yards rushing for another score will be difficult against a talented Tribe defense. On the flip side, William & Mary is looking to pick up a more consistent offensive effort than it's had in the latter-half of the season.
William & Mary scored 51 combined points in its four losses — 24 of which came against Towson. In that one, the Tribe went cold offensively in the second half after a 17-point start.
Thirty points may be the magic number for both sides in this one. While a Richmond win presumably assures the Spiders a postseason berth, William & Mary still has a reasonable shot at making the field if it can pick up its seventh victory.
PREDICTION: Richmond 27, William & Mary 21
Monmouth at UAlbany
UAlbany can claim a share of its first-ever CAA championship and match the program's best regular-season win total since moving up to Div. I in 1999.
The Great Danes come into the finale winners of four straight by an average margin of 18.8 points per game. Their 38-20 defeat of rival Stony Brook last week to claim the Golden Apple marked their third time over the ongoing, four-game streak scoring at least 35 points, and was their sixth outing of at least 31 points this season.
Short trip to Long Island and the Apple is right back where it belongs!
Go Danes!! pic.twitter.com/TcuZ9CMCzu

— Greg Gattuso (@CoachGGattuso) November 12, 2023
Quarterback Reese Poffenbarger has been sensational of late. Last week marked his third game throwing for four touchdowns in the last five, and he's thrown for at least 324 yards in three of the last five, as well.
Wide receiver Brevin Easton has a streak of five straight games with at least one touchdown catch and a minimum of 88 yards receiving. Julian Hicks, meanwhile, had his third CAA game with two touchdown catches in the Great Danes' last five.
UAlbany's run game has seen an uptick at the same time, with Faysal Aden and Griffin Woodell producing five 100-yard games between them over the last four weeks.
"They formed a one-two punch," Great Danes coach Greg Gattuso said of the tandem. "The offensive coaches were really excited about what they were seeing [from the freshman Woodell before the season]. I was preaching caution, because I know it's really tough for a young back to carry that load. But he just kept excelling, and he's been very good. We have a lot of faith in him, and at the end of the day, that's a big part of it: Trusting your guys."
At the same time that the offense has found its rhythm, the UAlbany defense has held its last four opponents to 21 points or fewer and an average of 14.8 points per game. The Great Danes continue to set the conference's pace for sacks with 35, 3.2 per game, and have the second-most nationally.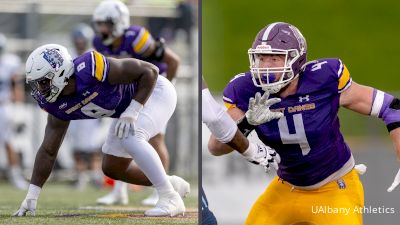 UAlbany faces a challenging proposition in how it plans to defend Monmouth, however. In all likelihood, Jaden Shirden will complete his second consecutive campaign as the top ball-carrier in FCS, heading into Week 12 with 211 more yards than the second-most productive rusher, Sam Franklin of UT Martin.
The Hawks offense is adept at making defenses commit to stopping one element of the overall attack — like the explosive Shirden — then counter-punching with quarterback Marquez McCray airing it out to an outstanding wide-receiving corps that includes the top pass-catcher in FCS, Dymere Miller.
"He's one of the best receivers we've ever had," Monmouth coach Kevin Callahan said. "He's right up there with the Miles Austins and those guys who've had great careers here. What he shows is the ability to take it the entire way every time he touches the ball."
Miller's historic performance against New Hampshire demonstrated just how effective the Monmouth passing offense can be when a defense moves closer to the line with focus on Shirden.
🏈 @FCS_STATS's FedEx Ground FCS National Offensive Player of the Week: Dymere Miller

Miller racked up a school-record 333 receiving yards – also, the FCS season high and the second-most in #CAAFB history – in @MUHawksFB's 31-24 loss to UNH.

➡️ https://t.co/4p5igf8Lxe pic.twitter.com/xlUeLUxKIc

— CAA Football (@CAAFootball) November 13, 2023
Miller leads the nation in receiving yardage at 1,241, good for 124.1 per game. That's almost 15 yards more per game than the next-most productive pass-catcher, UIW's Brandon Porter.
Expect to see UAlbany's standout defensive back Aamir Hall in Miller's vicinity whenever possible for a matchup that could be the game's most intriguing.
But that in turn speaks to the flip side of the Monmouth attack. Getting spread out in hopes of containing the pass opens lanes, and no back is more capable of turning slight creases into long gains.
Are you ready for some outrageous Jaden Shirden numbers?@shirden_20's career average on 26 touchdown runs is 48.7 yards

14 of his 26 TD runs have gone for 50+ yards#FlyHawks pic.twitter.com/Weeho8Wwgu

— Monmouth Football (@MUHawksFB) November 15, 2023
Fans of exciting offense should get their fill before Thanksgiving in this regular-season finale.
PREDICTION: UAlbany 41, Monmouth 31