2023 Mars Hill vs Limestone
SAC Week 5 Preview: League Unbeatens Meet In Cross-Division Play
SAC Week 5 Preview: League Unbeatens Meet In Cross-Division Play
Undefeated teams from the Mountain and Piedmont meet in Week 5 when Mars Hill travels to Limestone for a marquee SAC matchup.
Sep 29, 2023
by Kyle Kensing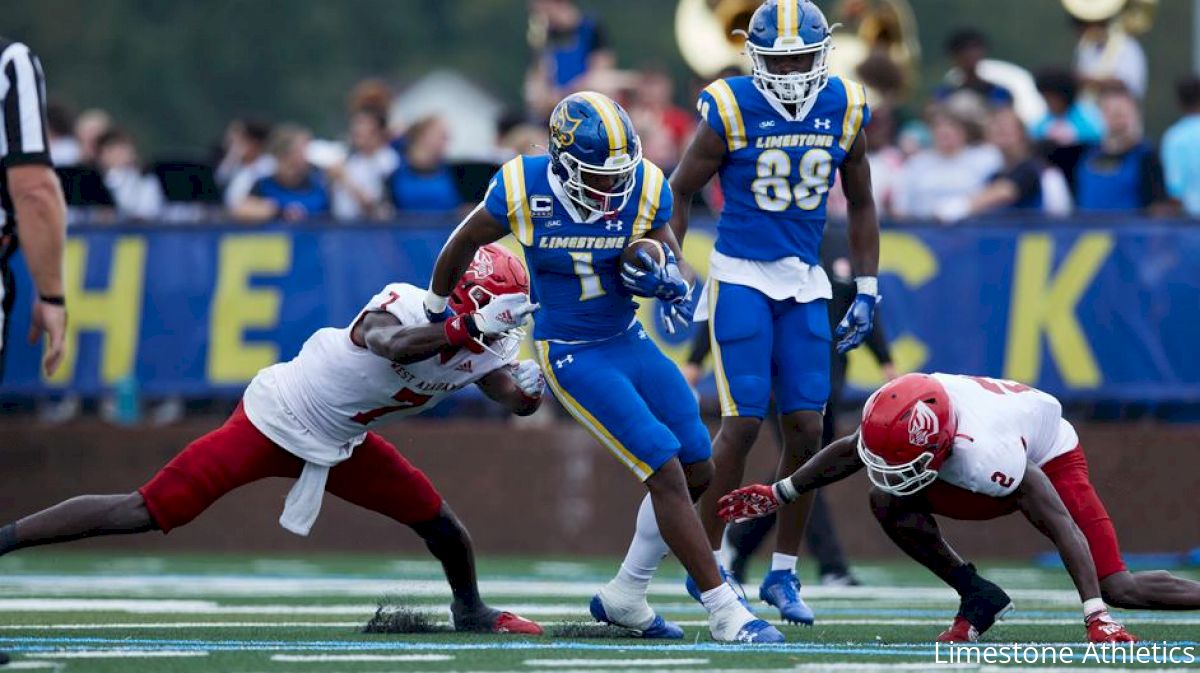 The formulas for success Mars Hill and Limestone employ contrast starkly. But one shared trait between the South Atlantic Conference teams ahead of their Week 5 matchup is that both are among the league's five teams with unblemished conference records.
Mars Hill heads to Gaffney, South Carolina for a cross-division contest sporting a 2-0 SAC mark and a 3-0 overall record thanks to one of the stingiest defenses in Div. II football.
The Lions held their first three opponents to a combined 44 points, most recently knocking off previously undefeated Barton, 16-14. Barton came into the conference matchup having scored 102 points through its first three games, but was blanked in the second half to set the scene for a Lions rally.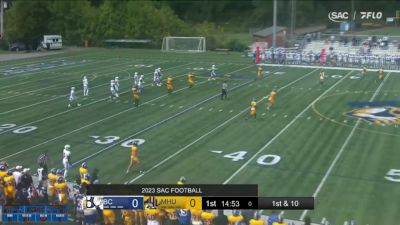 The Saints offense, meanwhile, has come alive after a slow start in the non-conference slate thanks in part to Tre Stewart's effective rushing. The Limestone running back went for 104 yards and two touchdowns in last week's 38-17 at UVA Wise.
Stewart also led Limestone in receiving with 85 yards on seven catches and another score.
Limestone has exploded for 83 points in SAC wins over the Cavs last week and Carson-Newman in Week 3, and Stewart is averaging a hair less than 100 yards rushing per game for the season now.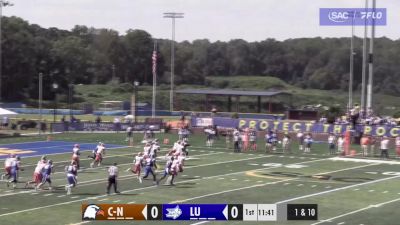 Quarterback Dustin Noller is clicking since coming back from a Week 1 injury at West Georgia, too. The breakout leader of Limestone's prolific offense has yet to throw an interception on the season.
Coincidentally, Mars Hill has just one interception so far in 2023, courtesy of Neil Vertilus. The Lions are thriving not through turnover creation, but simply swarming to the ball and forcing opponents into long third-down situations.
Ball-hawking linebacker Landon Honeycutt sets the tone for the tenacious Mars Hill defense, and will certainly be active in the Lions' pursuit of Stewart in Week 5. But Limestone blockers must also account for Damipi Lamboni, the Mars Hill defensive lineman producing 1.5 tackles for loss per game.
The intriguing contrast in strengths and styles shaping this matchup makes for an exciting contest. The side that can dictate the tone will leave with a 3-0 mark in SAC competition.
Lenoir-Rhyne Looks to Keep Rolling
Undefeated overall this season, Lenoir-Rhyne can improve to 5-0 when it hosts UVA Wise.
The Bears haven't just been winning through the season's first four games; they have absolutely dominant. Last week's 24-7 romp at Carson-Newman was the most competitive matchup Lenoir-Rhyne has faced to date.
The Eagles scored early in the first quarter to force a 7-7 tie, then were held scoreless for the ensuing 54 minutes.
Views from 4-0! Final Score 24-7 Bears!#GOBEARS | #betweenthebricks 🧱🐻🧱 pic.twitter.com/9UqmxPN5xD

— Lenoir-Rhyne Football (@LRBearsFootball) September 23, 2023
Such has the been L-R's MO. Opponents have combined to score 24 points on a Bears defense allowing all of 145.5 yards per game. The average play against Lenoir-Rhyne goes for a staggering 2.7 yards.
Credit an all-around effort for the Bears stout defense. Three different Bears have two-plus sacks, lead by Jon Ross Maye's 2.5. Maye's eight tackles for loss also set the pace for a group in which five players have at least three TFL.
Likewise, five different Bears are responsible for forced fumbles, and five Bears have picked off passes.
Tusculum and Newberry Both Eye 3-0
Rounding out the SAC's quintet of still-undefeated teams in league play are Newberry and Tusculum, both of which are at home in Week 5.
Newberry welcomes Carson-Newman, looking to get on track after taking its lumps in losses to Limestone and Lenoir-Rhyne. Since scoring 35 points in a Week 1 blowout of Virginia-Lynchburg, the Eagles have produced a combined 21 points in the last three contests.
The road map to more productivity takes Carson-Newman through more treacherous terrain: Newberry has flourished this season behind stifling defense, limiting opponents to 277.8 total yards per game and 18.5 points a contest.
Kevon Gregory is front-and-center to an especially stingy passing defense with three interceptions through the Wolves' first three games, though he missed the Week 4 win over Erskine.
Tusculum, meanwhile, looks to extend its perfect conference start to 3-0 against a Barton bunch looking to rebound from last week's tough loss to Mars Hill.
Tusculum opened the season with losses to soon-to-be FBS program Kennesaw State and a surprising setback to Virginia State, but the Pioneers have since been impressive in wins over Wingate and Catawba.
The ball-carrying tandem of Jalen Hunt and Jojo Restall clicked sharing carries in the 35-21 defeat of Catawba, while quarterback Matthew Palazzo passed for 226 yards and a pair of scores.
The Pioneers' balanced look helped convert 8-of-13 third downs — coincidentally, third-down struggles plagued Barton at Mars Hill. The Bulldogs went just 4-of-12 in the loss.
Getting running back Jordan Terrell going after he finished with just 47 yards last week will be vital for Barton, though not necessarily the only key for the Bulldogs.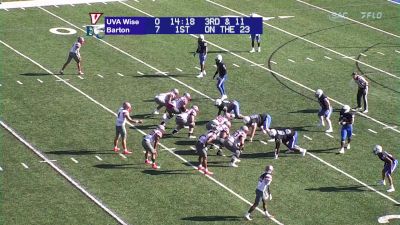 Unlock this video, live events, and more with a subscription!
Get Started
Already a subscriber? Log In
Terrell rushed for 171 yards against Tusculum a year ago, including 81 on a single touchdown carry, but the Pioneers ground down Barton otherwise en route to a 14-13 win.