2023 Rhode Island vs Villanova
How To Watch Rhode Island Football Vs. Villanova Football
How To Watch Rhode Island Football Vs. Villanova Football
Here's what to know as the URI Rams take on the Villanova Wildcats Football at Villanova Stadium on Saturday, Sept. 23 at 2 p.m. Eastern.
Sep 21, 2023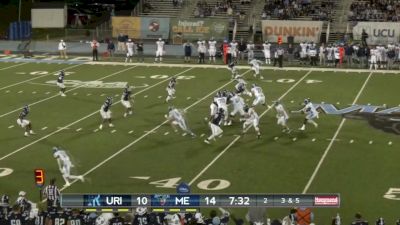 The University of Rhode Island Rams will play the Villanova Wildcats in Week 4. The game will take place at Villanova Stadium in Villanova, Pennsylvania.
The visitors lost the first game of their 2023 season, but they found their stride just in time for a three-game run of conference games. After falling to Georgia State (42-35), the Rams bounced back with Coastal Athletic Association wins over Stony Brook (35-14) and Maine (34-17).
Rhode Island's win in Maine marked the first time in 25 years (a streak of 10 games) the Rams defeated the Black Bears on their home turf. The last time it happened was in 1998.
The victory helped Rhode Island become the first CAA team to reach two conference wins, and the Rams look to take command of the CAA with another win, while also spoiling Villanova's first conference game of 2023.
Villanova is 2-1 on the season, too, having collected wins over Lehigh (38-10) and Colgate (42-19), before being trounced by the University of Central Florida in Week 3 (48-14). The matchup was Villanova's one game for the year against an FBS opponent.
Subscribe To FloFootball To Watch All The CAA Football Action In 2023
Rhode Island Football In 2023: What To Know About The Rams
Villanova Football In 2023: What To Know About The Wildcats
Kahtero Summers & Rhode Island's Wide Receivers Have It All
This week's game against Rhode Island is the first of eight consecutive conference games for Villanova, which will not see another nonconference opponent during the 2023 regular season.
Coming into Week 4, Rhode Island has cracked the top 20 in American Football Coaches Association FCS Coaches Poll—now No. 18, while Villanova did not make the top 25 but did receive four votes.
Rhode Island and Villanova have met on the gridiron 25 times, with Villanova owning a 20-5 advantage in the series. They first played in 1988, and Villanova won the inaugural meeting, 20-14. The Wildcats went on to win the first six games and 12 of the first 14 meetings.
The teams split their last two opportunities. Rhode Island won in overtime in March 2021 (40-37), and Villanova got redemption in October 2021 with a 44-0 rout.
What To Know About Rhode Island Football
We'll talk about rushing and passing and defense, but first, how about Rhode Island kicker Ty Groff?
In his team's monumental win against Maine, the freshman made the first two field goals of his collegiate career and was named CAA Football Co-Special Teams Players of the Week. He had kicks of 47 and 42 yards, with the first being the longest by a Rams kicker in a decade.
Groff shared the honor with Elon punter Kyle Romenick.
Through three games, the Rhode Island offense is averaging 458 yards of total offense and 34.67 points per game.
Graduate running back Ja'Den McKenzie is the top rusher with 150 net yards and two touchdowns, while graduate wide receiver Kahtero Summers is the team's top receiving threat by a large margin.
Summers has caught 16 passes for 332 yards and two touchdowns, and he's the only Rhode Island receiver with more than 190 yards on the year.
Throwing the ball to the Rhode Island receivers is redshirt senior Kasim Hill, who is 59-for-97 for all 941 of the team's passing yards, along with eight touchdowns and three interceptions.
Defensively for the Rams, eight players have 10 or more total tackles in 2023.
What To Know About Villanova Football
Villanova started the 2023 season in the best way—with a complete victory that included rushing and passing scores, record numbers (most rushing yards in a season opener in two decades), multiple interceptions and a fumble recovery. The result was the team's seventh consecutive season-opening win.
The Wildcats outscored their first two opponents 80-29, before running into a powerful UCF team in Week 3.
Graduate running back Jalen Jackson has gotten the job done on the ground, netting 236 yards and three touchdowns on 31 attempts, and graduate wide receiver Rayjuon Pringle tops the receiving corps with eight catches for 229 yards and three touchdowns.
Graduate quarterback Connor Watkins has handled things through the air, completing 30 of his 57 passes for 573 yards. He has four touchdowns and two interceptions.
Sophomore linebacker Shane Hartzell leads the defense with 21 tackles, including a sack, and three quarterback hurries.
When Is Rhode Island Vs. Villanova?
The University of Rhode Island Rams will play the Villanova Wildcats at Villanova Stadium on Saturday, Sept. 23 at 2 p.m. Eastern.
What's The Weather Forecast?
Saturday is the first day of fall, and that will show in the weather for game day in Villanova, Pennsylvania.
The day will be windy (10-20 mph), with sporadic rain—more than a 70 percent chance all day. Humidity will be around 90-96 percent, and temperatures will hover in the low 60s
How To Watch The Rhode Island Vs. Villanova Football Game
Football action is streaming live on FloFootball and the FloSports app, including the Rhode Island and Villanova football game during Week 4.
Replays and postgame highlights also will be available on both platforms.
Archived Footage on FloFootball
Video footage from the event will be archived and stored in a video library for FloFootball subscribers to watch for the duration of their subscription.
Join the Conversation on Social At FloFootball
Follow us on Twitter @FloFootball
Follow us on Instagram @flofootball
Like us on Facebook