2023 New Hampshire vs Delaware
How To Watch New Hampshire Vs. Delaware Football 2023
How To Watch New Hampshire Vs. Delaware Football 2023
Here's what to know as the New Hampshire Wildcats take on the Delaware Blue Hens at Delaware Stadium on Saturday, Sept. 23 at 6 p.m. ET.
Sep 21, 2023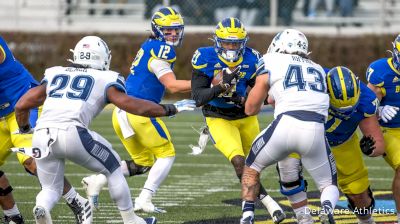 The New Hampshire Wildcats, co-CAA champions in 2022, will play the Delaware Blue Hens in Week 4. The game will take place at Delaware Stadium (Tubby Raymond Field) in Newark, Delaware, on Saturday, Sept. 23 at 6 p.m. Eastern.
UNH (2-1) is coming off a momentum-building win against longtime nonconference rival Dartmouth in the latest edition of the Granite Bowl. The Wildcats' balanced effort gave them a 24-7 victory.
Senior running back Dylan Laube was the main threat for New Hampshire, rushing for 180 yards and two touchdowns on 33 carries, catching six passes for 31 yards and returning three punts for another 12 yards.
This match-up has been held 42 times since the inaugural edition in 1901, and New Hampshire now leads the series 21-19-2.
The win over Dartmouth came after Laube and junior quarterback Max Brosmer turned in record performances in a 45-42 nailbiter against Central Michigan in Week 2. A 47-yard field goal as time expired gave the Chippewas the win and handed New Hampshire its first loss of 2023.
Subscribe To FloFootball To Watch All The CAA Football Action In 2023
New Hampshire Football In 2023: What To Know About The Wildcats
Delaware Football In 2023: What To Know About The Blue Hens
The Wildcats, who defeated Stonehill in Week 1, will look to rebound in their Coastal Athletic Association opener Saturday against Delaware, which is also 2-1 and coming off a 42-14 nonconference win over Saint Francis (Pennsylvania).
Delaware opened the year with a 37-13 conference win against Stony Brook but followed it with a lopsided loss to FBS powerhouse Penn State in Week 2 (63-7).
Penn State is ranked in the top 10 of the FBS polls, and Delaware continues to receive recognition at the FCS level, earning a top-20 ranking in both polls (American Football Coaches Association and Stats Perform FCS Top 25).
The Blue Hens are No. 16 and No. 19, respectively, coming into the New Hampshire game. UNH is tied for 11th in the AFCA poll and No. 11 in the Stats Perform poll.
UNH and Delaware have met 35 times, with Delaware holding a 23-12 advantage in the series. The first meeting was in 1953, and Delaware won the first seven editions.
The Blue Hens also won the three most recent games between the two (2015, 2018, 2019).
What To Know About New Hampshire Football
New Hampshire shared the CAA title in 2022 with William & Mary. The Wildcats were 9-4 overall and 7-1 in CAA play. Their season ended with a second-round loss to Holy Cross in the Division I FCS Playoffs.
Senior running back Dylan Laube is already a workhouse for UNH in the Wildcats' quest to get back to the postseason.
Through three games, he has 299 rushing yards and three touchdowns on 56 carries, 357 receiving yards and four touchdowns on 20 catches, 88 yards on five punt returns and 79 yards on three kickoff returns.
His success has earned him more than a half-dozen awards, including being on the watch list for the Reese's Senior Bowl, Special Teams Player of the Week from Stats Perform and the CAA, Reese's Senior Bowl Offensive Player of the Week, Shrine Bowl Offensive Breakout Player of the Week, New England Football Writers Association Gold Helmet Award, CAA Co-Offensive Player of the Week, Light On College Sports Standout FCS All-Purpose Performer and CFPA Honorable Mention FCS National Performer of the Week.
Junior quarterback Max Brosmer also has been recognized this season. For his 19-of-25, 284-yard, five-touchdown performance against Stonehill, he was named FCS National Performer of the Week by College Football Performance Awards.
Brosmer has completed 62-of-99 passes for 844 yards and 10 touchdowns. He has thrown one interception.
Defensively, junior linebacker Ryan Toscano leads the Wildcats with 21 total tackles.
What To Know About Delaware Football
Delaware was a middle-of-the-pack team in the CAA last year, so a strong showing against New Hampshire, to follow the early win over Stony Brook, would go a long way toward being ready for a season-ending string of six conference matchups.
The UNH game is the second piece of a four-game Delaware homestand that also includes Duquesne and North Carolina A&T.
In the Blue Hens' win over Saint Francis last week, freshman defensive back KT Seay paced Delaware with seven tackles and recorded his first career interception to earn CAA Rookie of the Week honors.
Seay is tied for fifth on the Delaware defense with 13 tackles. Graduate linebacker Jackson Taylor tops the list with 21.
Offensively, Delaware is being outscored 30-28.67 this season, while averaging 356 yards of total offense.
Junior quarterback Ryan O'Connor is 40-for-72 for 559 yards and four touchdowns, along with two interceptions.
The top two targets for Delaware are graduate receivers Chandler Harvin and Kym Wimberly, who have combined for 263 yards and two touchdowns on 14 catches. Senior running back Marcus Yarns is the team's top rusher with 332 yards and four touchdowns on 29 attempts.
When Is New Hampshire Vs. Delaware?
The New Hampshire Wildcats will face the Delaware Blue Hens at Delaware Stadium (Tubby Raymond Field) in Newark, Delaware, on Saturday, Sept. 23 at 6 p.m. Eastern.
What's The Weather Forecast?
There's rain and wind scheduled for the Northeast on Saturday.
A steady rain is expected throughout the morning and into the afternoon, with winds of 15-25 mph and a high temperature of 64 degrees.
Precipitation and wind should ease as night falls, though the temperature is expected to drop into the high 50s.
How To Watch The New Hampshire Vs. Delaware Football Game
Football action is streaming live on FloFootball and the FloSports app, including the New Hampshire and Delaware football game during Week 4.
Replays and postgame highlights also will be available on both platforms.
Archived Footage on FloFootball
Video footage from the event will be archived and stored in a video library for FloFootball subscribers to watch for the duration of their subscription.
Join the Conversation on Social At FloFootball
Follow us on Twitter @FloFootball
Follow us on Instagram @flofootball
Like us on Facebook