2023 Elon vs Campbell
How To Watch Elon Vs. Campbell Football 2023
How To Watch Elon Vs. Campbell Football 2023
Here's what to know as the Elon Phoenix Football take on the Campbell Camels on Saturday, Sept. 23 at 6 p.m. Eastern at Barker-Lane Stadium.
Sep 21, 2023
by Matt Cannizzaro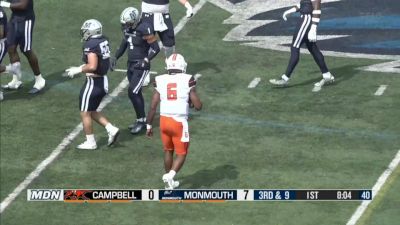 The Elon Phoenix will play their new Coastal Athletic Association foes, the Campbell Camels, in Week 4. They will face off at Barker-Lane Stadium in Buies Creek, North Carolina.
Elon (1-2) started the 2023 season with its first non-Saturday game since 2017, taking on in-state FBS opponent Wake Forest, and it didn't work out for the Phoenix, who lost 37-17.
Week 2 didn't go well for Elon either, as the Phoenix lost to Gardner-Webb (34-27), but things got turned around with the start of conference play. The Phoenix rolled to a 27-3 win over CAA newcomer, North Carolina A&T. It was the first of three consecutive conference games for Elon.
Next up is Campbell (2-1), also making its debut in the CAA after a stint in the Big South Conference.
Subscribe To FloFootball To Watch All The CAA Football Action In 2023
Elon Football In 2023: What To Know About The Phoenix
Campbell Football In 2023: What To Know About The Camels
Campbell was dealt a loss in it's first game, too, with a close 34-24 defeat to reigning CAA co-champion William & Mary, but redemption came quickly in the form of a pair of high-scoring wins, including the team's first official CAA victory.
The Camels trounced The Citadel on the road in Week 2, winning 56-7, then traveled to Monmouth to get on the right side of the 15-team CAA standings with a 45-31 victory.
This week's game marks the second time Elon and Campbell have met on the gridiron and the first with both as members of the CAA.
Their previous meeting took place in 2021, with Elon winning 24-23, as Campbell failed to convert a two-point attempt with just over a minute remaining in the game.
Here's everything to know about Elon vs. Campbell.
What To Know About Elon Football
Elon finished the 2022 regular season ranked nationally in the Stats Perform FCS Media Poll (No. 14) and the AFCA Coaches Poll (No. 18), and though it was a one-and-done run for them, the Phoenix made the FCS Playoffs for the first time since 2018.
The Phoenix did receive votes in the initial 2023 polls, but that attention was short-lived. There's still plenty of season left for a turnaround.
The first six games of Elon's 2023 season are taking place in the team's home state of North Carolina, and the final five—all conference games—will see the Phoenix play in four states.
The next two weeks will set the tone for Elon's year in the CAA, with conference games against Campbell and William & Mary offering the opportunity to build on a 1-0 start to the conference slate.
Elon possesses some talented weapons on both sides of the ball.
First, is redshirt sophomore Jalen Hampton, who last season became the third player in Elon's FCS history to rush for more than 1,000 yards in a season, and he's off to a hot start in 2023, too. Through three games, Hampton has run for 319 yards—at 6.5 yards per carry, up nearly two yards from a year ago.
Redshirt senior Jordan Bonner is Elon's top receiver with 14 grabs for 136 yards and two touchdowns.
Unlike most teams, Elon has split its passing attack between two capable arms.
Senior quarterback Matthew Downing is 28-for-48 on the season for 273 yards, four touchdowns and two interceptions, while redshirt junior Justin Allen is 19-for-35 for 133 yards. He has not thrown a touchdown pass, but he has been picked off two times.
Defensively, eight Elon players have collected a dozen or more tackles. Senior Bo Sanders leads the effort with 19, including nine in the opener against Wake Forest.
What To Know About Campbell Football
Campbell made the move from the Big South Conference, where it played from 2018-2022. The Camels were 5-6 last season, including losses to a pair of their new CAA opponents—William & Mary and North Carolina A&T.
In the first game of their CAA era, the Camels held their own against William & Mary—a co-CAA champion last year with New Hampshire—and though they lost, forward momentum and a pair of wins have followed.
Following Campbell's win over The Citadel in Week 2, redshirt senior quarterback Hajj-Malik Williams and redshirt freshman receiver VJ Wilkins earned CAA Football Player of the Week honors.
Williams, who helped the Camels to five touchdowns in their first win of the year, was the Co-Offensive Player of the Week (with New Hampshire running back Dylan Laube), and Wilkins was the CAA Freshman of the Week after scoring for the second consecutive game.
Through three games, Williams is 63-of-83 for 763 yards, five touchdowns and no interceptions.
Wilkins is second in receiving with 158 yards and two touchdowns, just behind graduate receiver Jalen Kelsey, who has 175 receiving yards.
Sophomore NaQuari Rogers tops the rushing stats for the Camels with 220 yards and three touchdowns on 33 attempts. His success against Monmouth (152 yards and three scores) helped him to the CAA Offensive Player of the Week nod for Week 3.
Junior linebacker CJ Tillman anchors the Campbell defense and leads the squad with 31 total tackles.
When Is Elon Vs. Campbell?
The Elon Phoenix will take on the Campbell Camels on Saturday, Sept. 23 at 6 p.m. Eastern at Barker-Lane Stadium in Buies Creek, North Carolina.
What's The Weather Forecast?
Rain, rain go away. A steady rain is in the forecast for Buies Creek, North Carolina, on Saturday, with the precipitation slowing down into the evening.
Temperatures will reach a high of 68 degrees and dip into the high 50s at night. The humidity will hover around 90 percent.
It will be windy in North Carolina, as well, with winds throughout the day ranging from 10-20 mph.
How To Watch The Elon Vs. Campbell Football Game
Football action is streaming live on FloFootball and the FloSports app, including the Elon and Campbell football game during Week 4.
Replays and postgame highlights also will be available on both platforms.
Archived Footage on FloFootball
Video footage from the event will be archived and stored in a video library for FloFootball subscribers to watch for the duration of their subscription.
Join the Conversation on Social At FloFootball
Follow us on Twitter @FloFootball
Follow us on Instagram @flofootball
Like us on Facebook