2023 Campbell vs Monmouth
2023 Campbell Football Score Vs. Monmouth Recap
2023 Campbell Football Score Vs. Monmouth Recap
Monmouth hosts Campbell football in week 3 in West Long Branch, New Jersey. Follow the action live.
Sep 16, 2023
by Alexis Vasquez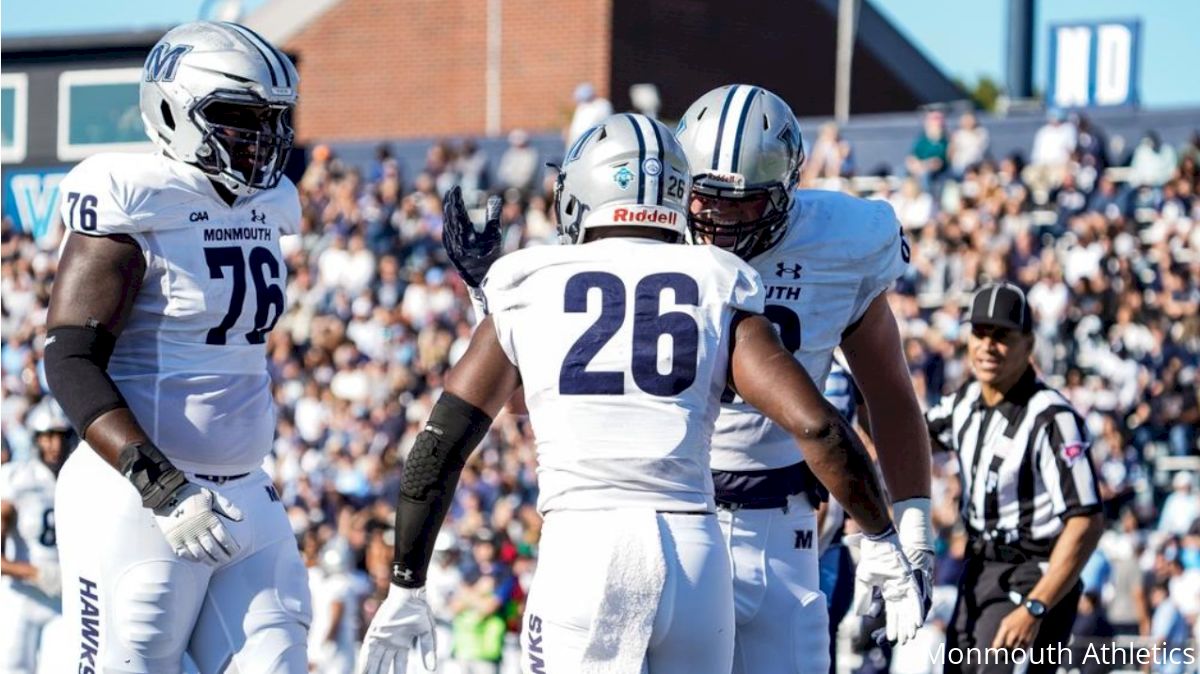 Campbell Football will play the Monmouth Hawks in week 3 at Kessler Stadium.
Both Campbell Football and Monmouth are coming off big wins against The Citadel and Towson, respectively. The teams will look to continue their winning ways as they face each other for the first time in two years.

Their last face off was in 2021, where Monmouth won, 34-17 at Barker-Lane Stadium. Follow the action live.
Subscribe To FloFootball To Watch All The CAA Football Action In 2023
How To Watch 2023 Campbell Football Vs. Monmouth
Five Bold Predictions For 2023 CAA Football
The Campbell Camel Take the Win, 45-31
With an exciting game with a the fourth quarter having the most action, the Camels take the win. The game concluded with a total of 435 yards for the Camels, and 423 yards for the Hawks.
Timeouts and Touchdowns
Two timeouts by Monmouth in this 4 play drive. Chris McKay Jr. ran for 26 yards.
The score is now 45-31
Interception in the Fourth
Marquez Mccray pass intercepted. Jamir Barnes runs for 7 yards.
A Race for Victory: Campbell Follows With A Touchdown
5 plays, 66 yards, a possession time of 2:11, NaQuiri Rogers runs for 32 yards for a touchdown!
Score is now 38-31.
32 yards to the 🏡 #RollHumps pic.twitter.com/QkldrfoZkh

— Campbell Football (@GoCamelsFB) September 16, 2023
A Drive of Penalties Ends With a Touchdown by the Hawks
A long drive for the Hawks, with a possession time of 14:19, 12 plays, and covering 83 yards. A penalty before the snap at 1st & 10, CAM had an illegal substitution which enforced 5 yards. The drive ended with a complete pass by Marquez McCray to Jaden Shirden. The score is now tied 31-31
Another Campbell Touchdown
Hajj-Malik Williamas is making some moves for the team today! He runs for a 3 yard touchdown and an assisted kick by Caleb Dowden. Score is now 31-23. Camels in the lead!
First Touchdown in the Second Half By the Camels
With an 8 play drive covering 62 yards and a possession time of 4:05. The Camels put themselves on the lead on the scoreboard. NaQuri Rogers runs for a 4 yard touchdown followed by a kick by Caleb Dowden.
The score is now 24-24. Camels up by one!
End of First Half Field Goal
Caleb Dowden ends the first half with a 42 yard field goal. The score is now 14-23.
Camels Score a Touchdown Before First Half Ends
An 8 play drive, Hajj-Malik Williams completes a pass to Chaney Fitzgerald for 12 yards to a touchdown.
Score is now 14-23
3rd Touchdown for the Hawks
Vincenzo Rea kickoff for 30 yards, return for no gain to the 35. Jaden Shirden runs for 35 yards. Score is now 7-23.
Jaden Shirden takes it to the house for Monmouth!@shirden_20 | @MUHawksFB | @CAAFootball pic.twitter.com/fzJrmRuhD4

— FloFootball (@FloFootball) September 16, 2023
An Extra 3 Points for the Hawks
Ending their 11 play drive, Michael Calton Jr.'s 26 yard field goal is good.
The score is now 7-17
Long Drive Ends with a Touchdown!
The Hawks had a longer drive for this first quarter, with 15 plays, 60 yards, and and a possession time of 6:44. In this drive we had another penalty on Monouth for holding. Kyrick enforced 10 yards. Following the pushback, Jaden Shirden runs for 4 yards for a touchdown. The score is now 7-14. Hawks taking back the lead/
Touchdown for the Camels
10 plays, 80 yards coverage, and a possesion time of 3:41, the Camels follow with a running touchdown by Lamagea Mcdowell. The score is now 7-7.
Monmouth's First Drive, Monmouths First Touchdown
10 plays, 56 yards, and a possession time of 4:27, the drive concludes with the game's first touchdown. Jaden Shirden runs for 5 yards for a touchdown, and a kick by Michael Calton. Score is 0-7 with the Hawks taking the early lead.
First Drive
The Camels complete their first drive with 6 okats, 31 yards, and a possession time of 1:16. Score is 0-0.
Beginning Game Penalty
The game is underway as Vincenzo Rea kickoffs for 65 yards for a touchback. After Hajj-Malki Williams runs for 5 yards to the CAM30, a penalty on the play on Monmouth for unnecessary roughness (Tyrese Wright). First down for the Camels.
West Long Branch Weather
It's going to be a cloudy day here at Kessler Stadium in West Long Branch, with a current temperature of 75°F and humidity level at 42%. The wind is mild at 15 mph.
How To Watch Campbell Vs. Monmouth Game
Football action is streaming live on FloFootball and the FloSports app, including the Campbell Vs. Monmouth football game during Week 3. Replays and postgame highlights will also be available on both platforms.
How To Watch Campbell Football Vs. Monmouth
Campbell Football Schedule 2023
Sept. 16: at Monmouth, 1 p.m. ET, FloSports
Sept. 23: Elon, 6 p.m. ET, FloSports
Sept. 30: at NC Central, TBA
Oct. 7: at Hampton, 2 p.m. ET, FloSports
Oct. 21: Maine, 4 p.m. ET, FloSports
Oct. 28: at Richmond, 3:30 p.m. ET, FloSports
Nov. 4: at North Carolina, TBA
Nov. 11: Delaware, 1 p.m. ET, FloSports
Nov. 18: at North Carolina A&T, 1 p.m. ET, FloSports