2023 Campbell vs Monmouth
Hajj-Malik Williams and Campbell Are Playing Out History In Real-TIme
Hajj-Malik Williams and Campbell Are Playing Out History In Real-TIme
A period of unprecedented transformation for the Campbell football program is underway, and quarterback Hajj-Malik Williams is front-and-center.
Sep 15, 2023
by Kyle Kensing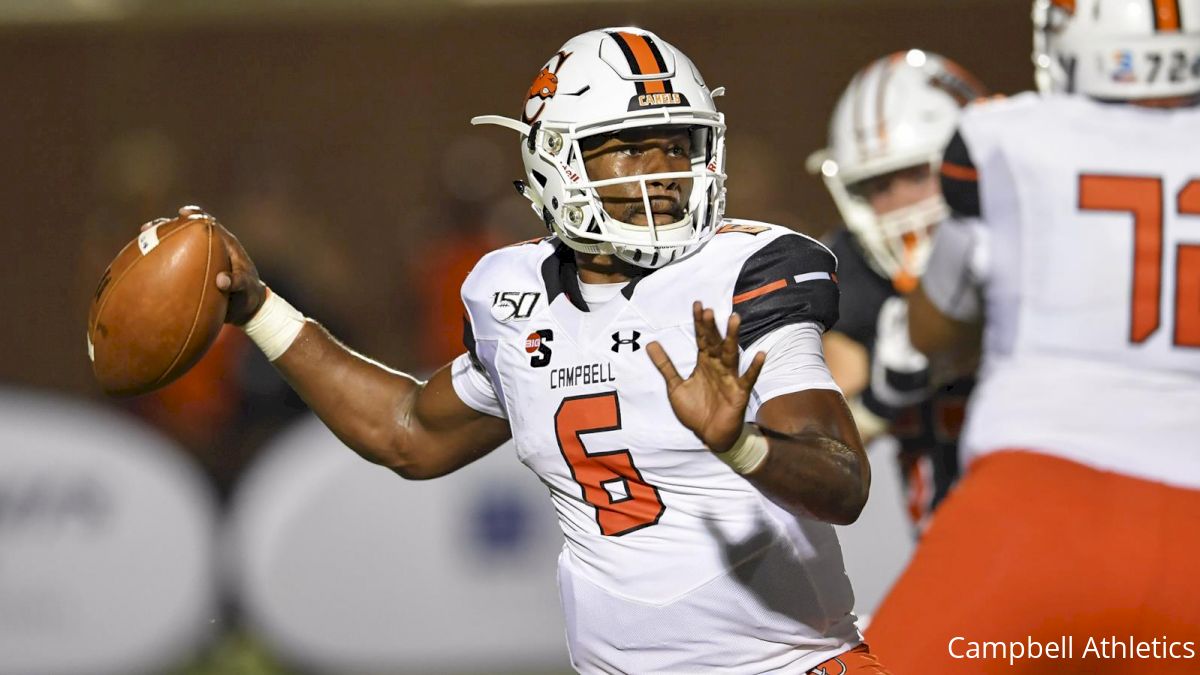 One could say the last few years within the Campbell football program have been a movie; a documentary, specifically, as Camels quarterback Hajj-Malik Williams describes.
"30 For 30" is the label the veteran Williams offered for the Campbell offense, which two games into the 2023 season has scored 80 points.
"We try to snap the ball with 30 seconds on the play clock. We can have 30 passes and 30 runs. And at the end of the day," he adds expounding on the 30 For 30 concept, it's an approach inspired by "the TV show. We want to leave a legacy."
Sports documentaries are en vogue at the moment, with series including the one to which Williams referred. The meteoric rise of Campbell football from non-scholarship program to a member of the Coastal Athletic Association, boasting its first alum ever to make a 53-man NFL roster, under the guidance of a longtime pro standout, is just the kind of story that shouldn't go Untold.
"People get known for being the first," Williams said, days after captaining the first Campbell offense to gain more than 600 yards against an FCS opponent. The Camels went for 613 in a 56-7 blowout of The Citadel, a game that encapsulated the "30 For 30" mantra with Williams attempting 32 passes and the rotation of ball-carriers combining for 40 rushes.
The ground game produced 260 yards and five touchdowns. Williams was responsible for 45 and two. The quarterback totaled 353 yards and three touchdowns in the air. He left Charleston boasting the nation's best completion percentage for the season thus far, accurate on 80 percent of his attempts — a staggering figure in 59 throws.
Those numbers combined to make Williams the first CAA Offensive Player of the Week, an honored shared with New Hampshire's All-American running back Dylan Laube. VJ Wilkins became the Camels' first-ever recipient of CAA Rookie of the Week.
Firsts continue to pile up at Campbell, which played its inaugural CAA game against defending co-champion and No. 4-ranked William & Mary. The Camels fell short in a 34-24 final Week 1, but the first drive of the new era was a dizzying tone-setter that demonstrated their willingness to go right at any opponent.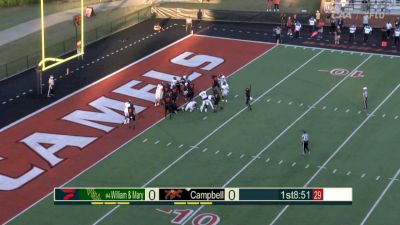 "They were big; probably [had] the two biggest tackles we played against in a long, long time. Athletic, fast. A very well-coached football team," William & Mary coach Mike London said. Put simply: "They were tough."
Under the direction of coach Mike Minter, a 10-year stalwart of the Carolina Panthers and vital piece of their Super Bowl XXXVIII run, Campbell collectively aims to be in the spot William & Mary currently occupies: a CAA champion with national title aspirations.
These are goals that perhaps not long ago might have seemed abstract; certainly so to a young football recruit mapping out his future.
As a prospect at Hapeville Charter in Atlanta, Williams played on a talent-rich team that attracted feelers from across the country. Williams cited former Camels offensive line coach Kevin Thompson, now at Johnson C. Smith, as initially recruiting the quarterback.
"My high school was such a big recruiting base, so he was probably in the office at the same time as LSU or Florida State. As a kid, I'm shaking hands with Campbell but looking at LSU like they offered me," Williams said.
It wasn't until Williams landed with Army West Point but transferred that he says he gave Campbell his full attention. At the urging of his high school coach, Williams made a trip to Buies Creek and met in-person with Minter.
"That was really it, the selling point right there," Williams said. "After [recruits] have that talk with our head coach, that's what sells [Campbell]."
And those conversations with Minter continue deep into the quarterback's career. Williams described five-to-six-hour gab sessions with the coach that help the quarterback "dig into who I am as a person, what's my purpose, what I need to do to be better and continue elevate."
Gaining the prospective of an NFL veteran doesn't hurt, either.
"Film breakdown with a coach who played 10 years in the league is a tremendous thing we have, and I took advantage of it," he said. "I learned the game from his eyes and his viewpoints."
Campbell's NFL connections don't end with Minter, either. In this real-time documentary year for the Camels, the program celebrated a landmark first with tight end Julian Hill making the Miami Dolphins 53-man roster one day before kicking off CAA play.
Hill went undrafted last spring, but earned his way onto the squad with his impressive performance throughout the summer. He was a top target for Williams last season at Campbell, catching 38 passes for 659 yards and five touchdowns.
Looks like Dolphins fan really gonna find out what Julian Hill is all about. pic.twitter.com/kj3KBEfBTV

— Keith mcclendon (@KeithMcclendo55) August 30, 2023
Beyond simply being a pass-catching target, Hill was also Williams' roommate. And, as a former walk-on who came to Buies Creek as a quarterback before switching to tight end, Williams said the Dolphins rookie Hill embodies the heights one can reach through dedication and tireless work.
Hill's the first Camel to reach the NFL, but won't be the last — and, in fact, already isn't. Brevin Allen was activated from the Los Angeles Chargers practice squad to the 53-man roster ahead of the season opener against Hill's Dolphins.
The next NFL Camel isn't far behind, and may well be on the current roster.
Campbell's story has all the makings of an engrossing documentary series years down the road. Watching the story unfold in real-time is even more entertaining.