2023 West Georgia vs Mississippi College
Gulf South Week 3 Preview: Trio Of Games On Tap
Gulf South Week 3 Preview: Trio Of Games On Tap
This week, the GSC slate ramps up with three conference showdowns, including a pair of teams looking to rebound from losses.
Sep 15, 2023
by Ron Balaskovitz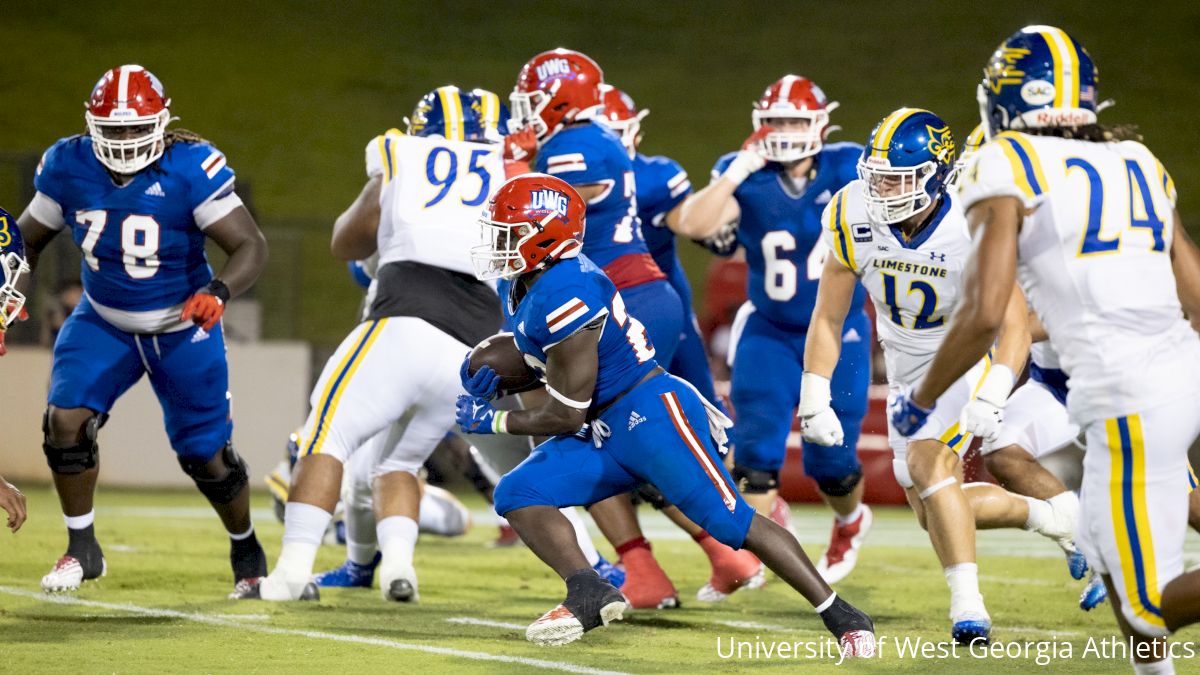 The Gulf South Conference kicked off league play last week with Delta State rolling past newcomer Chowan, while the rest of the league fared well in nonconference showdowns, going 5-2 in its other games. Both losses came on the road and were close games.
This week, the GSC slate ramps up with three conference showdowns, including a pair of teams looking to rebound from losses, two others hoping to break into the upper tier of the league and a third between two teams hoping to avoid the bottom of the standings come November.
West Georgia (1-1) At Mississippi College (1-1), 8 p.m. Eastern
Two teams that have had eerily similar starts to the season look to take an early advantage in conference play.
The Wolves and Choctaws opened with wins two weeks ago, but both went on the road to Texas last week and fell in close games.
MC lost at Midwestern State, 30-17, and UWG was defeated by Texas A&M-Kingsville, 20-17.
This game could be a low-scoring, fast-moving affair between two teams that have made most of their offensive progress on the ground.
The Choctaws, as has been the case for a number of years, will look to lean heavily on their ground game and controlling the ball and clock.
So far, the MC offense has averaged a healthy 241.5 yards per game on the ground and over five yards per carry, along with three scores.
Ron Craten and John Henry White will see the bulk of the carries, with Craten averaging nearly 100 yards per game on the ground the early going.
Power football! @JohnHenryWhite1 pic.twitter.com/FwKuc84c7W

— Mississippi College Football 🏈 (@GoChoctaws_FB) September 1, 2023
But the running game has had big issues with ball security, coughing up the ball five times already.
And, in a passing offense that has been almost non-existent (just 6-of-18 for 58 yards through two games), it puts added pressure on the rushing attack to hold onto the ball.
They face a strong test in a Wolves defense that is giving up just 3.5 yards per carry and 265 yards on 61 attempts for the year.
The UWG defense has been paced by Xavier Robinson and Keondre Williams, who have combined for 6.5 tackles for loss and three sacks through two games.
When the Wolves have the ball, it is a more balanced look, but they do lean toward an explosive run game that is averaging 6.4 yards per carry and over 170 yards per game.
Wesley Kennedy has 169 yards on the season, while Rajaez Mosley has two scores on his 23 carries.
Like MC, the Wolves have been hampered by the turnover bug so far, tossing five interceptions and losing two fumbles.
Needless to say, whichever team can hold onto the ball Saturday should be at a big advantage.
The Choctaws have been solid defensively, particularly against the pass, yielding just 89 yards per game and picking off three passes, but the ground defense has been susceptible, seeing opponents average over four yards a tote and more than 182 yards per game.
Nick Grady leads the defense with a pair of interceptions.
The Choctaws played spoiler a season ago, dropping the Wolves by a 39-38 final, in a game that played a big hand in UWG narrowly missing the postseason.
A win for West Georgia would give head coach David Dean sole possession of second place on the all-time GSC wins list.
West Alabama (1-1) At North Greenville (1-1), 7 p.m. Eastern
Another pair of teams that rebounded after opening week losses, UWA went on the road to Limestone and picked up a decisive 27-13 win, while North Greenville proved to be road warriors as well, dropping Newberry, 24-14.
This week, the Tigers head east, hoping to ignite an offense that has been slow to start the year, posting just 481 yards through the first two games, while losing the ball seven times via turnovers.
They face a tough test in a North Greenville defense that has carried the Crusaders in the early going, giving up just 505 yards in their two games, one of which came against a FCS opponent.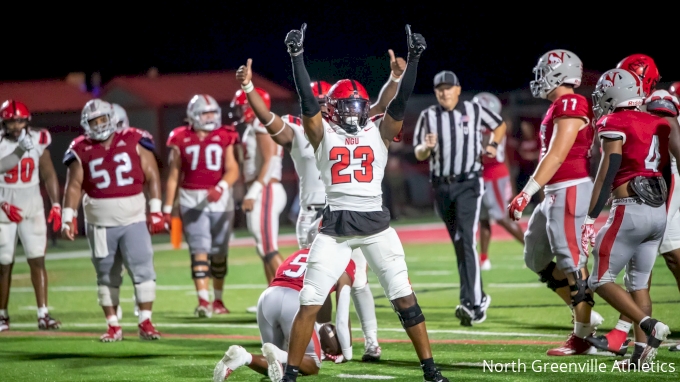 The key for NGU has been a pass defense that has held opponents to 5.17 yards per attempt and less than 135 yards per game.
While the Crusaders have struggled mightily to run the ball, their passing offense has shown signs of life at nearly 250 yards per game. That could be a big factor in Saturday's game, provided they avoid interceptions.
UWA has given up over 295 yards per game in the early going, but has given up just two touchdowns, while picking off five passes.
Washington with two interceptions, a pass breakup and three tackles last week 😤😤 pic.twitter.com/wtRWvUZv9l

— West Alabama FB (@uwa_football) September 4, 2023
Artavious Washington has put himself at the front of the Defensive Player of the Year discussion for the Tigers, nabbing three interceptions and breaking up another pass through two games.
The two teams met last year in Alabama, where North Greenville took a thriller, 34-33, scoring the game-winning touchdown with seven seconds left, rallying from a 27-15 deficit early in the fourth quarter.
Chowan (0-2, 0-1) At Shorter (1-1), noon Eastern
The two teams picked to finish at the bottom of the GSC will look to avoid an early hole in the standings, with Chowan looking to recover after a home loss to Delta State in the league opener last week.
Shorter, on the other hand, showed the strength and depth of the GSC, hosting soon-to-be member Erskine a week ago and picking up a 28-7 win.
Chowan's struggles in the early going primarily have been on defense, giving up 41 and 42 points in the first pair of games, respectively, while the offense has mustered only 222.5 yards per game and turned over the ball four times.
As if the challenge of joining the GSC wasn't daunting enough, Chowan will be short six players after an incident late in last week's loss to Delta State led to a series of suspensions.
Shorter shined on defense in its Week 2 win over Erskine, holding the guests to 224 yards of total offense, while coming up big on third and fourth downs, going a combined 7-of-14 and converting all three of its red zone chances into scores.
Not only did @jbrown_012 get his first collegiate win this past Saturday, he also won @GulfSouth Freshman Player of the Week!

He was 15/18 for 197 yards
32 rushing yards
and had 1 TD

Congrats, Josh!#MissionDriven | #FlyHawks pic.twitter.com/8VRemtS9p0

— Shorter Hawks Football (@Shorter_FB) September 11, 2023
Quarterback Josh Brown was extremely efficient in the win, going 15-of-18 for 197 yards and a score and, most importantly, no turnovers.
The two teams have met once before, with Shorter claiming a 28-17 win back in 2012.
Gulf South Games At A Glance
*All games are scheduled for Saturday.
West Florida (2-0) At Florida A&M (1-1), 6 p.m. Eastern
The Argos will get their chance at a FCS team and have things rolling on offense and defense through two weeks, having racked up 70 points in wins over Kentucky Wesleyan and McKendree.
While the offense has shined, the defense has stepped up majorly to start 2023, yielding just a field goal in each game.
They face a tough task in a FAMU team that comes in with a 28-10 win over defending SWAC champion Jackson State and played FBS South Florida to a two-score game last week.
Mississippi Valley State (0-1) At Delta State (2-0), 7 p.m. Eastern
The host Statesmen will look to make it two in a row over their in-state FCS rival in the Delta Classic, after downing the Delta Devils by a 28-17 margin last season at MVSU.
DSU dominated Chowan last week and comes in averaging 45 points per game in its two wins.
MVSU comes in well-rested after sitting out last week. They dropped their opener to Division II Central State two weeks ago in Chicago, 24-21.
Keiser (1-1) At Valdosta State (2-0), 7 p.m. Eastern
Valdosta State rolled in its opener behind 63 points, then last week showed they can get it down on defense, as well, downing host Albany State, 21-16.
It was a big win for the Blazers against a team that was 7-3 a year ago.
The Blazers prepare now for NAIA Keiser, which was dropped by GSC foe Mississippi College two weeks ago, but rebounded last week with a 30-26 win over NAIA No. 9 Lindsey Wilson.
Keiser is ranked No. 4 in the NAIA polls.