2023 Assumption vs Grand Valley State
GLIAC Week 3 Preview: Assumption Vs. Grand Valley State
GLIAC Week 3 Preview: Assumption Vs. Grand Valley State
In Week 3, the GLIAC faces big challenges, with five of its seven teams hitting the road, including No. 1 Ferris State getting its shot at a FCS power.
Sep 15, 2023
by Ron Balaskovitz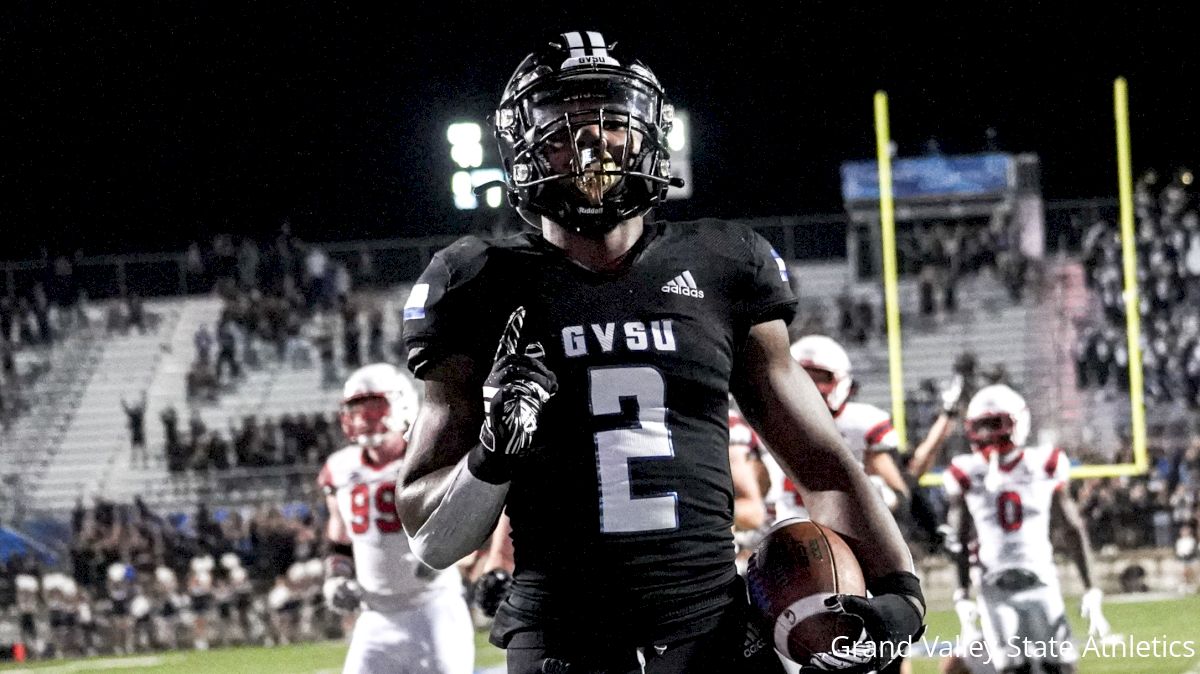 It was a banner week for the Great Lakes Intercollegiate Athletic Conference in Week 2, with its members going a combined 6-1. Three of those wins came down to the wire.
In Week 3, the league faces big challenges, with five of its seven teams hitting the road, including No. 1 Ferris State getting its shot at a FCS power.
This week also serves as the final tune-up before league play starts for both Ferris State and Grand Valley State, which are off in Week 4.
It's those same GVSU Lakers who take top billing this week, as they get set to host Assumption in a top-20 showdown, the third ranked opponent in as many weeks for the Lakers, who continue to play one of the most difficult schedules at any level.
GLIAC Game Of The Week: No. 19 Assumption (2-0) at No. 7 Grand Valley State (1-1), 1 p.m. Eastern
Location: Lubbers Stadium; Allendale, Michigan
Last Week: Assumption defeated Southern Connecticut State, 42-29; GVSU defeated CSU-Pueblo, 57-49 in double overtime.
Series History: First meeting
The connection here is former Grand Valley State head coach Brian Kelly, who led the Lakers to back-to-back Division II national championships in 2002 and 2003. Kelly played at Assumption, followed by a short coaching stint, before moving to GVSU in 1987.
Though Kelly moved on many years ago and now is the head coach at LSU, he'll forever be a legend in Allendale, and it would be impossible to not acknowledge his journey and success when GVSU and Assumption finally meet for the first time.
The Lakers come in having played back-to-back thrillers to open the season, falling at No. 2
Colorado School of Mines by three points in the opener, then holding off CSU-Pueblo in a double-overtime thriller last week, 57-49.
In that win, the Lakers jumped out to a 21-0 lead early in the second quarter and looked to be on their way to a rout, before the CSU-Pueblo defense and special teams turned things around.
The Lakers conceded a blocked field goal that was returned for a score, as well as an interception that was returned for another touchdown.
But the heroics of Tariq Red helped the Lakers prevent the complete comeback, with Reid rushing for four touchdowns in the victory, including what proved to be the game-winner in the second extra session.
Reid finished the night with 119 yards, kickstarting his season after a slow first week.
Here are some highlights of last night's THRILLING double overtime victory against a competitive CSU-Pueblo opponent, brought to you by @mistudentaid

WHAT A GAME #AnchorUp pic.twitter.com/JP85tQvBIp

— GVSU Football (@gvsufootball) September 10, 2023
Through two games, the GVSU offense has been rolling, this after being one of the most prolific units in the nation a season ago.
The Lakers are averaging nearly 450 yards per game, while scoring over 42 points per game. The Lakers have done it thanks to a balanced attack that is averaging 176 yards on the ground, including 217 last week, and over 272 yards per game through the air.
Reid, and quarterback Cade Peterson, are the 1-2 punch making it happen on the ground, with the pair netting 248 yards and five scores in the early going.
Receiver Cody Tierney already has hauled in 12 passes on the year and has 257 receiving yards.
If there's one area of concern for GVSU in the early going, it's the struggles from the defense.
Last season's unit was among the top 10 in scoring and yardage, and through two weeks, albeit against quality opponents, that has not been the case.
The Lakers have given up 80 points in those two games; last season, the most they gave up in a game was 22, which came in the first week of the season.
The struggle this year has been the pass defense, which has been lit up to the tune of 332.5 yards per game, while giving up seven scores through the air. For comparison, last season's defense gave up 13 touchdowns during the entire regular season.
That could set up for another high-scoring showdown Saturday when they host an Assumption squad that has put up 73 points through its first two wins, including 42 last week at Southern Connecticut State.
And Assumption has mainly done it through the air, passing for just under 260 yards per game, and finding the end zone eight times via passes. It's a matchup that on paper, plays into the Greyhounds' hands.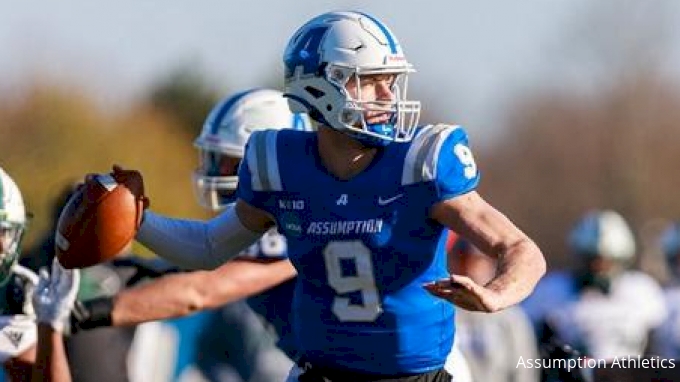 Quarterback Jake Cady has thrown every pass for Assumption and has been on fire, hitting on over 72% of his throws, in addition to the eight touchdowns and nearly 260 yards per game.
Cady has spread the ball around in the early going, with nine receivers catching multiple passes, and seven receivers notching scores.
Like the Lakers, Assumption can score in bunches, but also has struggled to get stops – and has done so against opponents who haven't been of the same caliber GVSU has faced.
In the first two games, Greyhound opponents have passed for 274 yards per game and are averaging four yards per carry on the ground. Needless to say, there should be plenty of points in this one.
GLIAC Games at a Glance
*All games are scheduled for Saturday
Wisconsin-La Crosse (1-1) At Northern Michigan (0-2), 2 p.m. Eastern
The Eagles head over to the UP to take on a Northern squad that looks to break into the win column after dropping a heartbreaker at home last week to Lake Erie College.
In the loss, the NMU defense kept the Storm in check, and getting a pick-six from Jax Hertel gave them the lead in the fourth quarter, before Lake Erie rallied. The winning score came inside the final minute, and the Storm held on for a 24-21 victory.
UW-La Crosse sits at 1-1 on the season, winning by a blowout in Week 1 over Dakota State, then falling last week at home to No. 6 Hardin-Simmons. La Crosse led 21-14 at the half, but got shut out after halftime, while HSU scored 14 points in the third quarter to pull out the win.
Michigan Tech (1-0) At Wisconsin-Platteville (2-0), 2 p.m. Eastern
Tech opened the season in a big way at home last week, crushing intrastate rival Hillsdale, 45-20.
It was a game that saw the Huskies defense hold the Chargers to 257 yards of offense, including a scoop and score from Samuel Kinne in the first half.
Tech also racked up over 400 yards in the game, including Alex Fries hitting 67% of his passes for three scores and no interceptions. Two of those scores went to Ethan Champney.
UW-Platteville is tough to get a gauge on in the early going, scoring 115 points in a 2-0 start, but with both wins coming against Division III opponents.
Saginaw Valley State (2-0) At Truman State (2-0), 3 p.m. Eastern
A pair of teams hoping to break into the top 25, while also bolstering their playoff resumes, sees the Cardinals travel to Missouri.
SVSU rolled last week against former GLIAC opponent Northwood, 31-8, not giving up a score until the fourth quarter, while holding the Timberwolves under 200 yards of offense.
The new-look Cardinals continued to use the ground game, gaining 230 yards on 53 carries in the win.
Truman State has pulled out a pair of close wins to start the season, topping Findlay in Week 1 by 10, then holding off South Dakota Mines last week, 28-24, scoring the winning touchdown with less than five minutes to play.
Wayne State (1-1) At No. 18 Indianapolis (1-0), 6 p.m. Eastern
The Warriors gave Tyrone Wheatley his first win as head coach last week, topping Missouri S&T by hammering the ball on the ground for 215 yards and 5.5 yards per carry, while also getting a passing score from each QB who saw action.
They face a tough test in UIndy, which comes in well-rested after having last week off.
The Greyhounds topped Hillsdale in their lone action back in Week 1, 39-20, racking up over 500 yards of offense in that game.
No. 1 Ferris State (2-0) At Montana (2-0), 8 p.m. Eastern
The Bulldogs head out west for a rare shot at a FCS opponent, and one of the better ones, historically.
FSU had a bit of trouble last week against Ashland, trailing 28-17 at one point late in the third quarter, before getting three unanswered scores.
WATCH! Big win in Ashland for the Dawgs, Montana up next! @FerrisFootball pic.twitter.com/KPkBshb88D

— Ferris Athletics (@ferrisathletics) September 15, 2023
The Bulldogs kept Ashland in the game thanks to an astounding 21 penalties that totaled 193 yards against them, while also conceding a punt return for a score.
Montana topped Butler and Utah Tech in its first two games, rolling last week 43-13. Montana has averaged nearly 250 rushing yards per game to open the season.