2023 Dartmouth vs New Hampshire
CAA Notebook: Dynamite Dylan Laube Continues To Raise The Bar For UNH
CAA Notebook: Dynamite Dylan Laube Continues To Raise The Bar For UNH
A record-setting day receiving at Central Michigan showed off yet another element to Dylan Laube's all-around playmaking ability.
Sep 12, 2023
by Kyle Kensing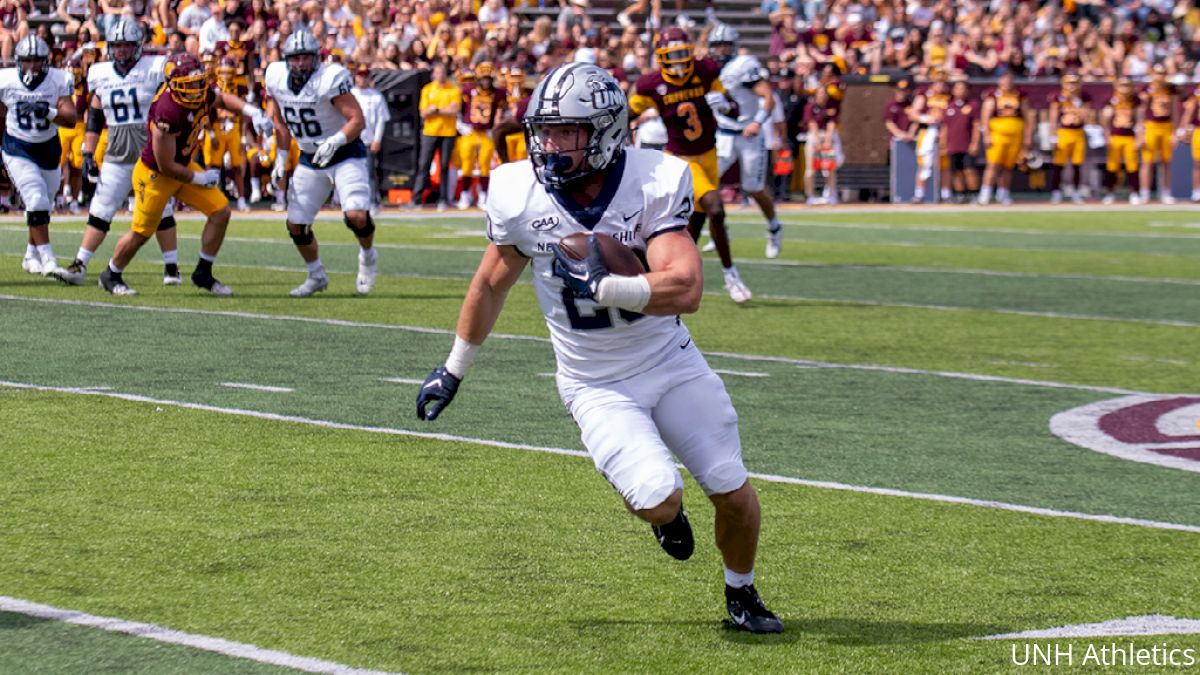 Central Michigan coach Jim McElwain offered up a blunt assessment of his team's 45-42 defeat of New Hampshire in Week 2, albeit one that can apply to any number of Wildcats opponents in recent season.
"They got the ball to No. 20," McElwain said. "And he made us look foolish."
One Saturday after opening 2023 as the Football Championship Subdivision Special Teams Player of the Week, Dylan Laube shined in another element of his outstanding, all-around game at Central Michigan.
His 295 yards on 12 receptions set a New Hampshire program record and are this season's single-game high by a considerable margin. The next-highest receiving production in the FCS thus far in 2023 is 172 yards; the most in the FBS are 273 yards.
Laube's otherworldly performance earned him his second national Player of the Week award in as many weeks.
🏈 The Reese's Senior Bowl Offensive Player of the Week is @UNH_Football RB Dylan Laube @dylan_laube with 12 receptions for 295 yards and 2 TDs, AND 7 carries, for 30 yards and 1 rushing TD. #CAT2UNT4MED 😼 #TheDraftStartsInMOBILE™️ pic.twitter.com/g3ySoO4WjL

— Reese's Senior Bowl (@seniorbowl) September 11, 2023
"It was a really good job by coach Brian Scott, our offensive coordinator, and our entire offensive staff, finding creative ways to get Dylan the ball," said UNH coach Rick Santos. "We felt like their defensive line was going to be really tough and stout and big up front and it was going to be challenging for us to run the ball, so we felt like it was going to be a game where we were going to have to air it out."
With the Wildcats coming to Mount Pleasant schemed for a pass-heavy day, Laube did his part reading coverages. Santos commended the UNH playmaker for "when he was in man or zone, and he made the correct adjustment in real-time, found the soft spots and then his ability to run after the catch is elite."
Laube has consistently taken on a variety of responsibilities in his time at UNH. And while natural skill and ability certainly contribute to his production, delivering at the level Laube has requires preparation in each phase.
Santos explained how Laube's practice week is divided to make him such a versatile contributor.
"He'll do some individual drills with the running backs early in the week," Santos said. "Mid-part of the week, we'll get him with the receivers to work some releases and the nuances of routes vs. air and the timing with Max [Brosmer] and the other quarterbacks. And hen it's just finding ways to rest him a little bit, too.
"We have to do a great job as coaches managing his workload throughout the week," Santos added. "It doesn't mean we're going to completely shut him down — I don't think he'd let us, to be honest. He loves being out there and preparing. But I've got to do a great job to make sure we keep him as fresh as possible for game day."
A refreshed Laube and UNH plays their first home game of 2023, welcoming in-state rival Dartmouth for the Granite Bowl.
Harvard Transfers Pay Dividends at Monmouth
Monmouth scored a Coastal Athletic Association-opening win at Towson in Week 2 that was rooted in Cambridge.
Linebacker Jake Brown, who impressed Week 1 with an interception and eight tackles at FAU, followed that up with seven tackles, two sacks and a forced fumble in Monmouth's 42-23 defeat of Towson. He earned CAA Defensive Player of the Week for his effort.
"He's really blended into the fabric of our team," said Hawks coach Kevin Callahan of Brown, an All-Ivy League transfer from Harvard. "It's like he's been here for four or five years."
Offensively, running back Sone Ntoh — another Harvard transfer — has fast established himself as a pounding power-back complement to the speedy and shifty Jaden Shirden. Ntoh already has four touchdowns on the season in short-yardage situations; that includes his 66-yard scamper at Towson.
Facing fourth-and-short at its own 34, Monmouth rolled the dice with six on the line and tight end Jack Neri positioned as a blocking H-back. A formation designed for a short-yardage situation became the longest rushing play of the day as every Hawk hit his assignment, including Neri picking up Tylen Wallace after a chip-block from right tackle JT Cornelius before he engaged Makye Smith.
Monmouth's interior line opened a lane, then center Tyler Williams occupies a pair of Tigers just past the line of scrimmage to give Ntoh all the daylight he needed to go to the house.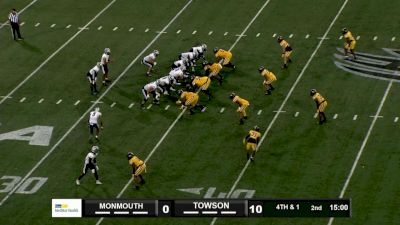 Ntoh's power game combined nicely with a predictably productive day out of Shirden, who went for 145 yards as the Hawks reached 200 in total.
Ntoh is "the guy we're going to ask to get the tough yards," Callahan said. "Once we get down in tight, Sone's the guy we're going to give the ball to. He's a bit of a bigger back, he's about 230 pounds. He can get the tough yards, he runs physical, but as he showed on that breakaway run, he showed he's got speed, as well."
Big Plays Only
Villanova quarterback Connor Watkins completed eight passes in Saturday's 42-19 win over Colgate. That was all Watkins needed to total 310 yards for a staggering 38.75 yards a completion.
Rayjoun Pringle, who has touchdown catches in each of the Wildcats first two games, caught three passes for 168 yards — 56 a reception. Jaylan Sanchez hauled in two passes for 128 yards, 64 per catch.
67-yard pass from Connor Watkins to Rayjuon Pringle for a Villanova TOUCHDOWN!

Saturday's Play of the Game vs. Colgate is brought to you by Old Dominion Freight Line (@ODFL_Inc)! ✌️#BestintheGame pic.twitter.com/Gt0wFRqFRX

— Villanova Football (@NovaFootball) September 11, 2023
"He put the ball on the money in a number of situations," Villanova coach Mark Ferrante said of Watkins. "He's doing what he needs to do right now."
Watkins' big-play production is made all the more impressive when considering his top target of a season ago, Jaaron Hayek, has yet to play in 2023. Ferrante noted Hayek was suited up prior to a weather delay this week, so expect to see the standout receiver — responsible for 810 yards in eight games during his 1st Team All-CAA campaign a season ago — make his debut soon.
The Important of Third Down for William & Mary
It's well established William & Mary boasts one of the nation's best pass-rush duos with linebacker John Pius and defensive end Nate Lynn, and the Tribe's 23-6 win over Wofford reinforced the point. Lynn made two tackles for loss and a sack, while Pius racked up 3.5 tackles for loss with two sacks and three quarterback hurries.
William & Mary coach Mike London explained that on third downs in particular, the pair is at its best.
"Getting teams to third-down situations where they have to throw, you have to decide how you're going to protect, and it might not just be a one-on-one with the tackle. It might be bringing a tight end over to seal the edge or it might be chipping a running back against them on the running back's way out," London said. "When you have guys like [Pius and Lynn who] can rush the passer same side [or from] both sides, standing up [or] hand on the ground, whatever it may be, it gives you an opportunity to be successful."
And, indeed, the Tribe were plenty successful defensively in Week 2. They held Wofford to just one third-down conversion on 13 attempts. William & Mary ranks second in the nation at a 0.15 third-down conversion rate through two games, allowing just 3-of-20 overall.
don't blink 👀💥@john_pius8 | #GoTribe pic.twitter.com/0MVFGFkB44

— William & Mary Tribe Football (@WMTribeFootball) September 12, 2023
Week 2 Game Balls
Plenty more to come on the Rhode Island wide receivers corps soon, but in the meantime, Darius Savedge earns a Game Ball for his tone-setting first drive in the Rams' conference win over Stony Brook.
Savedge hauled in five passes from Kasim Hill, culminating in a 13-yard touchdown. His outstanding sequence also included an early contender for Catch of the Year.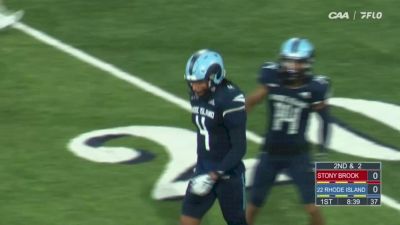 Meanwhile, Monmouth wide receiver Dymere Miller caught for 61 yards at Towson to move into the top 10 for career receiving yards in program history. At his current pace, Miller would finish the regular season eighth in program history.
Campbell doubled up on CAA awards in Week 2, including quarterback Hajj-Malik Williams splitting Offensive Player of the Week with Dylan Laube. Stay tuned for more on Williams. Until then, a Game Ball is in order for Rookie of the Week VJ Wilkins.
Wilkins shined in the Camels' CAA opener against William & Mary, catching four passes for 44 yards and a touchdown. He upped the ante in Week 2's romp over The Citadel, rolling up 78 yards on seven catches with another touchdown.
On special teams, the efforts of William & Mary punter Will Whitehurst went a long way in setting up the Tribe defense for dominance.
Preseason All-#CAAFB punter Will Whitehurst is off to a great start ...

➡️ 45.5 yds/punt
➡️ 75% of punts pinned opponents inside 20
➡️ long of 64 yds@WillWhitehurst2 | #GoTribe pic.twitter.com/Sisr0mY9xj

— William & Mary Tribe Football (@WMTribeFootball) September 12, 2023
Against Wofford, Whitehurst pinned the Terriers at their own 13-yard line or deeper on three occasions. Wofford advanced no further than the 50 on any of those drives.