2023 Colorado State-Pueblo vs Grand Valley State
Grand Valley State-CSU Pueblo Instant Classic By The Numbers
Grand Valley State-CSU Pueblo Instant Classic By The Numbers
Grand Valley State beat CSU Pueblo in a wild, double-overtime shootout. Some numbers speak to the significance of the contest.
Sep 11, 2023
by Kyle Kensing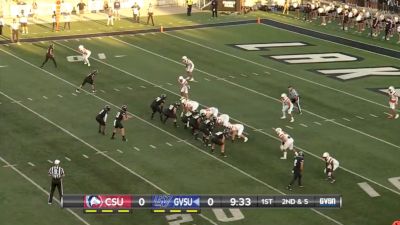 A 21-point run, a huge comeback, an overtime-forcing buzzer-beater — and that's not even scratching the surface of all the incredible, Week 2 showdown between national championship hopefuls Grand Valley State and CSU Pueblo produced arguably the best college football game so far in the 2023 season.
And it's going to be a difficult one to top.
The sheer volume of spectacular plays and rallies made over the course of 60-plus minutes is perhaps more than can be fit into a single highlight package. For context on everything that made Grand Valley State-CSU Pueblo a game for the ages, let's dive into some numbers that tell the story.
One
The first win of Scott Wooster's head-coaching career was already a special occasion on its own, but coming in spectacular fashion — and one week after Grand Valley State lost a heartbreaker on a walk-off field goal at Colorado School of Mines — only adds to the significance.
"You saw it: The love that these guys have for one another — player-to-coach, coach-to-player, player-to-player — and you saw it on full display," Wooster said.
The coach's milestone first win also came with another important first. Quarterback Alex Thole stepped in for an injured Cade Peterson after Peterson passed for 155 yards and a touchdown and rushed for another 61 yards.
Thole threw his first career score to Cody Tierney in the first overtime, extending the contest into a second extra frame.
THE LAKERS ANSWER BACK!

Alex Thole throws his first career touchdown pass to Cody Tierney!

GVSU 49, CSP 49#AnchorUp pic.twitter.com/RvVBFLQeWq

— GVSU Football (@gvsufootball) September 10, 2023
20:26
GVSU never trailed in regulation thanks to Lakers running back Tariq Reid setting the tone with a 13-yard touchdown run early in the first quarter. When he scored again in the late first, the Lakers began a stretch of 20 minutes and 26 seconds in which they held a multiple possession lead.
CSU Pueblo cut into that late in the second quarter when, after an 80-yard drive finally got the Thunderwolves on the board with 5:40 to go before halftime, Grand Valley's ensuing possession ended in a 72-yard Eli Pittman field-goal block for a touchdown.
Pittman's special-teams score kicked off a wild sequence of less than three minutes in which the Lakers and Thunderwolves combined for four touchdowns.
GVSU needed all of 36 seconds to rally from the Pittman touchdown, getting a huge special-teams play of its own with Darrell Johnson returning the ensuing kickoff 55 yards. A 15-yard penalty against CSU Pueblo followed by Cade Peterson's 27-yard touchdown pass to Kyle Nott pushed the lead back to double-digits.
CSU Pueblo went 75 yards in a little more than a minute to answer, but the Lakers reclaimed a two-touchdown lead at intermission when Kellen Reed ran back the kickoff 95 yards for a touchdown.
95 YARDS 🤯🤯

Kellen Reed answers back FAST for the Lakers with a 95 yard kickoff return ! 👀

GVSU 35, CSP 21#AnchorUp pic.twitter.com/29hvTj9JlL

— GVSU Football (@gvsufootball) September 10, 2023
10
Reed's 95-yard kickoff return touchdown is Grand Valley's first such score in a decade. Kirk Spencer and Erik Thompson both took kickoffs to the house in 2013 — Spencer's going 100 yards.
0:00
No time remained on the clock when CSU Pueblo quarterback Chance Fuller found Reggie Retzlaff on the overtime-forcing touchdown pass.
CSU-Pueblo scores as time expires. GVSU 42, CSU-P 42. Going to OT. #AnchorUp pic.twitter.com/ApdfyRvTjs

— Snooze2you (@Snooze2you) September 10, 2023
The game-tying touchdown drive spanned 75 yards and lasted 2:50 with the Thunderwolves running 13 plays. Fuller's touchdown pass came on fourth down, and was the only fourth-down conversion the GVSU defense gave up on the night — though it was the first CSU Pueblo attempt the Lakers saw until the second overtime.
"It was a very intense drive," GVSU cornerback Terez Reid said. Reid made a key pass break-up on second down, adding with a smile that the Thunderwolves coming at him was something he, "Took as a little bit of disrespect."
2x4
Tariq Reid ran for four touchdowns in the win, including the game-winner on the first play from scrimmage in the second overtime.
GRAND VALLEY STATE WINS!! ⚓️🆙

Tariq Reid rushes in for his 4th touchdown of the night and then the Lakers execute the 2-point conversion! #AnchorUp pic.twitter.com/zhkQQUh14E

— GVSU Football (@gvsufootball) September 10, 2023
This marks the second time in Reid's GVSU career in which he carried for four scores, previously doing so in 2021 against GLIAC counterpart Michigan Tech.
"Last week, I didn't play that well," Reid said of his four-yard performance Week 1 at Mines. "I had a chip on my shoulder and just had to be better."
With 119 yards on 21 carries to go with the four touchdowns, Reid certainly delivered on his goal to improve in Week 2.
"It's all about trusting the run game, and trusting the call and just making the right reads," he said. "The right reads were there."