2023 CAA Football
How Many Conferences Are There In FCS Football?
How Many Conferences Are There In FCS Football?
Consider this a guide to the football conferences of the Football Championship Subdivision. How many are there? Which ones are the best?
Sep 8, 2023
by Briar Napier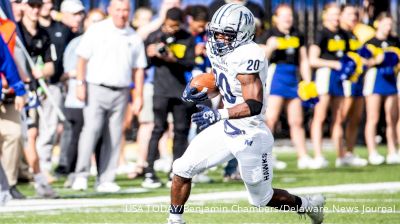 Consider this a guide to the football conferences of the Football Championship Subdivision. How many are there? Which ones are the best?
If you were a college football fan who caught Joe Flacco slinging footballs for Delaware, Armanti Edwards leading a dynasty at Appalachian State or one of the many other FCS standouts during the pre-College Football Playoff era in NCAA Division I, you know that the FCS and its conferences were rocking with the playoff on a national stage before it was cool.
It's a level of football where some of the best players to have ever played the game – yes, even members of the Pro Football Hall of Fame – have made names for themselves, and the FCS' annual playoffs bring together the best teams from each participating league in a loser-goes-home, multi-week tournament to crown a national champion.
Rankings are here! 🚨

Week 1 @WeAreAFCA Rankings 🏈#FCS pic.twitter.com/JCqIYJ1u1k

— NCAA FCS Football (@NCAA_FCS) September 5, 2023
Before an ultimate winner can be crowned, however, conference play must happen first. League performance is vital to ensuring a team's spot in the postseason, where it will play for a chance to make it to Frisco, Texas, home of the national title game each year inside Toyota Stadium.
Figuring out the system and how conferences play their roles can be a bit of a maze. That's where FloFootball is here to help with a handy guide for the 2023 season.
Don't know where to start with the FCS and its conferences? Here's a peek at what Division I's overlooked portion of college football has to offer and how its leagues come into play.
What Is The NCAA Division I Football Championship Subdivision (FCS)?
The Football Championship Subdivision (more commonly known as the FCS) is considered the second-highest level of college football and a subset of Division I, the highest level of athletic competition offered by the NCAA.
Called Division I-AA until 2006, the FCS is for football-playing Division I schools – often of a smaller size – to play against other programs of a similar competition level.
These FCS schools, if they were to play in the top-tier Football Bowl Subdivision (FBS), would in most cases be often outmatched by their bigger, more established counterparts, evidenced by the fact that FCS-over-FBS upsets rarely occur more than a handful of times per season.
The FCS has used a playoff system to determine a national champion since its first season in 1978, making it the highest division in the sport to have a NCAA-sanctioned national champion via a playoff.
How Many Conferences Are There In FCS football?
There are two answers to this question.
If you want to be technical, there are 15 FCS conferences with members that will play football in 2023, and teams are spread across the country from coast to coast. However, the official number of football-playing conferences in the FCS this year is 13.
How is that possible? Alliances.
For the first time this year, the Big South Conference and Ohio Valley Conference will combine to form the aptly named Big South-OVC Football Association, where each league's football-playing members will play together as a giant league.
The same thing is happening in the new United Athletic Conference (UAC), as football-playing schools of the ASUN Conference and Western Athletic Conference have merged to form a league of their own. Why these mergers are happening is explained later in this article.
The 13 conferences for 2023 are: Big Sky Conference, Big South-OVC Football Association, CAA, Ivy League, Mid-Eastern Athletic Conference, Missouri Valley Football Conference, Northeast Conference, Patriot League, Pioneer Football League, Southern Conference, Southland Conference, Southwestern Athletic Conference and United Athletic Conference.
The Week 1 episode of #FCSALLIN will stream at noon ET and be available on demand on ESPN+.

Our @CraigHaley will make his weekly guest appearance alongside host @alexeschelman and @SamHerderFCS. The guest picker is @stan_becton. pic.twitter.com/qqAjofHMSB

— FCS Football (@FCS_STATS) September 1, 2023
Which FCS Conferences Are The Best And Most Successful?
Right now, most FCS football fans probably will tell you the best league in the division is the Missouri Valley Football Conference and has been for quite some time.
It's hard to ignore the track record – since the league was chartered as the Gateway Collegiate Athletic Conference in 1982, its teams have won 16 national championships from 23 title-game appearances, most of which came during powerhouse member North Dakota State's dynasty.
During their unprecedented run, the Bison won an incredible nine national championships from 2011-2021.
Four of the conference's members are ranked in this year's preseason STATS Perform FCS Top 25, including the top two spots. Defending national champion South Dakota State is No. 1, and rival NDSU lurks just behind at No. 2.
The Big Sky Conference, Coastal Athletic Association and Big South-Ohio Valley also are among the strongest leagues, with the Big Sky having six teams ranked in the top 16 of the poll mentioned above.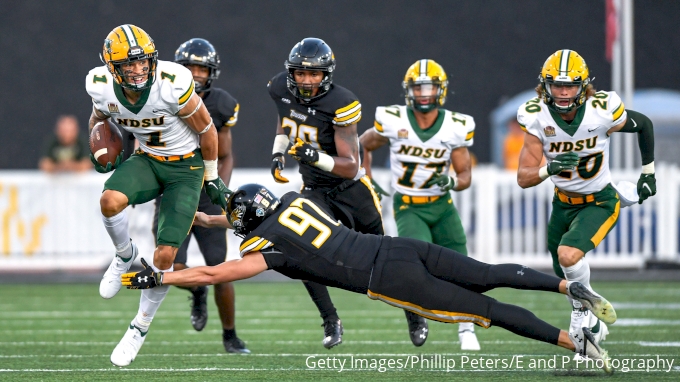 How Are Automatic Conference Bids To The FCS Playoffs Decided? How Many Are Given Out?
As it has since 2013 (with the exception of a reduced field in the 2020-2021 season due to COVID-19), 24 teams will qualify the 2023 FCS playoffs, with 10 automatic bids given to conference champions this year.
The remaining 14 bids are at-large and given to teams the selection committee feels are deserving, with various factors coming into play, including (but not limited to) overall record, record against common opponents, any key results against teams from other automatic-qualifier conferences and/or the FBS, and so on.
You also may have read earlier that there are 13 FCS conferences, but only 10 automatic bids will be given out. There's a reason for that, which this article will get to soon.
What's With The New Conference Alliances In FCS Football This Year?
As mentioned, there are two conference mergers at the FCS level that are embarking on their first seasons as a pairing this year – the Big South-OVC and UAC.
The moves come down to keeping automatic bids for their member schools.
In order for a FCS conference to receive an automatic bid to the playoffs, it must have at least six members; all four leagues involved in the two mergers have had to deal with their share of realignment crises, as teams have bolted for other FCS conferences or the FBS level, or programs making the jump to their leagues from other divisions haven't fulfilled their transition requirements and aren't yet playoff-eligible.
The Big South-OVC will have 10 teams (nine playoff-eligible, with the exception of the transitioning Lindenwood), while the UAC has nine (seven playoff-eligible with Tarleton State and Utah Tech still transitioning), allowing the leagues to maintain their automatic qualifier statuses and send at least one team each to the playoffs.
There is an FCS player on every NFL team's initial 53-man active roster for the second straight year. 🙌#FCS https://t.co/k808W0nTVY

— NCAA FCS Football (@NCAA_FCS) August 30, 2023
Which FCS Conferences Don't Participate In The Playoffs? Why not?
OK, so back to the whole "13 FCS conferences, but only 10 automatic bids" thing.
Why that's the case is because there are three FCS leagues – the Ivy League, Mid-Eastern Athletic Conference and Southwestern Athletic Conference – that do not send their teams to the FCS playoffs.
For the Ivy, with its membership consisting of some of the most prestigious academic institutions in the world, such as Harvard, Yale and Columbia, its reasoning is unsurprisingly studies-based.
Each league champion declines the bid due to concerns about an extended schedule going into December and affecting academic requirements; all Ivy teams play a 10-game schedule that will often end in mid-November.
As for the MEAC and SWAC, both leagues consist of historically Black colleges and universities, and each conference's champion meets in the third weekend of December to take part in the Celebration Bowl (the only bowl game featuring FCS teams) instead of the playoffs.
That game, played at Mercedes-Benz Stadium in Atlanta, acts as the de facto Black college football national championship, and the MEAC's North Carolina Central (which took down then-Deion Sanders-coached Jackson State in overtime) is the defending Celebration Bowl champion.