2023 Delta State vs Chowan
GSC Week 2 Game Preview: Delta State Vs. Chowan
GSC Week 2 Game Preview: Delta State Vs. Chowan
Here's what to know as Chowan hosts Delta State this weekend, with kickoff scheduled for 1 p.m. E.T. on Saturday, September 9.
Sep 8, 2023
by Ron Balaskovitz
As it usually does, the Gulf South Conference got off to a strong start to open the season, posting a 5-4 mark in Week 1, including a pair of impressive wins on the road.
The league will have its work cut out for them in the second week of action, with seven of the league's nine teams on the road, including another showdown between playoff hopefuls, but it's an early-season conference game that takes top billing.
While it is just Week 2 on the schedule, the Gulf South sees league play kick-off with a matchup between the league's preseason favorite, and the newest addition to the conference, as Delta State travels to take on Chowan, two teams who had polar-opposite Week 1s.
Gulf South Game Of The Week: No. 10 Delta State (1-0) Vs. Chowan (0-1)
Saturday, September 9
Time: 1 p.m. E.T.
Location: Murfreesboro, North Carolina
Last Week: Delta State defeated Missouri S&T, 48-20; Chowan lost to Barton, 41-0
Series History: Delta State 1-0. Defeated Chowan 42-13 at DSU in 2017.
The defending champion Statesmen picked up where they left off last season, racking up 48 points in just 52 offensive snaps in a blowout road win over Missouri S&T. The offense was clicking from the jump for DSU, posting 453 yards, an average of nearly nine yards per play.
In what was a tight game to start, with the Statesmen taking a 17-6 lead into halftime, was blown open in the third quarter thanks to a 21-0 DSU advantage on the strength of three touchdown passes.
DSU quarterback Patrick Shegog, the reigning GSC Player of the Year, showed why he is the favorite to repeat this season, passing for 312 yards and four scores on just 16 completions, including a 92-yard touchdown strike to Calvin Lockett. Shegog also paced the DSU run game with 46 yards.
Delta State also showed its big-play ability in the win, with 59- and 24-yard touchdown scores in the game.
But it wasn't just the offense that had a strong game, the Statesmen defense and special teams played a big part in the win by collecting three turnovers, a hallmark of last season's GSC title-winning team, while the special teams unit batted down a kick.
Adrian Hill had the big game for the defense, pouncing on a pair of fumbles while collecting six solo tackles.
They take on a Chowan team that is looking to forget what happened in Week 1 after a 41-0 road loss at Barton, in a game where little went right for the Hawks in their GSC debut after coming over from the CIAA.
The Chowan offense was held to just 129 yards of total offense, while coughing the ball up three times. It was a tough showing for a team that was 7-4 last season, reaching the CIAA title game where they fell to miss out on a playoff spot.
While last week didn't show it, Chowan was a balanced offense last season, averaging nearly 370 yards per game, on the strength of a ground game that posted nearly 170 yards per contest.
Delta State also looks to continue one of the most impressive streaks in the country with a win. A victory over Chowan would push the Statesmen's road winning streak to nine straight games after going 7-0 away from home last season, and last week's win over Missouri S&T.
Saturday's game is slated for a 1 p.m. ET kick-off, and will be streamed exclusively on FloFootball.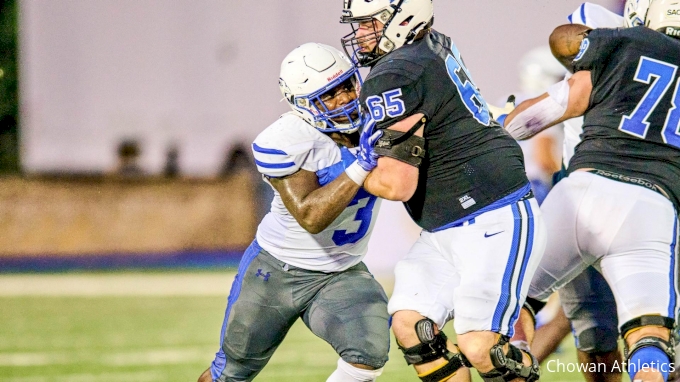 Gulf South Games At A Glance
All games are scheduled for Saturday, Sept. 9
West Alabama (0-1) Vs. Limestone (0-1)
The Tigers hit the road looking to rebound after a home loss last week to top-5 ranked Angelo State, 38-14. West Alabama led that game 14-10 at the half, but were blitzed to the tune of 28-0 after halftime. Limestone faces its second GSC opponent in as many weeks, falling in a thriller last week to West Georgia, 21-19, in a game the Saints held the statistical edge. Two turnovers and a pair of missed kicks proved to be the difference.
Erskine (0-1) Vs. Shorter (0-1)
A preview of what will be a GSC matchup in 2024 when Erskine joins the league sees two teams looking to break into the win column. Shorter went on the road to FCS Samford in Week 1, taking its lumps in a 69-14 defeat, where Harold Cook accounted for a pair of touchdowns. Erskine dropped a 24-17 decision on the road at Allen.
North Greenville (0-1) Vs. Newberry (1-0)
The Crusaders come in off a valiant effort against an FCS team in Week 1, dropping a narrow 13-10 decision on the road to Charleston Southern, leading the game 10-3 before giving up 10 points in the fourth quarter. The North Greenville defense shined, giving up just 252 yards, including only 104 through the air. Quarterback Dylan Ramirez also played well, completing 21 passes for 236 yards and a score. Newberry, who entered the year in the AFCA Top-25, opened with a slim 14-10 win over Shippensburg, meaning points could be at a premium in this match-up.
No. 20 West Georgia (1-0) Vs. Texas A&M Kingsville (1-0)
Not broadcasted on FloFootball

The Wolves hit the road for the first time this season and face another playoff hopeful, after knocking one off in the opener, a narrow 21-19 win over Limestone in which they never trailed, but had to hold off multiple comeback attempts. UWG leaned heavily on the run game in the win, a departure from last season's pass-happy team, with Wesley Kennedy rushing for 169 yards on just 10 carries. TAMK opened its campaign with a 30-10 road win over Colorado-Mesa, scoring the final 27 points of the game.
No. 6 West Florida (1-0) Vs. McKendree (0-1)
Not broadcasted on FloFootball

UWF rolled in Week 1, taking down Kentucky Wesleyan in a 35-3 rout. Peewee Jarrett totaled three touchdowns in the win while completing over 85 percent of his passes. The Argo defense surrendered just 168 yards and 10 first downs in the win. McKendree were crushed at Tiffin in their opener, 79-14, giving up at least 14 points in each quarter. McKendree led the game 14-6 at one point, before giving up 73 unanswered points, including two defensive scores for Tiffin.
Valdosta State (1-0) Vs. Albany State (0-1)
Not broadcasted on FloFootball

After a rough 2022, Valdosta State got back to what it had been in the past, putting down a 63-10 pasting of visiting Point in the opener. The VSU offense rolled to 647 yards of offense in the win, including 347 passing yards and four touchdown passes from starter Sammy Edwards, who also added 73 rushing yards and a score. Albany State went on the road and couldn't get its offense out of neutral, falling by a 30-7 margin to No. 22 Wingate.
Mississippi College (1-0) Vs. Midwestern State (0-1)
Not broadcasted on FloFootball

The Choctaws found a way to pull out a defensive battle in their season-opener against Keiser, winning 17-14 on a field goal that came halfway through the fourth quarter. MC's defense was the star of the opener, holding Keiser under 200 yards of offense, and the game could have been a blowout if not for three Choctaw fumbles lost. They'll have a good chance to start 2-0 as they travel to Midwestern State, who was blown out in Week 1 by No. 25 CSU-Pueblo, 37-8.