2023 Monmouth vs Towson
Journey of Coach Pete Shinnick from UNC Pembroke to West Florida to Towson
Journey of Coach Pete Shinnick from UNC Pembroke to West Florida to Towson
After building two programs from the ground floor, Towson coach Pete Shinnick arrives in CAA football looking to build on tradition.
Aug 17, 2023
by Kyle Kensing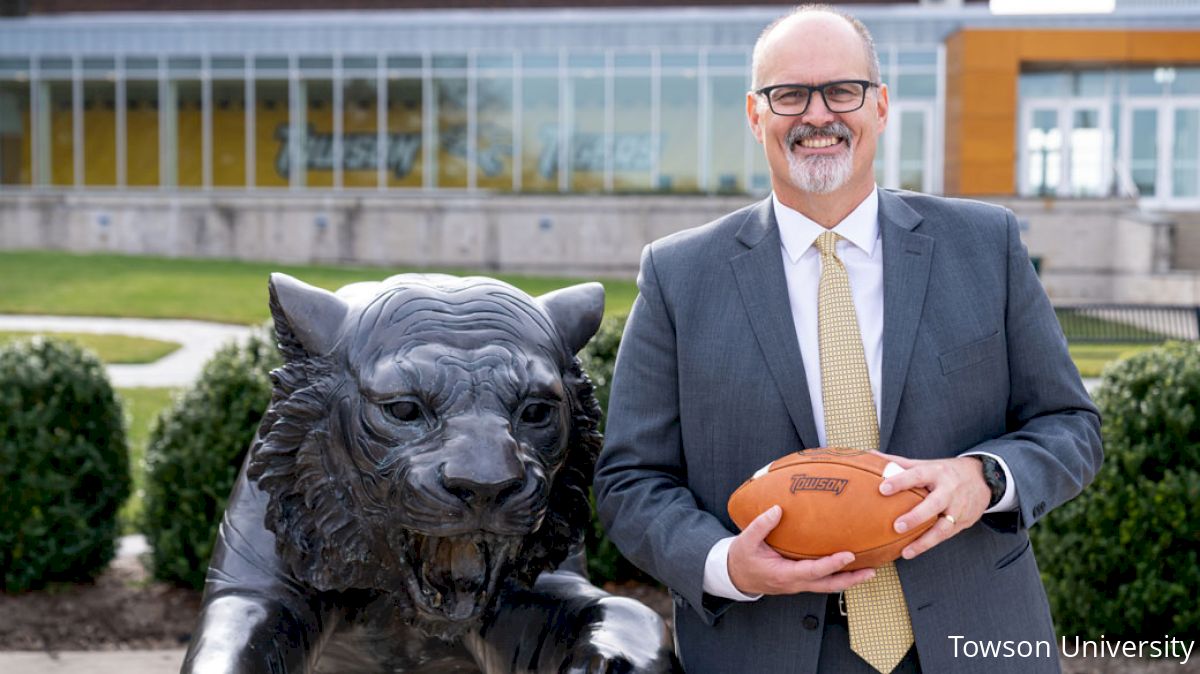 Principles on which new Towson football coach Pete Shinnick establishes a program come in part from books — and a wandering dog.
During Coastal Athletic Association media day, defensive lineman Jesus Gibbs had in hand a copy of Jon Gordon's "The Energy Bus: 10 Rules to Fuel Your Life, Work, and Team with Positive Energy." The book serves as a metaphor, if not a roadmap, for Towson's approach with Shinnick in his first season.
"One of my favorite rules is Rule No. 2: Desire, vision and focus to drive your bus in the right direction," Gibbs said. That's something that's been very imperative for not only myself, but for this football program as we have been implementing a new desire, a new vision and a new focus to where we want to go.
"With coach Shinnick as our head coach," Gibbs continued, "We can see that he really has the ability to plow through and change and build new things at places where he goes."
When Gibbs describes Shinnick as building, it's not a trite buzzword. Building is the most accurate description of Shinnick's coaching resume, in a most literal sense.
Shinnick was introduced as Towson head coach in December 2022, after six successful seasons at West Florida that peaked with an NCAA Div. II national championship in 2019. But while Shinnick led the Argos for six seasons, he actually headed up the program for nearly a decade, accepting the position when UWF football existed only as a concept.
Before his introduction as the first coach in UWF program history in December 2014, Shinnick spent seven seasons at the helm of UNC Pembroke — a program that, before its relaunch under Shinnick in 2007, last fielded a team in 1950.
It was during his tenure at UNC Pembroke, which reached a pair of NCAA Div. II Playoffs in its upstart phase under Shinnick, that the coach said he first became a reader of Gordon's work beginning with the book "Training Camp."
Then, early into his time at UWF, an adventurous dog indirectly guided Shinnick into contact with the author.
"One of our first recruits was from Orlando, and his neighbor happened to be Jon Gordon," Shinnick recounted. "I said, 'Hey, if you ever get an opportunity, I'd love to have a conversation with [Gordon]. And [the recruit] is like, 'Yeah, my dog goes into his yard all the time.'"
The intrepid pooch thus became an important liaison on the Argos' path to a national championship.
Shinnick said Gordon pointed to starting any reading list off with "The Energy Bus" first. The coach carried that off-field syllabus over to Towson, and Gibbs' shout-out suggests the Tigers have taken to the book.
And Gibbs in other significant ways embodies the aims of a new direction at Towson. The lineman earned 2nd Team All-CAA recognition in 2022 after producing team-highs of eight tackles for loss, five sacks and seven quarterback hurries.
Not a highlight tape but some film! pic.twitter.com/3zIeIQife5

— Zeus ⚡️ (@jeezusnextdoor) December 1, 2022
Gibbs entered into the transfer portal shortly after the campaign ended and the lineman said he visited a few potential landing spots where "nothing really stuck" for the Dumfries, Virginia product.
"I actually ended up giving coach Shinnick and the new coaching staff a chance, spoke with all of them one-on-one and just gave it a try because at the end of the day, I was still going to be at Towson to graduate and finish my degree," said Gibbs, who added he "ended up falling in love with the program. As you see, I'm here with the book ["The Energy Bus"] in hand and really looking forward to what we have going on here."
All that Gibbs looks forward to Towson football establishing extends beyond just his final collegiate season, which kicks off Sept. 2 with a visit to Maryland of the Big Ten Conference then rolls into CAA competition Week 2 against Monmouth. The standout lineman is so bullish on the Tigers long-term direction, he said he's "jealous of [underclassmen]" who "have multiple years left."
Towson's young corps will build on the foundation that's set this season, and as the quick upward trajectory of Shinnick's teams at UNC Pembroke and UWF detail, the process won't take long.
But with the foundation laid in part by veterans like Gibbs, do-everything offensive and special-teams weapon D'Ago Hunter and defensive back Robert Javier, Shinnick's job at Towson is considerably different than his previous two stops. The new coaching staff inherits a program that reached the FCS Playoffs in 2018, was on the doorstep of returning in 2019, and finished better than .500 in three of predecessor Rob Ambrose's final four seasons.
Ambrose's tenure produced a CAA championship in 2011, a share in 2012 and in 2013, a run to the FCS National Championship Game. Whereas Shinnick built from scratch at UNC Pembroke and UWF, Towson's a new challenge in that it has a very recent track record of success.
Veterans like Gibbs who enjoyed prior success have been, according to Shinnick, "fantastic ambassadors for what Towson had been and what Towson can become with the new staff and the changes we've put in place.
"To get a group that was hungry and get a group that really was desiring a change and excited about the direction that we wanted the program to go...was the biggest difference," from past stops, Shinnick said.
The jobs might have some key differences, but a constant for Shinnick's team that nicely reflects college life in general: It helps to do the required reading.