2023 Shorter vs West Florida
Can Peewee Jarrett Take West Florida Back To The DII National Championship?
Can Peewee Jarrett Take West Florida Back To The DII National Championship?
Is the man they call "Peewee" about to join that quickly growing list of program-defining players in Argo football lore?
Aug 10, 2023
by Briar Napier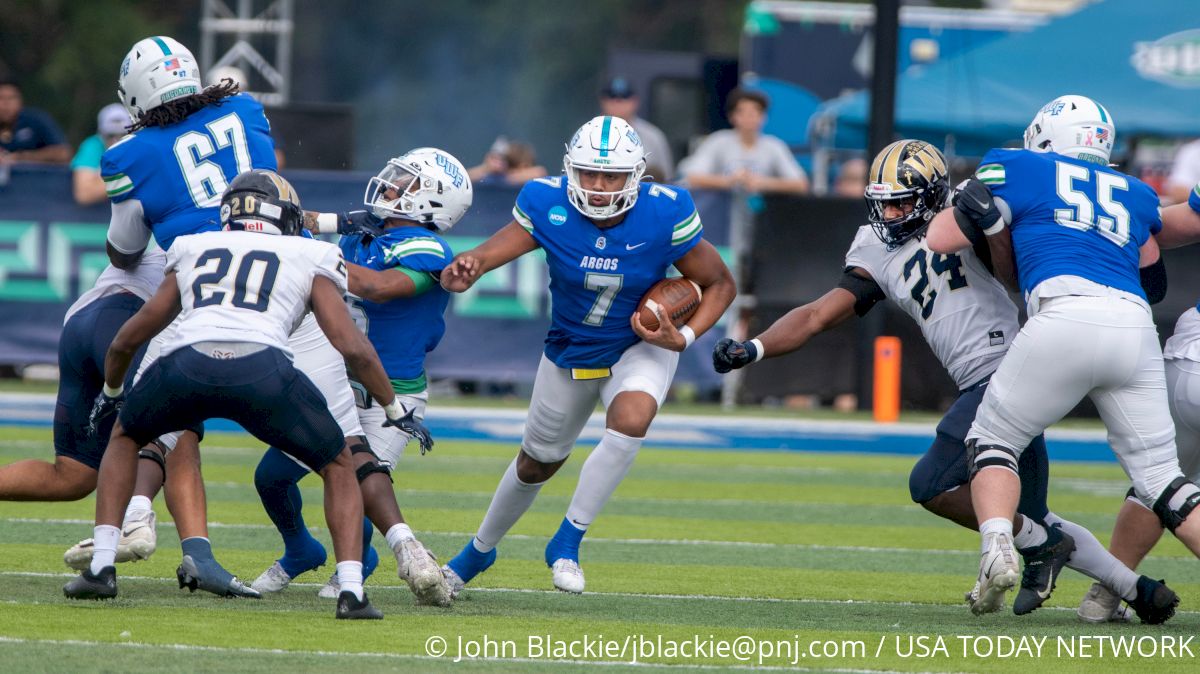 West Florida football's brief (yet highly successful) football history can be told with a few very important names.
There's Pete Shinnick, the coach UWF hired to build the Argonauts' program from the literal ground up in the cutthroat Gulf South Conference.
There's safety D'Anthony Bell, who after making the Cleveland Browns' 53-man roster for the 2022 season as an undrafted free agent, became the first former Argo to play in the NFL.
And then there's now-Western Kentucky quarterback Austin Reed, who stamped his name into UWF legend one night in Dec. 2019 — 523 yards and six touchdowns through the air in the game in which the Argos stunningly won the NCAA Division II national championship in just their fourth season of play.
Is the man they call "Peewee" about to join that quickly growing list of program-defining players in Argo football lore?
Whatever it takes 😤

🎙️ @UWFFootball x @GulfSouth pic.twitter.com/erUBfRGR7Y

— FloFootball (@FloFootball) August 6, 2023
There's nothing pointing to the fact that senior quarterback Byron "Peewee" Jarrett, anything but small at 6-foot-3 and 245 pounds, can't do exactly that.
But in a new era for UWF football as it deals with a coaching change for the first time, questions about how the Argos will handle something new to them as a program are fair and worth asking.
Then again, a lot of questions were asked about UWF football ahead of its first season in 2016, too, and look how that turned out.
For the first time likely since Shinnick was hired in 2014, there's uncertainty in the coaching ranks at UWF. That's because Shinnick, who went 56-21 with the Argos and coached them to the 2019 national title, resigned in December to take the same job at Division I FCS Towson.
Former Shinnick assistant Kaleb Nobles is the man who took over in his place after a role on the staff at Clemson, and though it'll certainly be a challenge for Nobles to live up to such a storied figure, it also may be of Jarrett's advantage.
Peewee Jarrett talks about what's like to have a former quarterback as a head coach & the things he's learned from Coach Nobles.#GoArgos | @GulfSouth | @flosports pic.twitter.com/X68TIFuNPi

— UWF Football (@UWFFootball) July 27, 2023
That's because if anyone knows of Jarrett's spot, it's Nobles — the latter was UWF's first starting quarterback, calling the shots on offense for a program that at that time, had no history, unknown potential and a lot of points to prove.
Nobles threw for over 3,000 yards and 28 touchdowns as a transfer from Valdosta State during the Argos' inaugural season in 2016, which only saw them go 5-6 but was nonetheless an important step toward building the now-strong culture UWF football possesses.
Immediately hopping onto Shinnick's staff upon his 2017 graduation, Nobles served in a variety of roles from 2017-2019, including quarterback coach, where he worked directly with Reed and a variety of other talented Argo signal-callers.
He helped UWF grow into a powerhouse nearly overnight, making the national title game in 2017 and winning it all two years later with him on the sidelines.
Here's What @ClemsonFB Head Coach Dabo Swinney had to say about the new man in charge of UWF.#GoArgos pic.twitter.com/oUhTZ1vc60

— UWF Football (@UWFFootball) December 13, 2022
Back at his alma mater, Nobles will be doing a lot of hands-on work with the signal-caller he's entrusting to keep that legacy going: Peewee.
A JUCO All-American who transferred to UWF from Iowa Central Community College in the 2021-2022 offseason, Jarrett got the starting job ahead of the Argos' 2022 opener and never looked back, throwing at least a touchdown in every game (33 in all) compared to eight interceptions. He was an integral part of UWF's run to the Division II semifinals, where it lost to eventual national champion Ferris State.
Now that Nobles is back leading the program he was such an integral part in building, he'll have some pointers for Jarrett and some tips and tricks he learned from his college coach and boss on the sidelines, but also is going to have his own fresh perspectives mixed in to try and help Peewee thrive.
"There are some things I'm taking from (Shinnick) — Peewee can tell you — I'm just putting my own unique spin on it," Nobles said during the GSC's Media Day for football last month.
"I've got to be my own person that God created me to be. I can't be Coach Shinnick, I'm going to be Kaleb Nobles because that's what's going to get me to be successful and that's what led me where I'm at today."
There's true breakout potential for Jarrett, who wasn't an All-GSC performer, despite leading the league in passing touchdowns and being second in the conference in efficiency rating (151.4), to truly evolve into one of the best throwers in Division II.
If he does indeed make that leap, as many other UWF quarterbacks have under Nobles' tutelage, the Argos should be in business to be in contention for a third appearance in the national championship game in less than a decade.
But before that can happen, many hurdles stand in West Florida's way.
For starters, UWF, despite entering 2023 on a roll and being co-champion of the GSC in back-to-back years, wasn't picked to win the league ahead of this season in the preseason coaches' poll, a testament to the strength of the conference as a whole.
Also, anyone who dreams of a national championship probably is required to get through Ferris State first, the two-time defending champion, which is chasing a historic three-peat — and likely is the favorites to do just that.
But when UWF and FSU met for a spot in the title game, however, the Argos, even on the road in Big Rapids, had the Bulldogs right where they wanted them.
The visitors came back from a 17-3 deficit to tie the game at 17 heading into halftime, but second-half mistakes — big no-nos against a team the caliber of Ferris State — doomed the Argos, who gave up 21 unanswered points in the second half en route to a 38-17 loss.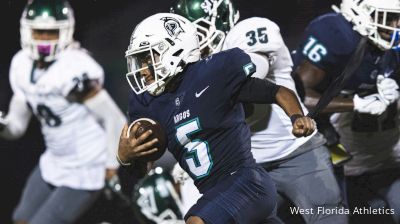 It's up to Jarrett and the rest of his offense to have short memories and think about what's ahead of them first, which essentially is a requirement to contend in the brutal GSC.
But with people in his corner who have been there before, Peewee could grow into being the big man on campus and lead UWF to even grander heights — and join the roll of names who have helped craft West Florida football into the contender it is today.
"It doesn't really stick with me a lot because I knew what we had coming back, and I just know how great we can be this year if we put it all together," Jarrett said when asked at Media Day if last year's playoff loss sticks with him.
"(Coach Nobles) came in and just told me a lot of things that I can fix to make me a better player, and that's just something I'll always strive (to do). Just get better every day, every practice, every rep."