2023 CAA Football
Five Wide Receivers To Watch During The 2023 CAA Football Season
Five Wide Receivers To Watch During The 2023 CAA Football Season
One of the main things teams and defenses in the CAA will need to watch out for in 2023 is the talent across the conference at wide receiver.
Aug 8, 2023
by Briar Napier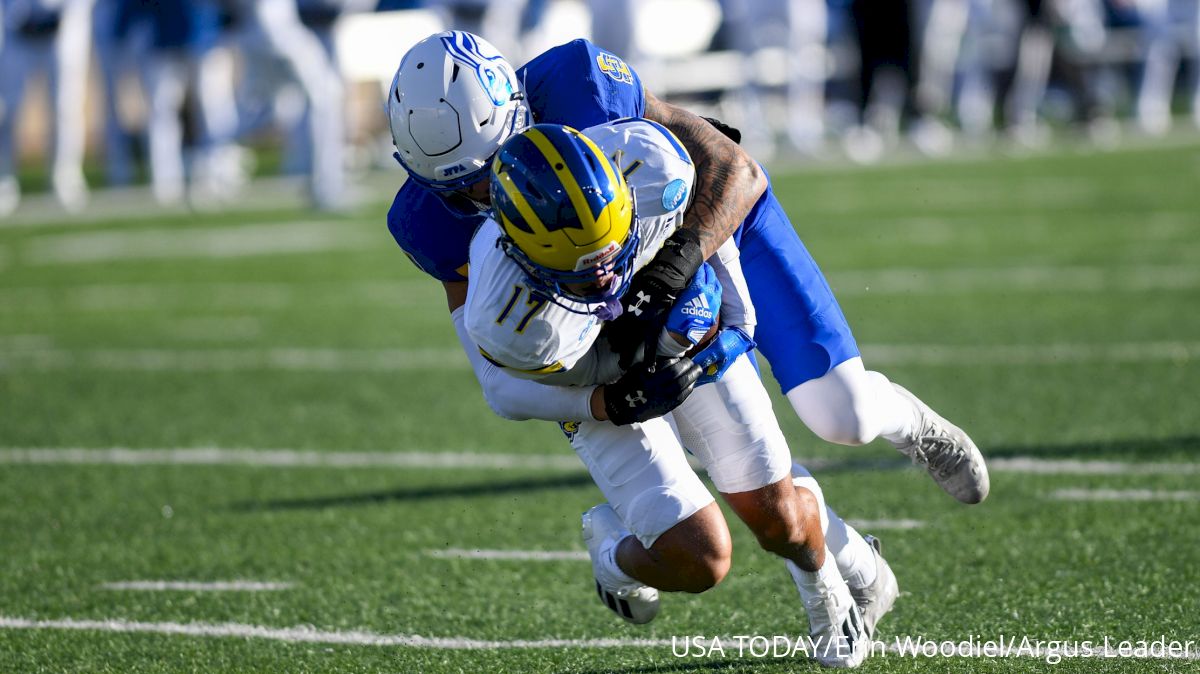 It's a new era in the CAA.
Beyond the league's recent rebrand from the Colonial to Coastal Athletic Association, football will see the debut seasons of two schools – Campbell and North Carolina A&T – testing themselves and trying to push forward in one of the premier leagues of the Football Championship Subdivision.
One of the main things they'll need to watch out for, as will the rest of the league, is the talent across the conference at wide receiver.
Numerous award-winning wideouts are back in the fold around the CAA for the upcoming year, and as the league is projected to have a strong year – the NCAA is projecting a FCS-high five CAA teams in the playoff in its preseason projections – competition will be cutthroat, and whichever offense can add those extra wrinkles to its game to get to the top of the standings will enjoy the spoils.
Expect a lot of chaos in the months ahead.
The wide receivers listed below may be the ones who stay cool enough throughout the year to help give their teams enough of a boost when it matters most.
Here are five electric wideouts to check out during the 2023 Coastal Athletic Association football season, with most league games being streamed live on FloFootball.
Jaaron Hayek, Gr., Villanova
Named first-team All-CAA in 2022, despite missing the final three games of the Wildcats' season due to injury, Hayek is among the best it gets in the FCS and unsurprisingly is considered Preseason All-CAA entering this year's campaign, too.
On a yards-per-game basis, no one in the league could touch Hayek's tally of 101.3, as the big-play threat (25 career receiving touchdowns) could turn games around for 'Nova on one reception, averaging 22.5 yards per catch last year – a mark that would've ranked among the best in the FCS in 2022, had Hayek been healthy all the way through and able to be listed on the national leaderboards.
The countdown continues 🔢. 𝟰 𝘄𝗲𝗲𝗸𝘀. pic.twitter.com/SJ8YEllnOK

— Villanova Football (@NovaFootball) August 5, 2023
His game against Maine (five catches, 159 yards, four touchdowns) made him just the third Villanova player to catch at least four scores in a single game, and with the return of a quarterback in Connor Watkins who is a deep-ball specialist, Hayek should be the main man the signal-caller turns to as the Wildcats look to move forward from what most would consider a disappointing year. In 2022, Villanova turned in a 6-5 record, after making the playoffs in the previous two seasons they were held.
Dymere Miller, Sr., Monmouth
Monmouth is coming off a bit of a chaotic season, in which it had the highest-scoring offense in the CAA (36.4 points per game), yet finished with an under-.500 record.
But, during its debut year in the league in 2022, Miller answered the challenge well and thrived against a crop of new secondaries.
Though the Hawks were more known for their powerful and effective rushing attack, led by All-American running back and FCS rushing champion Jaden Shirden, Miller in the pass game was a second-team All-CAA pick. He played in nine games and caught 55 balls for 820 yards and seven touchdowns, all of which were team highs.
The production definitely was noticed by the rest of the league's coaches, who named him to the Preseason All-CAA team earlier this summer, though the final game he played in the 2022 season also left a good impression for what he can do: seven catches, 143 yards and what ended up being the game-winning touchdown in a 24-21 victory over Stony Brook in Monmouth's season finale, a 72-yard reception Miller ended up taking to the house.
With a possible new man at quarterback to mesh with – Sacred Heart grad transfer Marquez McCray, who led the Northeast Conference in passing yards last season – Miller could be bound for more big plays and turn an already-lethal Monmouth offense into one of the most feared units anywhere in the FCS.
Jourdan Townsend, Gr., Delaware
No CAA offense got more scores from the passing game in 2022 than Delaware, and though current New England Patriots wideout Thyrick Pitts (10 touchdowns) made up the biggest chunk of that, Townsend – the Blue Hens' leading receiver yardage-wise at 698 yards – frequently was the option UD utilized to get into scoring position in the first place.
Now slated to be the No. 1 option in a new-look Blue Hen receiver room (more on what all that entails later in this article), Townsend, twice an All-CAA pick as a top option for decorated quarterback Nolan Henderson, will have a new signal-caller to mesh with due to Henderson's graduation, but he should have more than enough talent and experience to be at the forefront of many of UD's plans on the offensive end, along with graduate wideout/second-year Blue Hen Chandler Harvin.
Townsend caught at least seven passes in six games a season ago, showing that he's more than capable of being the player being turned to on drives down the field.
His seven-catch, 109-yard, two-touchdown day against Rhode Island in September was a vital part of both the Blue Hens' win against the Rams that day, and of the program's 5-0 start to the year, a run that helped UD get to the FCS playoffs for the third time in five years.
The Hens haven't made back-to-back postseason trips since 2003 and 2004, the former season of which saw UD win a national title.
Can Townsend help break the cycle this season?
Jasiah Williams, R-Jr., Richmond
As Richmond's passing attack in 2022 was so lethal between the All-CAA quarterback-wideout combo of Reece Udinski and Jakob Herres, Williams – who led the CAA in receptions (82), despite missing a game due to injury – sometimes, often unfairly, slipped through the cracks.
There's no mistaking that he's unquestionably the No. 1 receiving option for the upcoming season for the Spiders, though, and in the season following Richmond's first trip to the playoffs in six years, there's a lot of pressure riding on his shoulders as a key returner.
The bigger question is going to be how well he meshes with whomever is the new man under center for Richmond, however, considering that Udinski now is a free agent in the pros and the only other quarterback who took snaps last year, redshirt sophomore Kyle Wickersham, has thrown a total of three passes in his career.
But to whomever is throwing those balls to the receivers, they'll have a useful weapon against secondaries in Williams, who excelled under Udinski in being a reliable short- to medium-yardage player. Despite all of his catches, though, his season-long reception was just 25 yards.
Joshua Youngblood, Gr., Delaware
How exactly did one of the most lethal return specialists in the FBS end up at Delaware? It's a long-winding story.
Youngblood, a 5-foot-10 wideout from Florida, started his college career at Kansas State in 2019 and lit up the Big 12 Conference immediately, scoring a national-best three kickoffs for touchdowns during his freshman season to win the Big 12 Special Teams Player of the Year. That made him the first player in league history to win one of its top individual awards (offense, defense or special teams) as a true freshman.
Poetry in motion 💎@Zmarker00 🤝 @joshyoungblood_ pic.twitter.com/buYFq0ruK6

— Delaware Football (@Delaware_FB) August 1, 2023
The All-American and 2020 Preseason All-Big 12 pick had big hype coming into the pandemic-impacted season, but after two games, Youngblood was in the portal, finding his way to Rutgers.
He wasn't quite able to replicate the magic on kickoffs in New Jersey across two seasons, while his time on offense stayed limited. In his entire college career, Youngblood has only caught 21 balls for 199 yards and a touchdown.
Delaware offers a new start with fresh expectations as a grad transfer, however, and the Blue Hens – who should have plenty of options to throw to, including Townsend, Cincinnati transfer JoJo Bermudez and Harvard transfer Kym Wimberly – very well could utilize Youngblood (used on occasion at past stops as a rusher, too) as a Swiss Army knife-type of player who can be deployed in many effective ways.