2023 Gulf South Conference Football Media Day
5 Things We Learned From the Gulf South Conference Football Media Day
5 Things We Learned From the Gulf South Conference Football Media Day
Five things we learned from the Gulf South Conference's Football Media Day, held Thursday in Hoover, AL in preparation for the season's start next month.
Jul 28, 2023
by Briar Napier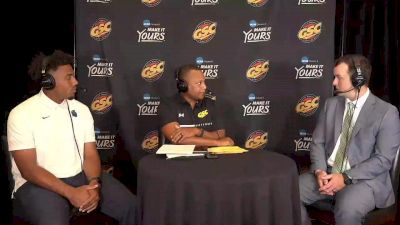 The Gulf South Conference is as good as it gets in NCAA Division II college football.
It's only right that Media Day was just as good.
FloFootball had its hands on the league's showcase for its football programs in its full, over three-hour glory earlier this week, and as a league that's produced two of the past five D-II national champions, it's significant in judging how the always-hot conference title race—and postseason—resolves.
Throw some interesting storylines into the mix such as a new team, new coaches, and new players ready to show out and make their marks in one of D-II's premier conferences, and don't be surprised if multiple GSC teams are playing deep into this year's playoffs.
In such a dog-eat-dog league like the GSC, however, exactly which of those programs will be left standing in several months' time remains to be seen.
Here are five things we learned from the Gulf South Conference's Football Media Day, held Thursday in preparation for the season's start next month.
Delta State Is Preparing For The Chase, Fresh Expectations
Following an underwhelming 2021 season in which Delta State had a losing record at 5-6 and overall had tempered expectations entering the 2022 season, the Statesmen shocked just about everyone by going 11-2 and winning a share of the GSC title. It was their first since 2014 as they were co-champs along with West Florida.
As a result, no one is sleeping on DSU this season—reigning GSC Coach of the Year Todd Cooley's squad was picked to win the league by his peers in the preseason poll released Thursday, with the hard-charging Argonauts—who beat the Statesmen in the second round of the D-II playoffs—right behind in them in second in the rankings. Cooley said at Media Day that his team accomplished a lot a season ago despite others' predictions, but it's a new season and the Statesmen are going to be in a dogfight if they want to go back-to-back in the GSC.
"Last year at this time, we were picked fifth in our league, and everybody was doubting us," Cooley, now in his 11th season in charge at DSU, said.
"But we had a group that believed … this year is going to be a different year. '22 is over, all we can do is learn from it and now we've got to start the whole process over, and we started that in January."
🏈 Delta State tops preseason Coaches Poll at 2023 GSC Media Day#WhereChampionsPlayhttps://t.co/qkohrjMvOr

— #DSUFamily (@DeltaStateFB) July 27, 2023
Peewee Is Crucial For New-Look West Florida
Even as seas of change have arrived at West Florida for the upcoming season, it's a good idea to put the ball in Byron "Peewee" Jarrett's hands.
Though he wasn't an All-GSC selection at quarterback, Jarrett led the conference in passing touchdowns with 33 and trailed only Delta State returner Patrick Shegog in efficiency rating at the position with a 151.4, pacing UWF to the playoff semifinals where it lost to the eventual national champion, Ferris State.
The onus is on Peewee—who stands 6-foot-3—to take the next step into the upper echelon of D-II gunslingers, but he'll have to do it while a new coach leads the sideline in Kaleb Nobles.
Nobles is a former Argos staffer who was briefly the director of offensive player development at Clemson before returning to succeed national championship-winning coach Pete Shinnick, who took the head coach job at D-I FCS Towson.
In the early days of Nobles' tenure, as Jarrett noted on Media Day, the dual-threat signal-caller is liking what he's hearing.
"I think the biggest thing that Coach Nobles has done for us is keeping it simple," Jarrett said.
"I feel like with a simple playbook and simple terms, it's easier for us to play fast and we have some fast players on our team. If they're playing fast, it's hard to keep up with them."
Peewee Jarrett talks about what's like to have a former quarterback as a head coach & the things he's learned from Coach Nobles.#GoArgos | @GulfSouth | @flosports pic.twitter.com/X68TIFuNPi

— UWF Football (@UWFFootball) July 27, 2023
West Alabama Will Keep The Hits Coming
West Alabama had the best scoring defense (19.9 points per game allowed) and the fewest yards per game allowed (320.8) in the GSC in 2022, but still finished with a losing record as its offense tended to sputter with a league-low 22.9 points per game.
Coach Brett Gilliland responded by bringing back some familiar faces to his staff from some of the best teams of his tenure. Carmen Felus, who returned to UWA as wide receivers coach and special teams coordinator in 2021 after previously being the Tigers' offensive coordinator from 2014-16, will return to his OC role this upcoming season, while Lamont Seward is back as associate head coach after brief stops at Tennessee Tech and North Carolina A&T.
While the UWA offense retools, the defense should remain nasty. Though reigning GSC Defensive Player of the Year and All-American Michael Anderson won't be back, forces like towering 6-7, 295-pound interior lineman Davonchae Bryant and graduate defensive back Shamar Lewis—both of which joined Anderson on last season's All-GSC First Team—will continue to wreak havoc and try and force the league's offenses into mistakes.
"We've got the same team, but it's a different team in a different way," Bryant said of this year's Tigers at Media Day.
"We've all got different mindsets. We're all attacking in different ways, we're all improving on our weaknesses from last year. … You're going to see a whole different us this year."
Healthy Mississippi College Won't Change
Despite a couple big wins and boasting several talented ball handlers, including a running back that averaged nine yards per carry, Mississippi College's record for 2022 was a disappointing 4-7. Coach John Bland is well aware of the bad luck the team has experienced.
The triple option-running Choctaws lost starting quarterback DeAnte Smith-Moore for the season in MC's epic comeback win and upset at West Georgia in Week 5, and though a three-game win streak did come off the back of that victory, a four-game losing stretch to end the year gave the season a bit of a sour end.
The good news is that Smith-Moore is back in the fold along with junior tailback Marcus Williams, the GSC's yards-per-carry king from this past year at 9.0 per rush, to stabilize a ground game that had over 100 yards more per game than the next-highest team in the league—and under 130 passing yards less per game than the next-closest team in the league.
"Trusting the quarterback; his read is always the best read," Williams said when asked about how he'd build from his 2022 season.
"If he feels like he needs to give it, I'm OK with that. … With me getting the ball, I just do what I can. Nine yards per carry, it's great to have, but I feel like I could've done better."
July 27, 2023
Chowan Looks to "Fly Around" in Debut Season
Welcome to the show, Chowan. In preparation for the Conference Carolinas sponsoring football in 2025, the Hawks—who had previously played football in the Central Intercollegiate Athletic Association—will be an affiliate member of the GSC for two seasons and will be joined by Erskine for 2024 only before the affiliation expires ahead of the 2025 season.
The Hawks went 7-4 in 2022 while losing the CIAA Championship game to Fayetteville State, but a lot of turnover on the roster and in the coaching ranks means Chowan will be a new-look team in 2023.
Chowan's run in the GSC will be a short one (and the North Carolina school has a tough road ahead), but first-year head coach Paul Johnson, hired after a stint as the offensive coordinator at Bloomsburg, says his team isn't going to be playing with fear.
"We're going to be explosive, we're going to be fast, we're going to play with tempo,' Johnson said.
"We play a new brain of football on every play. It can be a throw or a run, and on defense we're going to be aggressive and fly around and play a 4-2-5. We're going to be super aggressive."
Behind The Scenes: Gulf South Conference Media Day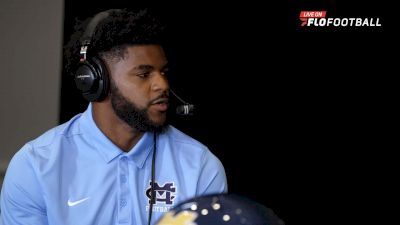 How To Watch Gulf South Football In 2023?
All GSC football games will stream on FloFootball and the FloSports app this fall. Some non-conference games may not be available on FloSports.