Reese and Saylor Poffenbarger Turn Sibling Rivalry Into Support
Reese and Saylor Poffenbarger Turn Sibling Rivalry Into Support
UAlbany quarterback Reese Poffenbarger and Arkansas wing Saylor Poffenbarger are each other's biggest supporters, sharing in college successes.
Mar 10, 2023
by Kyle Kensing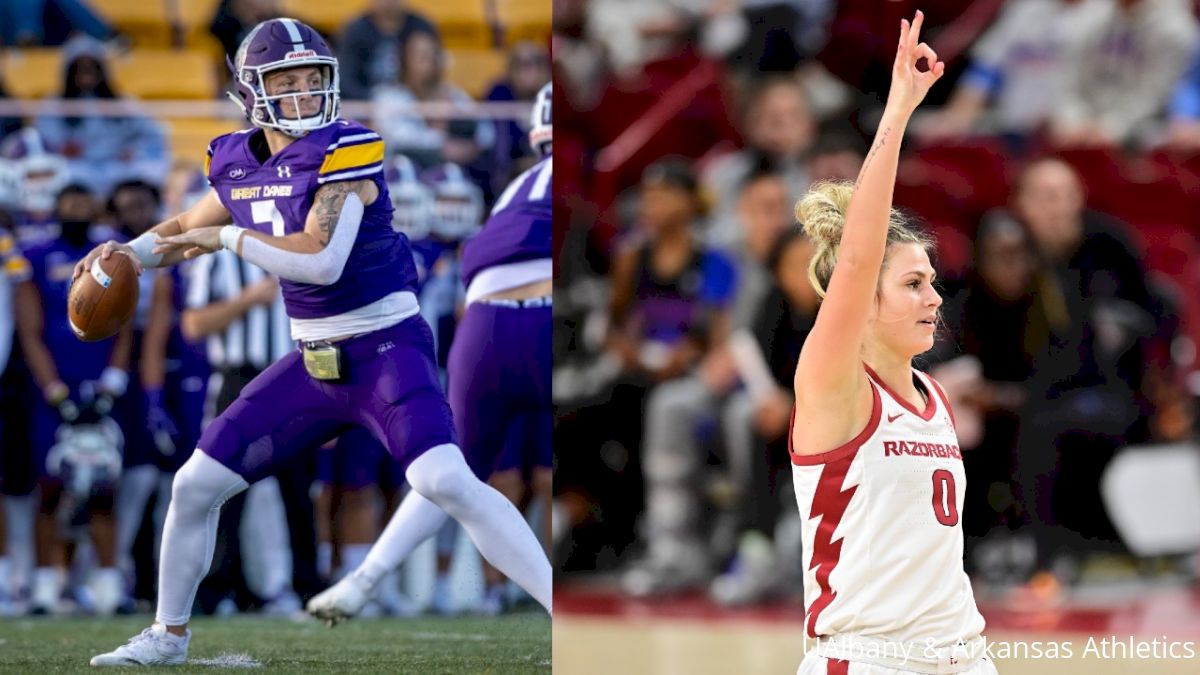 Outside of Fayetteville, the most eagerly anticipated follower of Arkansas basketball's NCAA Tournament fate this Selection Sunday may well be in Albany, New York.
That's where 2022 Colonial Athletic Association Offensive Rookie of the Year and UAlbany quarterback Reese Poffenbarger resides, and you can count the Great Danes quarterback and Freshman All-American as a supporter of the Razorbacks.
"They're going to go as far as they want to go. They have a talented squad," Poffenbarger said during the regular season. "I'd say Sweet 16 at least. It's going to be tough to get wins after that, but I know they're very capable."
We love defense to offense. We love it so much. pic.twitter.com/UeqTlKis6E

— Razorback WBB (@RazorbackWBB) March 3, 2023
Arkansas and its fans will have fingers crossed the Razorbacks get the opportunity to make a deep run. They are on the Tournament bubble after a challenging season in the loaded Southeastern Conference, but have the pieces to be a dangerous March Madness matchup for any opponent.
The support sent to Fayetteville from New York was reciprocated during the 2022 football season, as Poffenbarger dazzled in his debut captaining the UAlbany offense.
"I'm his biggest hype man," Arkansas wing Saylor Poffenbarger said of her brother, the Great Danes quarterback. "I was kind of mad he didn't win [the Jerry Rice Award]."
In much the same way Reese will be pulling for Saylor's Arkansas team to receive an at-large bid to the Big Dance, Saylor followed Reese's pursuit of the top prize for a first-year player in the Football Championship Subdivision.
Idaho's Gevani McCoy ultimately took home the Rice Award, with Reese coming in second.
Quarterback Reese Poffenbarger (@ReesePoffenbarg) finished second in the 2022 Stats Perform Jerry Rice Award voting, which honors the FCS freshman player of the year 👏

📰: https://t.co/BIlYO9r5h3#UAUKNOW #WinTheDay 🟪🟨 pic.twitter.com/ZlzCkUgLjr

— UAlbany Football (@UAlbanyFootball) December 7, 2022
Reese Poffenbarger may not have won the Jerry Rice, but having as strong of a case as he put together "speaks a lot about him," according to Saylor.
"He's gone through the whole two years of sitting out, he's gone through being a walk-on," she said. "I think this just shows the resiliency."
Despite leading Middletown High School to a Maryland state championship, Reese was an under-recruited prep prospect. He walked on at Old Dominion and before the 2021 season, garnered praise for his performance in practices. However, he didn't see the field for the Monarchs.
It was a tough situation for Reese, a natural competitor. But Reese had Saylor for support, and vice versa, as Saylor faced her own challenges after initially landing at basketball powerhouse UConn out of high school.
"The best advice we both gave each other is having confidence," Saylor said. "When you take two years and you don't play a sport you were really good at all your life, it's hard to feel that way again."
Saylor moved onto Arkansas and became an immediate linchpin in the Razorbacks rotation. Reese transferred to UAlbany.
The decision proved to be a game-changer, both for Reese and the Great Danes. Jeff Undercuffler's exit left a vacancy behind center, albeit with a lofty standard to meet. Undercuffler earned Freshman All-American status in 2019 while guiding UAlbany to the FCS Playoffs and a 1st Round win.
Congratulations to #CAAFB Offensive Rookie of the year, @UAlbanyFootball's Reese Poffenbarger.

📰 https://t.co/XX9rqAGTuo pic.twitter.com/PKzlOfn3Qq

— CAA Football (@CAAFootball) November 22, 2022
Poffenbarger met that standard, however, making a comparable splash in his first year.
Undercuffler:
262-of-464 passing (56.5 percent completion rate)
3,543 passing yards
41 touchdowns
10 interceptions
-163 net rushing yards
1 rushing touchdown
Poffenbarger:
227-of-369 passing (

61.5 percent completion rate

)
2,999 passing yards
24 touchdowns
4 interceptions
128 net rushing yards
2 rushing touchdowns
Reese acquitted himself nicely as successor.
"He's a special player," Great Danes coach Greg Gattuso said during the season amid Poffenbarger's streak into late October without throwing an interception. "We're really excited about him. That whole group on offense is young and really playing well. ... We've got a good group of young guys, and Reese has been very good."
Gattuso's point about the youth of the UAlbany roster is pertinent as spring football and preparations for the 2023 campaign loom. Poffenbarger delivered in every statistical metric his first season with the Great Danes, but the team fell short in the win column at 3-8.
Five of those losses were by seven points or fewer, however.
"Our momentum is through the roof," Poffenbarger said. "We have a lot of leadership coming back, we didn't lose a lot on offense, didn't lose a lot on defense. We know how good we can be and know how good we are. We just gotta come out with these wins."
Reese's competitive fire promises to generate wins on the football field — and as they come, UAlbany football can thank the competitive nature of games played on the Poffenbarger family basketball court.
"Our household has always been very competitive," Reese said. "Me and Saylor being very close in age, we competed in pretty much everything since we were very young."
"We fought really bad," Saylor confides with a chuckle. "We would go down and play basketball, play one-on-one, and it was so competitive and we both wanted to win."
The action would get intense enough that Reese and Saylor's mother, Amy, would act as referee.
Amy Poffenbarger nee Fordham, a standout on Missouri's 1994 NCAA Tournament team, helped harness the kids' youthful competitiveness. That continued into their teen years, in particular for Saylor.
Arkansas redshirt freshman Saylor Poffenbarger is easily one of my favorite players in the country to watch. The UConn transfer has a unique combination of paint defense and size and wing offense skills. If her jumper develops... watch out! pic.twitter.com/zoXXvSRNRb

— Em🌹🏳️‍🌈 (@em_adler) February 17, 2023
Amy coached Saylor at Middletown — though, as Saylor joked, "I tell everyone we assistant-coached together.
"She didn't like that," Saylor added with a laugh.
Amy's guidance in Saylor and Reese's respective basketball endeavors went a long way in setting the foundation for their collegiate stardom. Reese credited having played point guard for helping him both with footwork and developing leadership in setting an offense.
He also praises his mother for encouraging the Poffenbargers to push themselves to be their best.
"She was always way harder on us," he said. "It paid off. At the time I hated it, but looking back I know it was definitely the thing we needed. She held us to a higher standard than everybody else."
As for Saylor, she said her mother "brought me into basketball.
"I grew up in the gym," Saylor said. "And it's nice because [Amy] went through this. Obviously it's a different generation, different time period, but she went through the recruiting process, she played and had tough games. … Having that perspective has been really helpful. Having someone to lean on is really nice."
And mom isn't the only Poffenbarger Saylor has to lean on.
As a season in which she average nine points and a team-leading 6.7 rebounds per game reaches its crescendo, Saylor's formerly most ferocious competitor is now one of her biggest supporters.
That holds as true if Arkansas' bubble bursts or the Razorbacks make a run to the Sweet 16.