CAA Lands Six On Athlon Sports FCS All-American Team
CAA Lands Six On Athlon Sports FCS All-American Team
Athlon Sports named six standouts from the Colonial Athletic Association to its 2022 All-American team.
Dec 27, 2022
by FloFootball Staff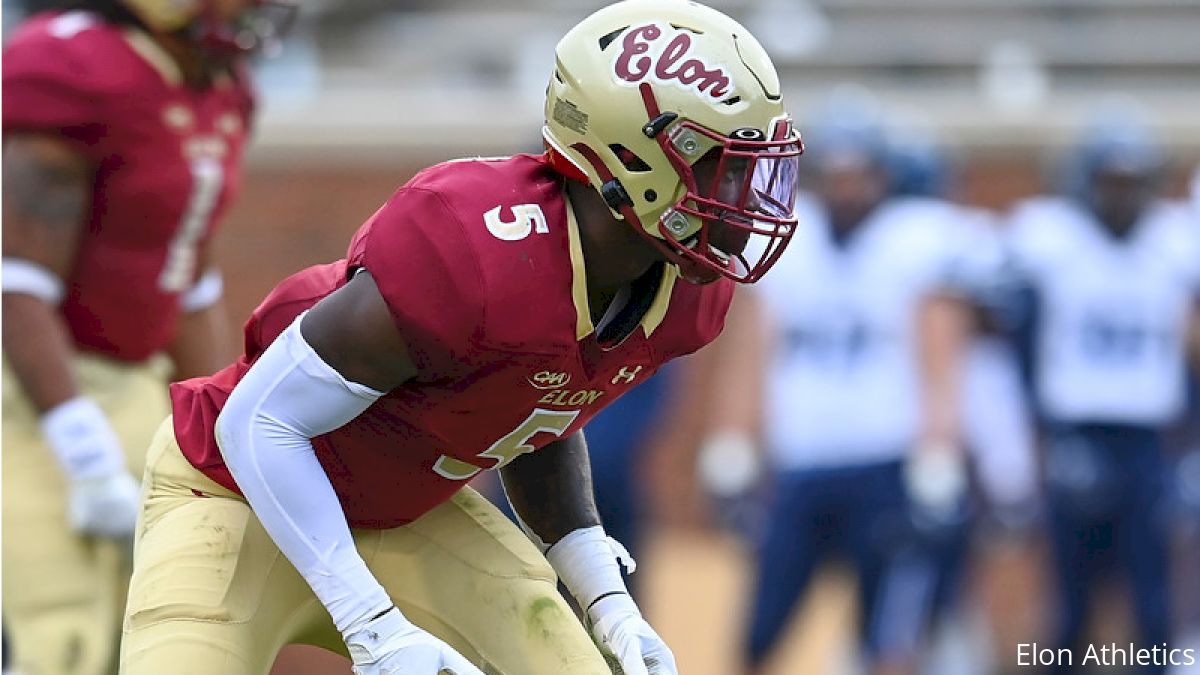 Six CAA Football standouts were among 30 players honored on the 2022 Athlon Sports FCS All-America team that was announced on Tuesday.
Named to the squad were Monmouth sophomore running back Jaden Shirden, William & Mary senior offensive lineman Colby Sorsdal, Delaware graduate student linebacker Johnny Buchanan, William & Mary sophomore linebacker John Pius, Elon senior defensive back Marcus Hillman and Elon senior kicker Skyler Davis.
Shirden rushed for a FCS-best 1,722 yards and 13 touchdowns, topping the 100-yard mark in nine of his 11 games. Sorsdal was the leader on a W&M offensive line that ranked fourth nationally in fewest sacks allowed (10) and rushing (265.8 ypg). Buchanan led the nation with 150 total tackles, including five games with at least 15 stops. Pius recorded a team-best 72 tackles and ranked among the top 10 in FCS with 11.5 sacks and 19.0 tackles for loss. Hillman filled the stat sheet with 83 tackles, 18.5 tackles for loss, 8.5 sacks and four forced fumbles. Davis converted 18-of-22 field goals, including 7-of-8 from better than 50 yards to tie a FCS record.
ATHLON 2022 FCS POSTSEASON ALL-AMERICA TEAM
OFFENSE
QB – Tim DeMorat (6-4, 220, Sr.) Fordham
QB – Lindsey Scott Jr. (5-11, 212, Gr.) UIW
RB – Jaleel McLaughlin (5-9, 183, Sr.) Youngstown State
RB – Jaden Shirden (5-9, 185, So.) Monmouth
FB – Hunter Luepke (6-1, 236, Sr.) North Dakota State
WR – Hayden Hatten (6-2, 205, R-So.) Idaho
WR – Fotis Kokosioulis (5-9, 180, Sr.) Fordham
TE – Ryan Miller (6-2, 209, R-Sr.) Furman
OL – McClendon Curtis (6-6, 328, Sr.) Chattanooga
OL – Mark Evans II (6-4, 295, Sr.) Arkansas-Pine Bluff
OL – Garret Greenfield (6-6, 305, Sr.) South Dakota State
OL – Cody Mauch (6-6, 303, Sr.) North Dakota State
OL – Colby Sorsdal (6-6, 305, Sr.) William & Mary
DEFENSE
DL – Jay Person (6-3, 224, Jr.) Chattanooga
DL – Caleb Sanders (6-1, 270, Sr.) South Dakota State
DL – Spencer Waege (6-5, 282, Sr.) North Dakota State
DL – David Walker (6-3, 235, So.) Central Arkansas
LB – Johnny Buchanan (6-0, 230, Gr.) Delaware
LB – Aubrey Miller Jr. (6-2, 225, Sr.) Jackson State
LB – John Pius (6-2, 230, R-So.) William & Mary
LB – Zeke Vandenburgh (6-2, 235, Sr.) Illinois State
DB – Justin Ford (6-2, 200, R-Sr.) Montana
DB – Marcus Hillman (6-0, 200, Sr.) Elon
DB – Alijah Huzzie (5-11, 190, R-So.) ETSU
DB – Marte Mapu (6-3, 216, Sr.) Sacramento State
SPECIAL TEAMS
PK – Skyler Davis (5-8, 165, Sr.) Elon
P – Jake Gerardi (6-3, 250, R-Sr.) Southern Utah
LS – Robert Soderholm (6-1, 230, Sr.) VMI
Return – Abraham Williams (6-1, 175, So.) Weber State
AP – Devron Harper (5-9, 168, Jr.) Mercer