14 CAA Players Earn STATS Perform All-American Recognition
14 CAA Players Earn STATS Perform All-American Recognition
Colonial Athletic Association teams landed 14 players on the STATS Perform All-America team for 2022.
Dec 20, 2022
by FloFootball Staff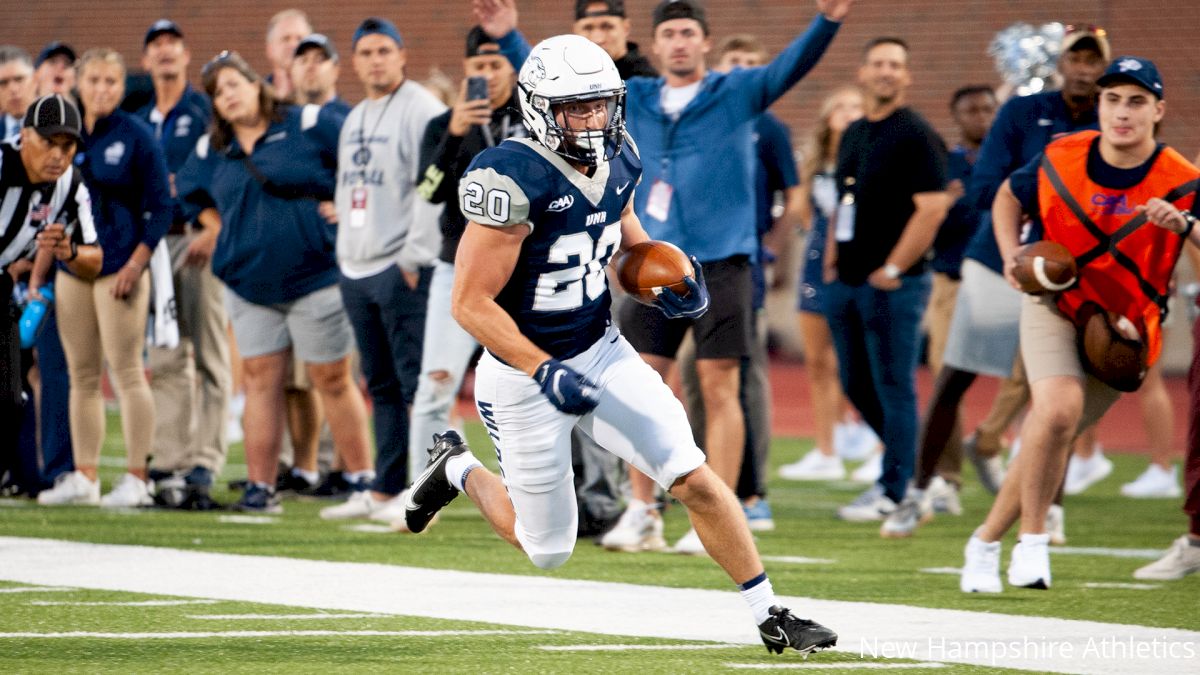 CAA Football had 14 players recognized on the 2022 Stats Perform FCS All-America team that was announced on Tuesday afternoon.
Earning first-team All-America accolades were Monmouth sophomore running back Jaden Shirden, Delaware graduate student linebacker Johnny Buchanan, William & Mary sophomore linebacker John Pius, Elon senior defensive back Marcus Hillman, Elon senior kicker Skyler Davis and New Hampshire junior running back/returner Dylan Laube.
Named to the All-America second team were UAlbany senior tight end Thomas Greaney, William & Mary senior offensive lineman Colby Sorsdal, Richmond junior linebacker Tristan Wheeler and Delaware senior defensive back Kedrick Whitehead.
Making the third team were Rhode Island junior offensive lineman Nick Correia, William & Mary junior defensive lineman Nate Lynn, New Hampshire sophomore defensive lineman Josiah Silver and Towson senior kick/punt returners D'Ago Hunter.
Stats Perform also announced its 2022 Freshman All-America team. Chosen to that squad were Towson offensive lineman Dan Volpe, Towson linebacker Mason Woods, William & Mary defensive back Jalen Jones and William & Mary long snapper Nick Levy.
Shirden rushed for a FCS-best 1,722 yards and 13 touchdowns, topping the 100-yard mark in nine of his 11 games. Buchanan led the nation with 150 total tackles, including five games with at least 15 stops. Pius recorded a team-best 72 tackles and ranked among the top 10 in FCS with 11.5 sacks and 19.0 tackles for loss. Hillman filled the stat sheet with 83 tackles, 18.5 tackles for loss, 8.5 sacks and four forced fumbles. Davis converted 18-of-22 field goals, including 7-of-8 from better than 50 yards to tie a FCS record. Laube topped FCS in all-purpose yards (194.3 ypg) after rushing for 1,205 yards and 15 TD's and excelling as a kick and punt returner.
Greaney led all CAA tight ends with 50 receptions for 693 yards and 9 touchdowns. Sorsdal was the leader on a W&M offensive line that ranked fourth nationally in fewest sacks allowed (10) and rushing (265.8 ypg). Wheeler recorded over 100 tackles for the third straight season, contributing 110 stops and 11.0 TFL's. Whitehead registered 73 tackles, two interceptions and five pass breakups for a UD defense that ranked among the top five in FCS.
Correia helped clear the way for a Rhode Island offense that averaged 30.6 points and 404.1 yards per game. Lynn contributed 61 tackles, 8.0 sacks, 13.0 tackles for loss and 11 quarterback hurries. Silver tallied 55 tackles, 8.5 sacks and 17.5 tackles for loss. Hunter averaged 24.6 yards and scored two TD's on kickoff returns and averaged 16.3 yards and scored a TD on punt returns.
Volpe started every game at left tackle for a Towson offense that averaged 322.8 yards and 21.4 points. Woods recorded a team-high 77 tackles with 5.5 TFL's and an interception. Jones tied for the CAA lead with four interceptions and also had 24 tackles and 8 pass breakups. Levy was the snapper for kicker Ethan Chang, who booted 18 field goals, and punter Will Whitehurst, who averaged 42.4 yards per punt.