RMAC
Season Ends With Ferris State Back On Top Of Division II Football World
Season Ends With Ferris State Back On Top Of Division II Football World
As the season closed on another football season, the Ferris State Bulldogs found themselves right where they were at this time last season - on top.
Dec 20, 2022
by Ron Balaskovitz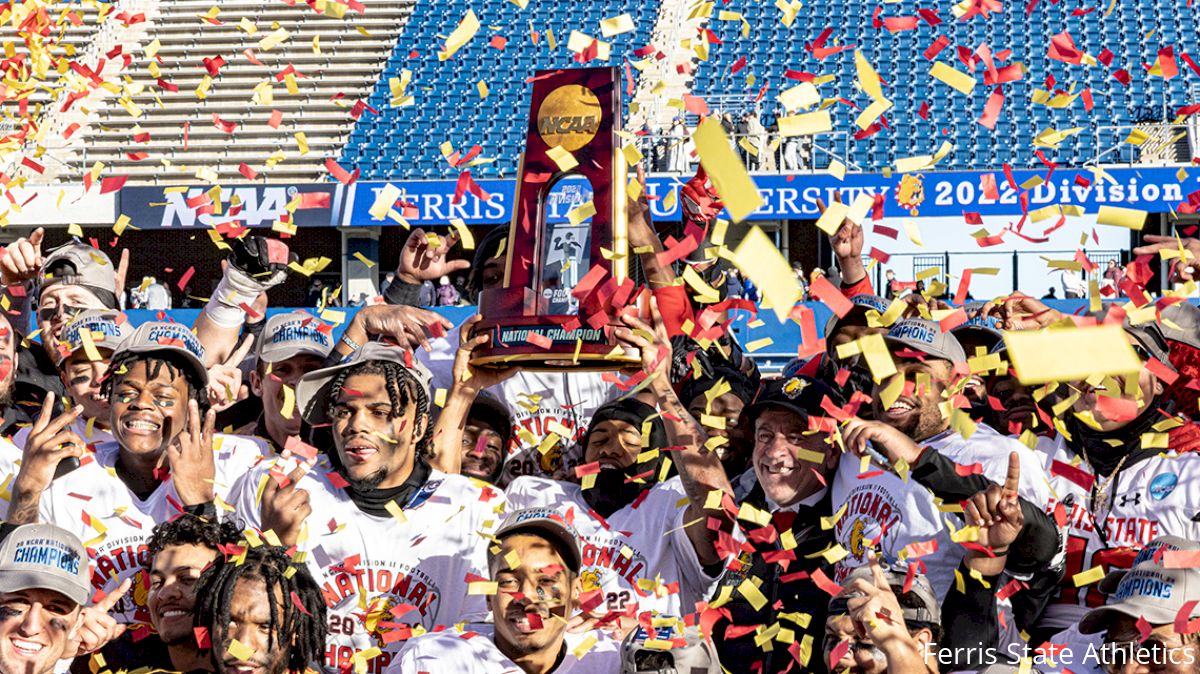 As the season closed on another football season, the Ferris State Bulldogs found themselves right where they were at this time last season - on top of the Division II football world after a dominant win in the title game.
Last year, the senior-heavy Bulldogs team, dominated nearly every opponent they saw on the way to a 14-0 season that was capped by a blowout over Valdosta State in the title game.
This season's team was different (read more about Ferris State here) in that it was a younger, inexperienced team that had to replace its starting quarterback with talented, but slightly unproven options, but had a defense that was anchored by the most dominant defensive lineman at any level in Caleb Murphy.
Add it all up, and it was a battle-tested Bulldogs team that after pulling out a pair of tight games in the second and third round of this year's playoffs, found another gear in the semifinals, dominating West Florida, then Colorado School of Mines in back-to-back weeks.
They're arguably the top-2 offenses in DII football, and the Bulldogs held their opponents to a combined 31 points, with the Mines' 14 coming in the second half, when the game was well out of hand.
HOT OFF THE PRESSES, THE FERRIS STATE BULLDOGS ARE BACK-TO-BACK NATIONAL CHAMPIONS! pic.twitter.com/wBNG87IPba

— Ferris St. Football (@FerrisFootball) December 17, 2022
Perhaps the scariest thing for the rest of DII football, as the Bulldogs celebrate back-to-back titles, is that they might just be getting started.
While the 2021 Bulldogs boasted a ton of experience across the board, this season's team is a relatively young group, with just 19 seniors. It's by far the smallest of the classes on this season's roster. The team is loaded with juniors, sophomores and a large batch of freshmen, both first-year and redshirt players.
An offense that was down slightly this season from 2021's near-mythical totals is set to return a pair of quarterbacks in junior Mylik Mitchell and freshman Carson Gulker. Both saw significant time this season, with Gulker actually finishing as the Bulldogs' leading rusher with nearly 900 yards and an amazing 31 touchdowns.
Did we mention he's a quarterback, who also completed 60% of his passes?
Mitchell hit over 62% of his passes and rushed for four scores of his own.
Receiver CJ Jefferson, who was third on the team in rushing yards and second on the team in receiving yards, combined for nearly 1,100 yards from scrimmage and is set to return, as is talented sophomore receiver Tyrese Hunt-Thompson, who paced the Bulldogs with over 700 yards in catches, averaging over 18 yards per grab.
Having both quarterbacks, your top two receivers and three of your top four returning rushers is a heck of a place to start for any team, let alone one that just won back-to-back national championships.
The Dawgs are back!! Coach Annese and the Ferris football team are back in West Michigan after their 2nd straight national title. Annese saying he's still pinching himself after the success they've had this season. @FerrisFootball @bradyrose22 https://t.co/LXAmAWMq7F pic.twitter.com/uhTMxZzEdy

— Remi Monaghan (@RemiMonaghan) December 19, 2022
Defensively is where the Bulldogs will have more questions, particularly up front.
With Murphy's graduation after an astounding career that saw him amass 40 sacks over the past two seasons, and you don't exactly just plug and play anyone into the lineup to replace that kind of production.
In addition to Murphy, defensive linemen Jordan Jones and Olalere Oladipo are also gone. They combined for 15 sacks and over 20 tackles for loss, along with the anchor in the secondary in Cyntell Williams, who was second on the team in tackles and had the game-sealing interception against Grand Valley State in the regional final.
But there are standouts who will be expected to elevate their games next season, headlined by linebacker Konnor Near, who returns after a sophomore season that saw him finish third on the team in tackles, including 10.5 tackles for loss.
Also returning is defensive end Ian Hall, who in the shadow of Murphy's monster season, put up eight sacks of his own, plus 11.5 tackles for loss.
In the defensive backfield, Vincent Cooley returns after a team-best five interceptions, so despite the major losses on defense, the cupboard isn't exactly bare for a defense that gave up just 73 points in five playoff games, facing five offenses that ranked among the best in college football.
That talent across the board, and among the different classes, speaks to the job head coach Tony Annese has done in building Ferris State into a national power. It wasn't just about having one standout player at a position and building around him, but amassing depth at each of those spots.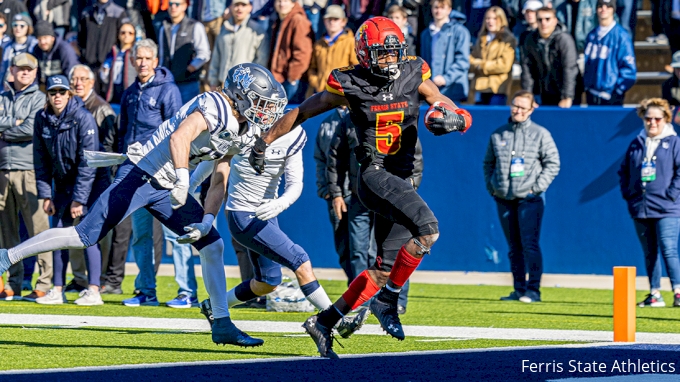 Three quarterbacks saw big playing time this season, 12 players got double-digit carries, seven players averaged over one catch per game, 14 players recorded at least half a sack, nine players forced a fumble and another nine recorded an interception.
Yes, there were standouts like Murphy, but even with a superstar like him on the roster, there were another dozen players who could find a way to get a sack is remarkable depth.
While it may be early to start looking at the 2023 season, before recruiting classes are finalized and players enter the transfer portal, it's likely a safe bet that a loaded and experienced Ferris State team, likely will open next season where it ended the last two - as the No. 1 team in the country.