2023 GLIAC Football
DII National Championship: Ferris State Takes A Different Route In 2022
DII National Championship: Ferris State Takes A Different Route In 2022
Looking to become the first back-to-back GLIAC national champion in 16 years, Ferris State took a different path in pursuit of its second straight title.
Dec 16, 2022
by Ron Balaskovitz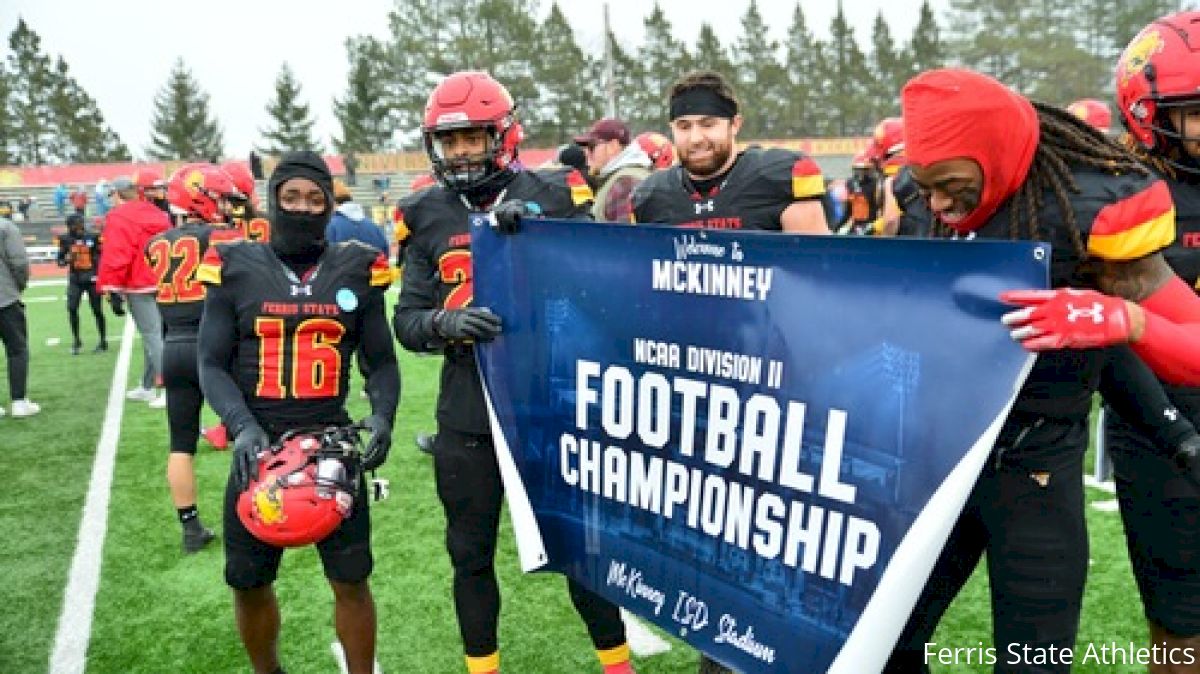 After dominating from start to finish on the way to an undefeated season and the school's first national championship, Ferris State rightfully entered the 2022 season with sky-high expectations, the preseason No. 1-ranked team in every poll and tabbed as the favorite in the top-heavy GLIAC.
While most anyone with a pulse knew and expected Ferris to again be a title contender, how the Bulldogs might go about defending that title proved to be quite different compared to the 2021 squad that steamrolled nearly everyone on the way to a 14-0 season.
With a win Saturday in the NCAA Division II title game against Colorado School of Mines, the Bulldogs would become the first team to capture back-to-back Division II titles since Northwest Missouri State in 2015-2016.
Ferris State also would be the first GLIAC team to make it two-straight since rival Grand Valley State did it twice in five years, winning titles in 2005-2006 and 2002-2003.
Last season's Ferris State team might go down as one of the best in Division II history, winning its 14 games by an average margin of nearly 30 points, and playing just two games that were decided by single digits.
Perhaps most impressive last season was the Bulldogs' performance in the playoffs, during which they won four games by margins of 34, 21, 48, and 41 points.

At a time when you face the toughest competition of the season, the best-of-the-best proved no match for Ferris State.
That team a season ago was led by one of the most dynamic offenses in Division II history, averaging 510 yards per game, rushing for over 280 a game, passing for over 230 each time out and scoring over 47 points per game.
Combine that with a defense that held opponents to under 300 yards and 20 points per game, and you had the recipe for domination.
While 2021 was a romp, 2022 has been a grind-it-out push to the title. Saginaw Valley State played them to a five-point game back in October. A week later, Grand Valley knocked them off 22-21 behind a late rally.
Finally, a week later, GLIAC cellar-dweller Michigan Tech gave the Bulldogs all they could handle in a 28-20 win.
Come playoff time they've had a three-point win over Pittsburg State, followed by a three-point win over Grand Valley. Add it up and that's five games, four against ranked teams, that came down to the wire that the Bulldogs managed to go 4-1.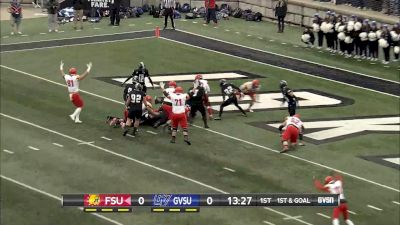 While this season's team hasn't been as dominant, losing roughly 100 yards of offense and 12 points per game from last season's mythical totals, it has been the defense that has helped the Bulldogs weather a brutally tough 2022 schedule.
This season's defense, led by the best defensive lineman in Division II, Caleb Murphy, lowered their yards per game allowed from 275 per game, down to 229 per game, and seeing their point allowed drop by nearly four points per game.
Amazingly, they've done that, despite forcing fewer turnovers (31 last season to 25 this year), but instead by stopping plays and drives before they even get started.
Led by Murphy, the Bulldogs registered 30 sacks in 2021, just over two per game, a respectable number.
This season, they've doubled that total to 60 with a game to go, nearly five sacks per game.
Murphy alone has 25.5 on the season, while 12 other players have been credited with at least half a sack.
Those 60 sacks, along with 128 total tackles for loss, 28 more than last season, have helped Ferris take away 542 yards of offense from opponents. More than two games worth of yards based on this season's defense.
It's been a defensive front that seems to create a negative play on first down, allowing them to switch into pass-rush mode on second and third downs on nearly every defensive possession.
And it's not like the Bulldogs did it against easy competition either. In the two games against Grand Valley State, one of the top-10 scoring offenses in the country, they held the Lakers to 22 and 21, two of their three lowest offensive outputs on the season.
In last week's semifinal win over West Florida, perhaps the best offense in the country, the Argos were held to nearly 200 less than their season average and almost 30 points under their scoring average — and that's with almost all of West Florida's points and yardage coming in a five-minute span during the second quarter.

The Argonauts' two touchdown drives combined for 132 yards, most of that coming on a pair of big passing plays. The other 55 minutes of the game: Ferris State held them to less than 160 yards of offense.
That defense again will be tested Saturday against Colorado School of Mines, which seeks its first national title.
The Orediggers come into the title showdown averaging nearly 47 points per game, while their defense is giving up just over 18 points per game, totals eerily similar to Ferris State from a season ago.
And just like Ferris State a season ago, reached the title game by blasting Shepherd in the semifinals.
But for Ferris State, five down-to-the-wire games against some of the toughest opponents in the country, and its ability to end drives before they even get started has the Bulldogs in a position to repeat and cement their place among the dynasties of Division II football.