2023 CAA Football
FCS Playoffs: Road-Tested William & Mary Seeks Another Win Away From Home
FCS Playoffs: Road-Tested William & Mary Seeks Another Win Away From Home
William & Mary, undefeated on the road in the 2022 regular season, looks to end the longest home winning streak in FCS when the Tribe face Montana State.
Dec 9, 2022
by Kyle Kensing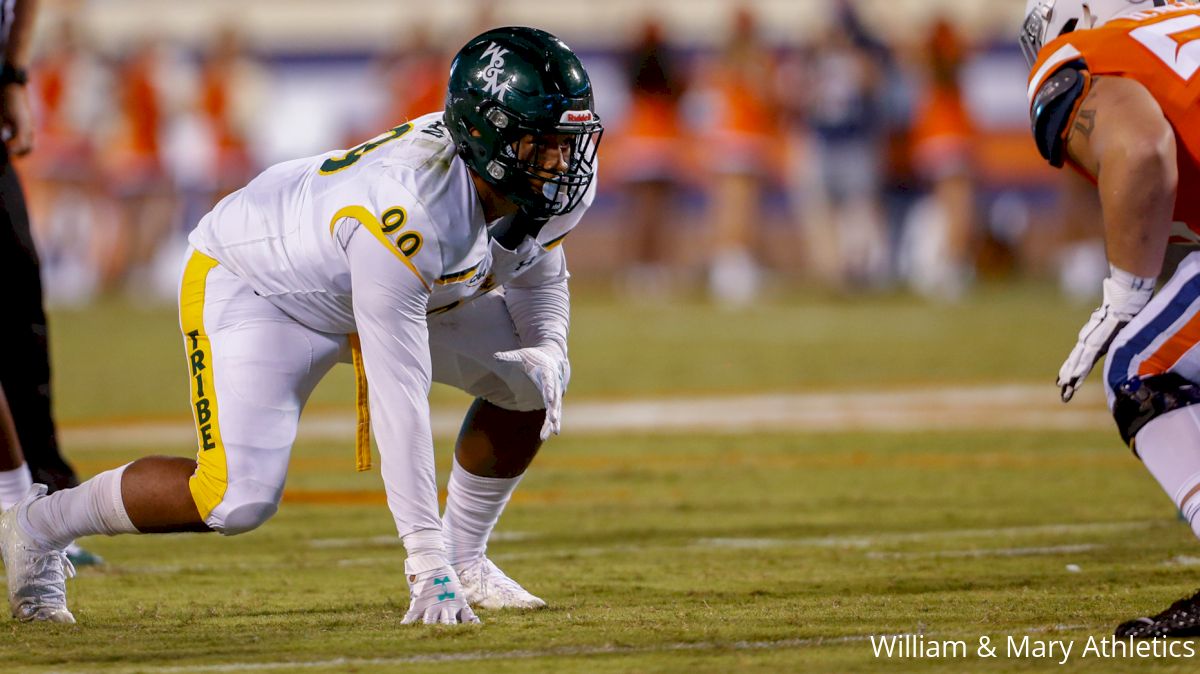 The Dec. 9 weather forecast in Bozeman, Montana, calls for a high temperature of 27 degrees, dropping into the teens at night, with snow showers throughout the day. That's no deterrent for William & Mary defensive end Nate Lynn.
"I'm ready to go. I've never been, but let's go," Lynn said following the Tribe's 2nd Round playoff rout of Gardner-Webb. "[Let's] hop on the plane and get there."
🚌 ➡️ ✈️ ➡️ 🏔 #GoTribe pic.twitter.com/KAqiojxwcR

— William & Mary Tribe Football (@WMTribeFootball) December 8, 2022
The journey from Williamsburg to Bozeman isn't the easiest. You won't find direct, commercial flights connecting the two cities. But William & Mary coach Mike London said such travel is part of the beauty of the FCS Playoffs, the road to the championship game paved through campuses from California to Maine and just about anywhere in between.
For William & Mary, playing away from home has been no sweat in 2022. The Tribe completed a perfect 6-0 road record in the regular season with their 37-26 defeat of Richmond for the Capital Cup.
But as the road to Frisco detours through Bozeman and Montana State, William & Mary takes its unblemished visiting mark into Bobcat Stadium with the hope of snapping the longest winning streak in FCS.
FCS Longest Active Streaks

Home
19 – Montana State
15 – Florida A&M
13 – Davidson
12 – UIW
11 – Jackson St
10 – Holy Cross, St. Thomas (10 FCS; 27 since D-III), South Dakota St

Road
10 – Sacramento State
6 – Harvard, Holy Cross, Jackson St, Wm & Mary
5 – Montana St, Samford

— FCS Football (@FCS_STATS) December 4, 2022
Montana State hasn't lost at home since October 2019 when Sacramento State sprung a 34-21 upset. The Bobcats have never lost at home in Brent Vigan's tenure as head coach, a run that includes playoff routs of South Dakota State in last year's semifinals and most recently, the 2022 Second Round against Weber State.
Bozeman's fast establishing a reputation as one of the most awe-inspiring destinations on the FCS map, even attracting ESPN College Gameday to campus for win No. 18, a regular season-ending blowout of rival Montana.
Some of the mystique is owed to the frigid temperatures. For some on the William & Mary roster, that's not much of a concern. Quarterback Darius Wilson is from The Bronx, where he said "it gets cold." Friday's low there is 30 degrees.
Lynn hailed from Chicago before moving to Charlotte during his high school years. The lake-effect wind that pummels Chicago in the winter months can be downright cruel.
Winning on the round isn't just about being ready for the elements, however. Coming out on top on an opponent's field requires its own layer of preparation and focus, adding to the mental challenges the game presents.
"You can't let whatever the weather conditions are or whoever's sitting in the stands be impactful on your performance," said London. "That's one of the things, thus far, we've been pretty good at when we go on the road: narrowing and focusing on the task at hand. That goes back to that senior leadership...older guys on the team [who] are more mature can bring the younger players along."
Veteran savvy goes a long way, and not just on the roster. London himself has experience winning on the road in the high-stakes atmosphere of postseason road games, his 2008 national championship-winning Richmond team beating both three-time reigning national champion Appalachian State and Northern Iowa in their houses.
"When you go this far, you want to go all the way, you want to be all-in," London said. "Our guys have been all-in since we started the season."
And if the Tribe need a secret weapon to bring some energy in what's sure to otherwise be a heavily partisan Bobcats crowd, maybe they'll find it from one of the greatest college quarterbacks of all-time.
Former Heisman Trophy-winning quarterback and NFL Most Valuable Player Cam Newton's continued presence at Zable Stadium to cheer on his younger brother, William & Mary wide receiver Caylin Newton, was front-and-center in the Tribe's 2nd Round romp of Gardner-Webb.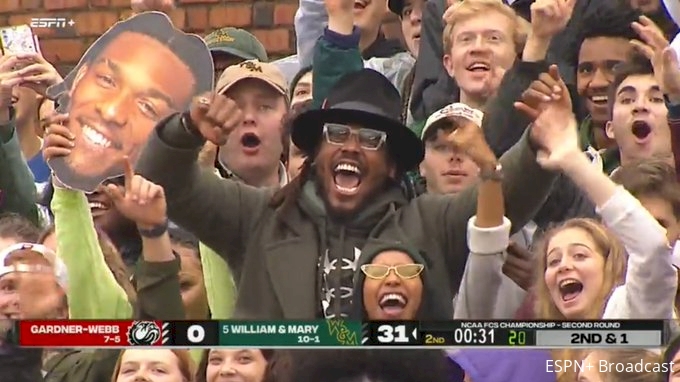 "Gonna see if Cam wants to fly out to Montana," London joked following the win.