2022 CAA Football
FCS Playoffs: Four QBs Take Spotlight Between William & Mary, Montana State
FCS Playoffs: Four QBs Take Spotlight Between William & Mary, Montana State
Montana State and William & Mary meet in the FCS Playoffs, each featuring multiple playmakers who can line up behind center and change a game.
Dec 8, 2022
by Kyle Kensing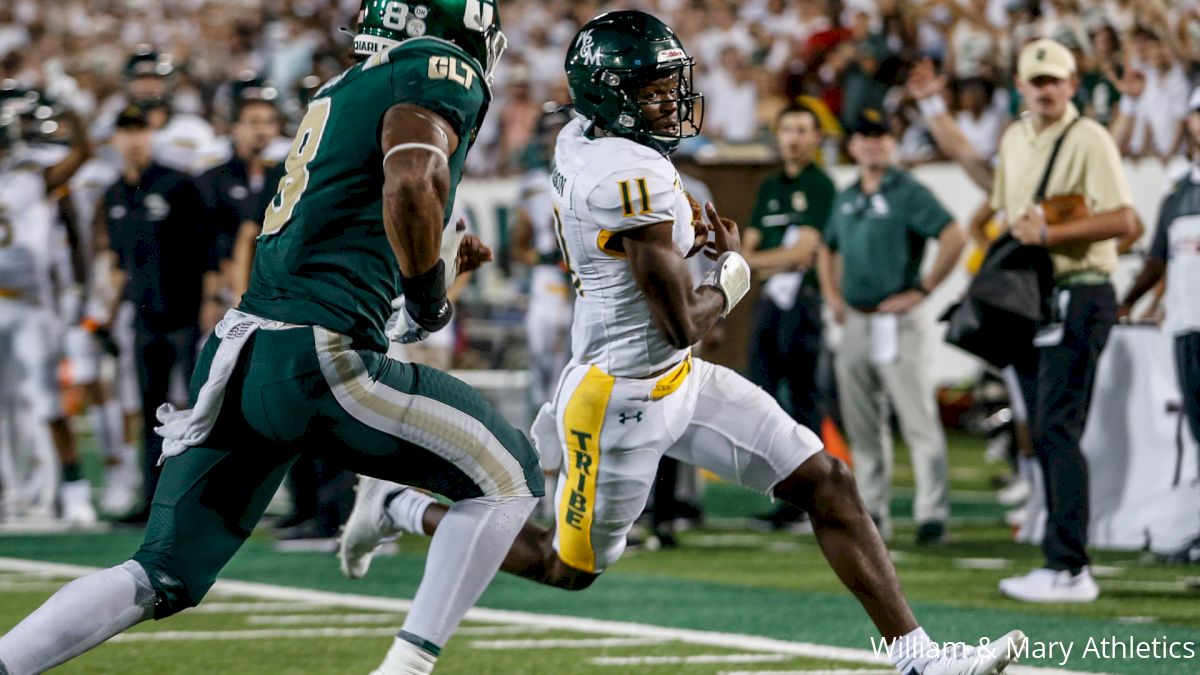 In preparation for FCS Playoffs opponent Montana State, William & Mary coach Mike London noted how "close from a statistical standpoint" the Bobcats and Tribe have been in 2022.
And the similarities are not merely statistical.
Quarterfinalists Montana State and William & Mary both successfully embraced one of football's more historically maligned strategies, spurning the old cliche that states, If you have two quarterbacks you have none.
Four quarterbacks will see playing time in the Friday night showdown between Big Sky and Colonial conference champions: Montana State utilizing Tommy Mellott and Sean Chambers, and William & Mary lining up both Darius Wilson and Hollis Mathis.
London said of Montana State's two-quarterback, "there's not a drop-off in their offensive production," and the numbers flesh that out.
Mellott comes into Friday's quarterfinal having rushed for 1,013 yards on the season and nine touchdowns. He's also the Bobcats' primary passer with 109 completion for 1,401 yards and nine touchdowns.
While Chambers has operated mostly as a ball-carrier, rushing 121 times to 70 pass attempts, his production on the ground has been prolific. He's scored 18 rushing touchdowns, tied for third-most in FCS ahead of the quarterfinal round.
MONTANA STATE! Sean Chambers 66 yards to the house!!!

Chambers tonight: 12-18, 219 yards, 2 TD -- 191 rush yards & 3 rush TDs! 🔥🔥🔥 pic.twitter.com/7kMIl4F114

— 𝗙𝗢𝗟𝗟𝗢𝗪 @𝗙𝗧𝗕𝗲𝗮𝗿𝗱𝟳 (@FTBeard7) October 2, 2022
Even among the few two-quarterback offenses seen in Div. I football, Montana State's is unique for using both regularly as opposed to limiting one to gadget plays.
"We've had experience at executing the defense called to be able to [slow quarterback-run based offenses]," London said. "But now, [in] their place, they're skilled, they bring them in at different times.
"Two talented quarterbacks [who] can run and provide those explosive plays … [and] have been efficient, proficient," London summarized.
Indeed, one lining up behind center and not the other isn't a giveaway for the defense to anticipate a particular play, and that's thus far resulted in Montana State scoring 44 points per game with averages of 7.1 yards per play and 0.61 points for each time the Bobcats take a snap.
William & Mary's production of almost 36 points per game game and 0.56 points per play is impressive in its own right, and the Tribe average slightly more yards per play at 7.3. Each offense owns much of its effectiveness to prolific run games, ranked second and fourth in the FCS.
Like Montana State, William & Mary's flourishes while using two quarterbacks, albeit with unique wrinkles.
Tribe offensive coordinator Christian Taylor employs a more traditional two-quarterback look, insomuch as a two-quarterback scheme can be "traditional." Wilson holds down the majority of quarterbacking duties, with Mathis primarily functioning as a ball-carrier when lined up behind center. However, Taylor has shown looks with both on the field to keep defenses guessing.
"They've got the potential to be really dynamic and deceptive," Montana State coach Brent Vigen said of the William & Mary offense during his weekly press conference, adding of Wilson: "He's certainly the catalyst."
Wilson's mobility helps fuel the versatility of William & Mary's potent rushing attack at 522 yards and four touchdowns. The Tribe lose nothing from designed quarterback-run production with Mathis, though: He is averaging more than five yards per carry on 37 attempts.
And while he hasn't thrown much this season, his four passing touchdowns in his true-freshman 2019 campaign and two in each of the spring and fall 2021 seasons show Mathis can be enough of a passing threat that defenses have to be prepared for the possibility. That opens up rushing lanes, best exemplified in a long run he broke off this season against Rhode Island, feigning a drop-back before peeling off.
Hollis Mathis makes a 46 yard run to bring the Tribe to the end zone!

W&M 0 | URI 14, Q2#GoTribe pic.twitter.com/ucr7PCeZZD

— William & Mary Tribe Football (@WMTribeFootball) October 29, 2022
But William & Mary's multiple-QB look doesn't end with Wilson and Mathis.
"They put some other guys in that quarterback position, not necessarily quarterbacks, but they snap it to a bunch of different guys," Vigen explained.
The Tribe's deception includes this ability to direct-snap to running backs Bronson Yoder, Malachi Imoh and Donavyn Lester. Yoder in particular has found success rushing out of direct-snap packages, including with Wilson on the field to confuse defenses.
And as a defense starts to sag closer to the box to counter the multifaceted rushing looks William & Mary will throw at opposition, Wilson is more than prepared to air it out. He's coming off a 240-yard passing performance in the Tribe's 2nd Round playoff blowout of Gardner-Webb, delivering three touchdowns through the air.
It was his third straight game of 200-plus yards passing, and second three-touchdown showing in the Tribe's last three games. He dissected Villanova for three passing scores in the regular season's penultimate week.
‼️TOUCHDOWN TRIBE‼️
Darius Wilson to DreSean Kendrick gets the Tribe back in the end zone!

Q4| W&M 45, VU 6#GoTribe pic.twitter.com/WQO2l3t4Wp

— William & Mary Tribe Football (@WMTribeFootball) November 12, 2022
Among that stretch was a Capital Cup win over rival Richmond that perhaps best showcased the full versatility of William & Mary's offense. Wilson threw for 227 yards on just nine completions, a remarkable average of 25.2 yards each catch. The Tribe rushing attack balanced that with 244 yards and four touchdowns, two by Wilson, on the ground.
Montana State's Vigen commented that "there's only so many schemes you can run," and that's technically true. But with so many weapons and varieties available to both offenses in the quarterfinals, the Bobcats and Tribe each have the ability to transcend traditional playbooks.
They've already done so all season.