2023 Gulf South Conference Football
Championship Berth At Stake Between Recent Title Winners UWF, Ferris State
Championship Berth At Stake Between Recent Title Winners UWF, Ferris State
Ferris State and West Florida claim the last two Div. II national championships. They meet in the semifinals of the 2022 NCAA Playoffs.
Dec 6, 2022
by Ron Balaskovitz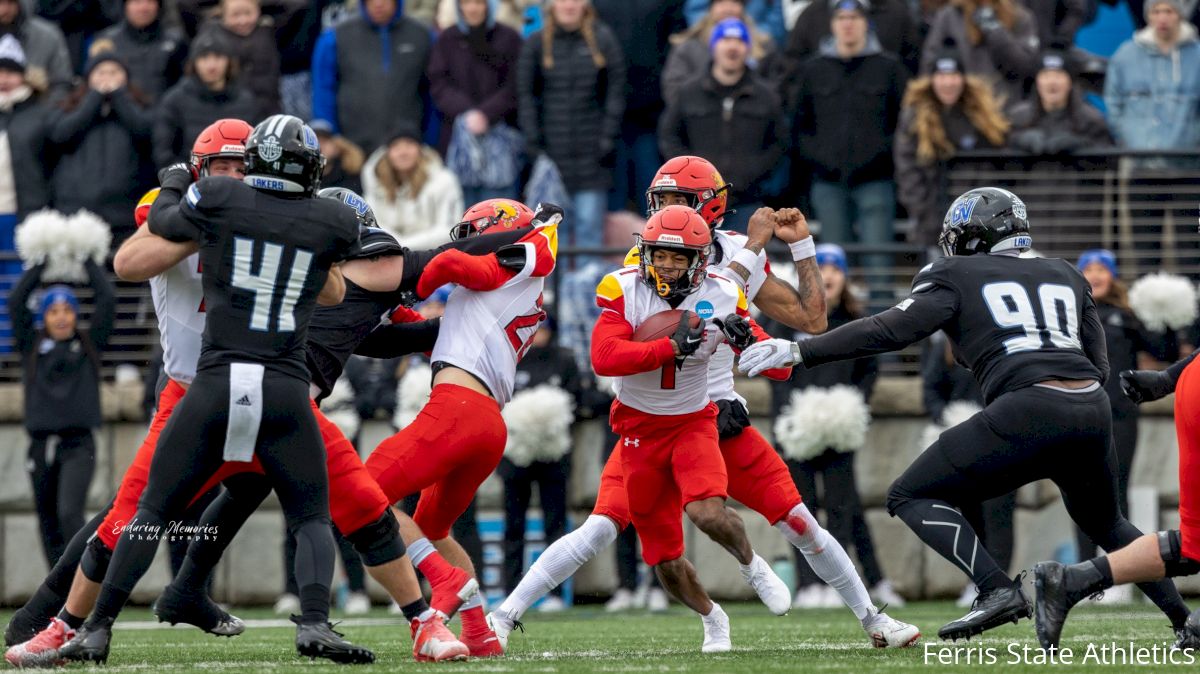 The last two Div. II national championship-winning programs will meet on Saturday with an opportunity to play for another title at stake.
Ferris State won last season's championship, going undefeated and crushing Valdosta State in the title game. West Florida claimed the last Div. II title prior to the Bulldogs, winning in 2019 after a record-breaking performance from Austin Reed.
These are two programs that have ascended in recent years, Ferris finally emerging after decades of being an also-ran, while West Florida's journey to becoming a national power has been much quicker. The national title in 2019 came in just its third season of football, yet was already the program's second Championship Game appearance.
The Argos aim to make it throw such appearances in six calendar years, but the defending champs stand in the way.
West Florida at Ferris State, Saturday, Noon ET
Both West Florida and Ferris State won in impressive fashion in the national quarterfinals, albeit under much different circumstances.
Ferris State had to rally in the fourth quarter, erasing a seven-point deficit before booting the game-winning field goal with just over a minute left to top No. 1 ranked Grand Valley State, 24-21, getting revenge after blowing a late lead to the Lakers during the regular season. That win also helped elevate the Bulldogs to the No. 1 seed in the final four when the Division II playoffs reseeded the teams.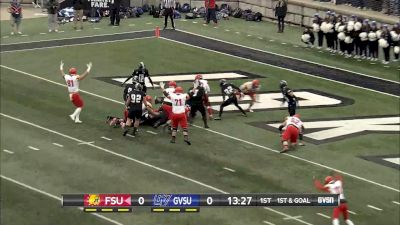 While the Bulldogs were capping a comeback thriller, West Florida was dominating Cinderella Wingate in a laugher to punch their trip to the semifinals.
Their normally potent offense scored just 17 points in the win…but often didn't get a chance to score as the Argonaut defense turned four turnovers into defensive touchdowns.
After falling behind 7-0, the Argo offense get one of its two touchdowns on the day to make it 7-7, and after a field goal to take the lead, the defense took over.
Anthony Johnson opened the defensive touchdown barrage with a 36-yard pick six, followed by the Argos second offensive touchdown, to make it 24-7 at the half. Out of the brake, Kelvin Johnson had a 37-yard fumble recovery, followed by a Keon Voisin 64-yard interception return, then a Kode Lowe 31-yard interception. Those three defensive touchdowns came in the third quarter less than five minutes apart.
What A Day At Pen Air Field 📸#GoArgos | #Arete pic.twitter.com/txh65WZTek

— UWF Football (@UWFFootball) December 4, 2022
While last week's game could not have gone more differently, their roads to the national semifinals have been similar: Crushing nearly all comers along the way, losing to the conference champions during the regular season (Ferris to GVSU, West Florida to Delta State), before getting revenge against those teams in the postseason with comeback wins.
And the similarities don't stop there.
The national semifinal features a pair of teams that are offensive powers, with West Florida ranked No. 2 in the country in scoring at 43.5 points per game. Prior to a pair of defensive battles in the cold, Ferris State was among the top 10 in scoring offense, and even with two games of being held relatively in check, comes in averaging over 35 points per game, good for 19th in the country.
Yards per game tells a similar story, with the Argos at 453 per game, just outside the national top 10, while Ferris isn't far behind at 429 yards per game.
If there is an edge in this game that might tip the scales in one direction, it might be the edge Ferris State has on defense. While their offense was slowed a bit the last two weeks, the defense has kept chugging along, yielding just 224.5 yards per game, No. 2 in the country, the best of the remaining four teams by far. West Florida meanwhile is 93rd in the country in yards per game, conceding nearly 374 yards per game.
Scoring is the same refrain, with Ferris giving up just 183 points on the season through its 13 games, less than 15 per game and again among the Top-10, while West Florida was content to win games behind its offense, giving up nearly 23 points per game in its 13 games thus far.
FOUR-STRAIGHT FINAL FOURS! With Saturday's win over GVSU, Ferris State has now became the first program in GLIAC history, fourth D2 program ever & first since Northwest Missouri State (2005-10) to reach the D2 National Semifinals four-straight seasons! #History @FerrisFootball pic.twitter.com/LQffWjltX6

— Ferris St. Football (@FerrisFootball) December 6, 2022
One other big factor that could play in Saturday's game: Weather. While Ferris State has been used to the cold of Michigan winters, West Florida has not had a game truly in the cold and wet that usually comes this time of year up north.
If there is good news on that front for the Argos, Saturday's forecast looks pretty good for this time of year in Big Rapids, with highs near 40 and a low chance of rain.
And, if there's a Southern team that's made for playing a grind it out game in cold bad weather, it's West Florida. UWF sits at seven in the country at 243 yards per game, totaling 3,161 yards and 32 touchdowns on the ground this season. Ferris State though, isn't far behind in that category either, grinding out 210 yards per game and 42 touchdowns. One difference between the two: Big plays on the ground.
While Ferris has more touchdowns, they reached their rushing totals on a whopping 596 carries, good for nearly 4.6 yards a tote. West Florida has been far more explosive on the ground, hitting its marks on just 464 carries, and averaging 6.8 yards per carry.
Expect Saturday's game to be one where both offenses utilize the ground game to try and keep the other off the field.
At this time of year, there are no bad teams left, and no secrets about the teams that reach thai stage of the postseason, and a matchup between the two most recent national champions, for a spot in this year's national championship game, gives this one the makings of a classic.