2022 Unh vs Maine
FCS Playoffs: UNH "Swiss Army Knife" Dylan Laube Is A Must-See Superstar
FCS Playoffs: UNH "Swiss Army Knife" Dylan Laube Is A Must-See Superstar
New Hampshire running back Dylan Laube is a viral sensation, but more importantly, he's the heart of a resurgent program.
Dec 2, 2022
by Kyle Kensing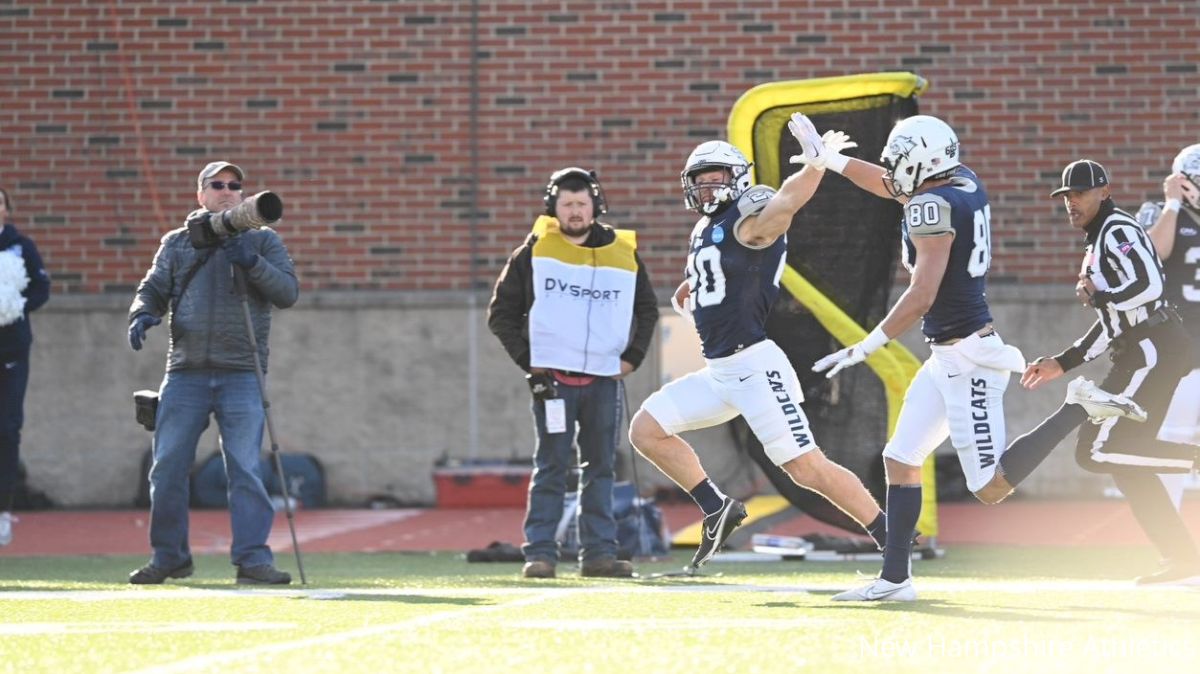 Dylan Laube's 2022 FCS Playoffs debut was, according to New Hampshire coach Rick Santos, "an all-time performance."
"Dylan Laube was a man among boys out there," Santos said. "Just made plays in all three phases, 424 all-purpose yards. We really only took him out when he tapped himself out and we were going to feed the hot hand."
Dylan Laube piled up 424 all-purpose yards and scored four touchdowns as @UNH_Football defeated Fordham, 52-42. #CAAFB pic.twitter.com/ALEsi0Xbk1

— CAA Football (@CAAFootball) November 27, 2022
And speaking of hands, we have to start the conversation of Laube's remarkable showing with his slapping of hands with wide receiver Brian Espinet.
Laube and Espinet exchanging a celebratory high-five during Laube's 87-yard touchdown reception — the first score in New Hampshire's 52-42 FCS Playoffs win over Fordham, and the mark of a thrilling return to the postseason for UNH after a five-year layoff — became the viral sensation of Thanksgiving weekend.
He gave his teammate a high-five before scoring the TD 😅 pic.twitter.com/noX4qP1O4C

— ESPN College Football (@ESPNCFB) November 26, 2022
"As soon as I hit the sideline, I saw my teammate, Brian Espinet, No. 80, and I don't know; I just gave him a look," said Laube, breaking down the play. The standout Wildcats running back noted Myles Thomason was lined up in the slot, and upon going in motion, the Fordham safety followed.
Laube, meanwhile, had a Rams linebacker on him in man coverage. That's a recipe for disaster for a defense trying to contain Laube, whose 201.5 total yards per game equal 30 more than the next-most productive player in FCS.
And, indeed, once Laube got the ball in his hands, only green turf was between him and the end zone with no one catching him.
No one but Espinet, anyway.
"He said that I said, 'Hey, hey, hey!'' at the 40-yard line," Laube recounts. "We both put our hands up at the same time. It was something we just instinctually did."
The highlight gained viral fame because it was a moment so out-of-the-norm for most football contests. But a mid-play celebration was instinctual for the Wildcats because Laube's made the incredible the routine all season.
Really, the most surprising part of the touchdown was Espinet's involvement, Santos joked.
"That was a great moment. First and foremost, I think we were all shocked that Brian could actually catch up to him," Santos said. "All jokes aside...it encapsulates our team and how much fun we're having. These guys are enjoying being in the moment.
"It's so much fun coaching young men like that, and not just because how explosive he is as an athlete," Santos added. "[Laube]'s got an awesome personality."
Keeping the atmosphere enjoyable in a high-pressure situation has been the Wildcats' hallmark not just to start the postseason, but in reaching the postseason.
Santos said the win-or-go-home stakes of the Playoffs really began for the Wildcats with two weeks remaining in the regular season and New Hampshire's unofficial "magic number" at eight wins to land a bid.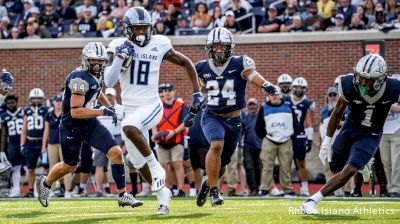 And Laube was central to those crucial, late-season victories over fellow playoff hopeful Rhode Island and rival Maine, which were integral to UNH's postseason resume.
He rushed for a touchdown against Rhode Island, then rolled up 190 yards rushing with three scores as the Wildcats reclaimed the Brice-Cowell Musket. Laube put on the kind of show against Maine that's become routine for the Wildcats running back.
His deep bag of skills has produced touchdowns via run, reception, kickoff return and punt return this season. All that's missing is a passing score.
New Hampshire's Dylan Laube (19 TDs) and Mercer's Devron Harper (16) are the only FCS players to score a TD on a run, reception, kick return and punt return this year.

San Diego State's Jordan Byrd: Only FBS player with TD in all four ways.

📷Gil Talbot/UNH and Mercer Athletics pic.twitter.com/gtSl6voyRb

— FCS Football (@FCS_STATS) November 28, 2022
"I never thought about that," Laube said of finishing 2022 with touchdowns through all five methods, but added jokingly: "I think we may have to put in a play next week for Holy Cross."
Although said in jest, it sure seems like Laube could do so if it was available. He's emerged as a do-everything difference-maker, a running back in the vein of Darren Sproles at Kansas State, Reggie Bush at USC or Christian McCaffrey at Stanford who the audience anticipates a game-changing moment from virtually any time he touches the ball.
"Personally, I always wanted to be a Swiss Army Knife guy," Laube said. "Where I was doing everything: Running, returning, receiving the ball. So for me, seeing those guys play, that was always my goal. Wherever they put me, I want to make an impact on the game."
There's no doubt Laube's made an impact at UNH, and it figures to be an impression that resonates in Durham for years to come.
The Wildcats came into this season well removed from the end of a historic, 14-season streak making the Playoffs under future Hall of Fame coach Sean McDonnell. Seven years elapsed since the program's last Colonial Athletic Association championship.
With Laube front-and-center of the offense and special teams, the 2022 Wildcats began what the back said he hopes will be the beginning of a new playoff streak, and added that coveted CAA title to the team's trophy case.
The next major milestone Laube and the Wildcats are after is a national championship. And hoisting the title in Frisco come January would be occasion for another viral high-five.